'Mad Men' madness
LaReeca Rucker
The Clarion-Ledger
Jackson residents Michael Busbin and Brian Kendrick have gone mad for "Mad Men."Tonight is the season finale of AMC's hit show about love, life and business at a Manhattan advertising firm. Currently set in the 1960s, "Mad Men" premiered in 2007 and is in its fifth season.
It has become a pop culture sensation, influencing everything from hairstyles and fashion to cooking, decor and entertaining. Because of "Mad Men," Busbin and Kendrick bought a retro home in northeast Jackson.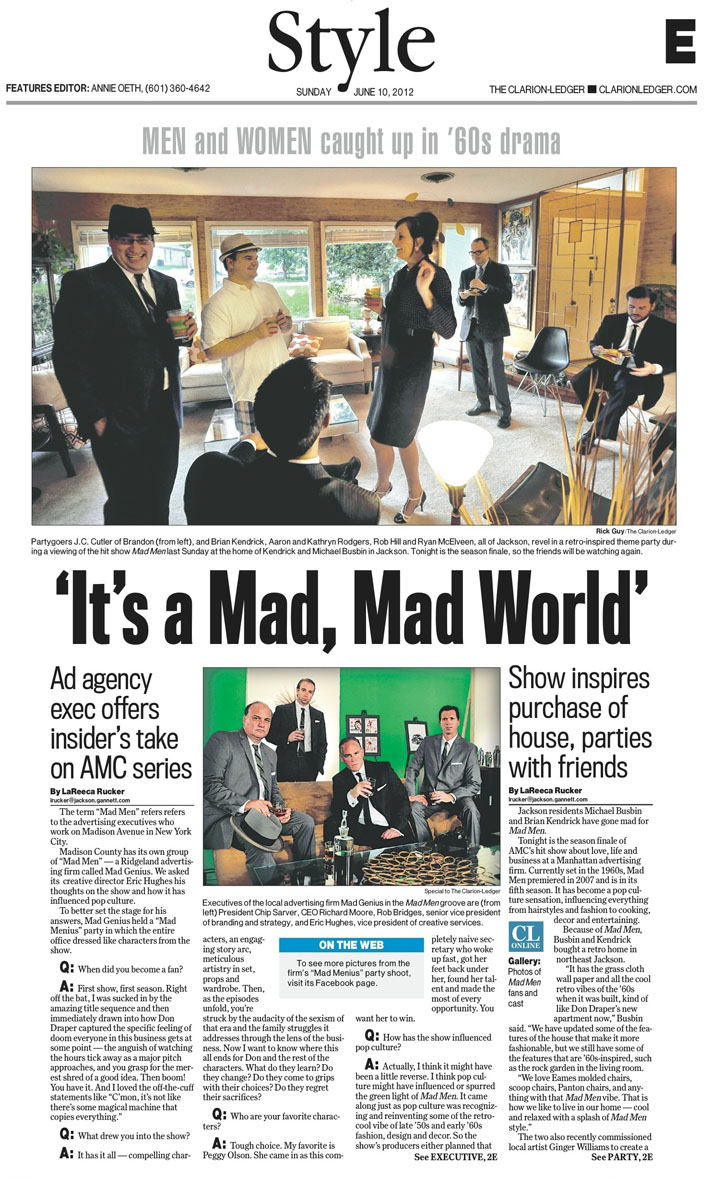 "It has the grass cloth wall paper and all the cool retro vibes of the '60s when it was built, kind of like Don Draper's new apartment now," Busbin said. "We have updated some of the features of the house that make it more fashionable, but we still have some of the features that are '60s-inspired, such as the rock garden in the living room.

We love Eames molded chairs, scoop chairs, Panton chairs, and anything with that 'Mad Men' vibe. That is how we like to live in our home – cool and relaxed with a splash of 'Mad Men' style."
The two also recently commissioned local artist Ginger Williams to create a set of "Mad Men" nesting dolls.
"She told us to pick our favorite characters from the most liked to the least liked," Busbin said. "We started with Don and ended with Pete, the smallest character on the show to us. It is funny to see them all nestled together, and Pete is about the size of an ant, much like his character."
"Mad Men" is about advertising executive Don Draper and his firm Sterling Cooper Draper Pryce. Last Sunday, Busbin held a "Mad Men" party at his Jackson home.
"We have a group of friends who love to dress up and just chill," he said. "There's something kind of fun about leaving behind your worries of today and taking a step back in time."The Mississippi State University grad, who works as an education historian at the Eudora Welty House, said it's interesting to glimpse into the past and see how different, and yet similar, it is today.
It was also funny watching the things that we think are taboo today that were customary during that time," he said. "For example, drinking at work, drinking and smoking while pregnant, and littering the highways after a picnic on the side of the road. It is interesting to see just how far we have come in our society."
It's also fun to see the historical references, he said.
"There are things that are said that are not politically correct," he said. "We see how far we have come in all types of equalities."
Busbin said the message of the show is humanity. "We all make mistakes and will continue to make mistakes," he said. "It's how we deal with those mistakes that makes us a better person. … They are all messed-up characters, trying to survive in this world. It makes it fun to see that craziness was around even in the '60s."
"Mad Men" madness has spread throughout Mississippi. Biloxi resident Holly Cox has watched the show since its premiere. My 21-year-old niece is addicted too ," she said. "We watch together now when she is home from college."
Sarah Everett said husband Jon is a devoted fan.
"He knows every episode by heart," she said. "He has a friend who worked in advertising, and he relives this guy's life through 'Mad Men.'"
Jackson resident John Nicholas said doesn't wear retro clothing, but has "started drinking more Brandy Alexanders and Tom Collins."
He said he the show is more "intellectually stimulating and enjoyable than any other TV show."
"We do not believe that the creator attempts to romanticize the era," he said. "The writers do a great job of infiltrating historic events (positive and negative) that portray the '60s for what it was; a tumultuous time period when society was transforming in an array of different aspects."
Mississippi 'Mad Men': Ridgeland ad agency exec offers insider's take on show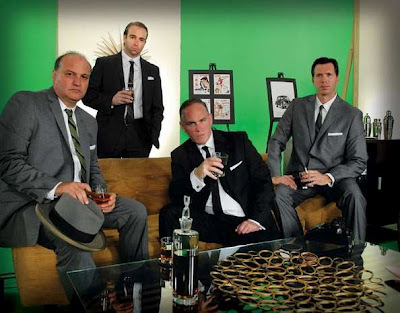 The term "Mad Men" refers refers to the advertising executives who work on Madison Avenue in New York City. Madison County has its own group of "Mad Men" – a Ridgeland advertising firm called Mad Genius. We asked its creative director Eric Hughes his thoughts on the show and how it has influenced pop culture.
To better set the stage for his answers, Mad Genius held a "Mad Menius" party in which the entire office dressed like characters from the show.
Q: When did you become a fan?
A: First show, first season. Right off the bat, I was sucked in by the amazing title sequence and then immediately drawn into how Don Draper captured the specific feeling of doom everyone in this business gets at some point – the anguish of watching the hours tick away as a major pitch approaches, and you grasp for the merest shred of a good idea. Then boom! You have it. And I loved the off-the-cuff statements like "C'mon, it's not like there's some magical machine that copies everything."
Q: What drew you into the show?
A: It has it all – compelling characters, an engaging story arc, meticulous artistry in set, props and wardrobe. Then, as the episodes unfold, you're struck by the audacity of the sexism of that era and the family struggles it addresses through the lens of the business. Now I want to know where this all ends for Don and the rest of the characters. What do they learn? Do they change? Do they come to grips with their choices? Do they regret their sacrifices?
Q: Who are your favorite characters?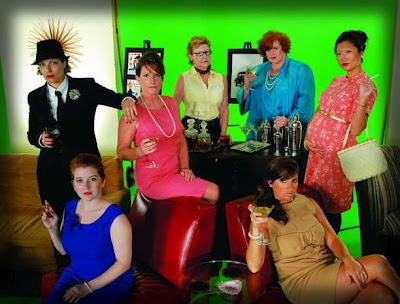 A: Tough choice. My favorite is Peggy Olson. She came in as this completely naive secretary who woke up fast, got her feet back under her, found her talent and made the most of every opportunity. You want her to win.
Q: How has the show influenced pop culture?
A: Actually, I think it might have been a little reverse. I think pop culture might have influenced or spurred the green light of Mad Men. It came along just as pop culture was recognizing and reinventing some of the retro-cool vibe of late '50s and early '60s fashion, design and decor. So the show's producers either planned that or got lucky. Either way, I'm glad they did, and I'm glad it hasn't inspired a resurgence in skinny ties or fedoras. I look ridiculous in both.
Q: Why do so many people like the show?
A: It's a combination of an immersive visual world with characters who draw you in. There's a real retro glamour that's fascinating, appealing and kind of hilarious all at once. People actually dressed for work, wore hats, dressed for dinner and cookouts. No sweatsuits, Spandex or T-shirts with sarcastic statements. You see how deeply people were buying into their roles and the costumes that came with them. It makes you sort of laugh and then reflect on what you might be buying into today.
Q: What is the overriding message of the show?
A: To me, the core message is about manipulation vs. self-awareness. What influences you? Whom or what do you worship? What are you willing to change about yourself to gain or maintain status? Which is more important to you, career or family? Where do you draw the line? Can you step off the treadmill you allowed yourself to be put out on without hurting the people who depend on you? If you don't step off, will they be hurt worse?
Q: What does the show say about American society then and now?
A: That while the social norms of business and family have changed, the basic human desires that we choose to balance or be manipulated by don't. And I think it offers a time-machine that makes a statement on the blatant sexism of the era. You get a clear sense of how hard women had to fight and navigate to establish their place in the corporate world. You see how far America has come. And you get a reality check on how far it has to go.
Q: What does the advertising, as seen in this show, say about American culture?
A: When you look at the outright manipulation that was so obvious, yet so incredibly effective in the advertising in the late '50s and early '60s, it's easy for us to laugh. But all it says is that back then, people were experiencing media and messages that they had no reason to mistrust yet. So you ask yourself, is that happening now? I'd say yes. It's just through different media. Look at magazine covers in the checkout aisle today and the level of influence celebrity worship has on us (especially on kids). You realize pretty quickly that the decades haven't made our culture immune to our vanity or our desires. Not by a long shot.
Q: As an advertising/PR executive, can you relate to the show?
A: I relate to the pressures of pitching and winning business on a very personal level. The show does a good job of giving you a taste of what it feels like: Imagine walking into an executive conference room having slept only four hours in the last two days, and getting one hour to win or lose a game-changing piece of business. Winning or losing will be based solely on your ability to present a better idea more convincingly than the similarly dressed team that just walked out of that same room. The intensity of effort to simply get a team in that room intensifies the elation you have when you win. Or the sick feeling when you don't.
Q: When we watch this show, are we seeing the good old days? What is your thoughts on the phrase "good old days" in these terms?
A: When were the "good old days?" Are they today and we just don't know it? It's relative. I think we can all say the pre-recession days were some "good old days," right? When we watch this show, we're seeing a time of dramatic change in corporate America, feminism and family dynamics. You hear some people say, "It's not like the good old days when women stayed at home." But I think you'd have to ask those women if those were the "good old days" for them.