Churches honor Medgar Evers: Evers-Williams will speak at Sunday program
LaReeca Rucker
The Oxford Eagle
Medgar Evers' life and legacy are an important part of Mississippi's historic struggle for equal rights.
That is why four Jackson Episcopal churches are coming together to hold an annual "Liturgy of Racial Reconciliation Commemorating the Life and Legacy of Medgar Wiley Evers" at 4 p.m. Sunday at St. Andrew's Episcopal Cathedral.
Myrlie Evers-Williams, widow of Medgar Evers, will be the guest speaker. The noted civil rights activist and former NAACP president currently lives on the campus of Alcorn State University, where she is a distinguished scholar-in-residence.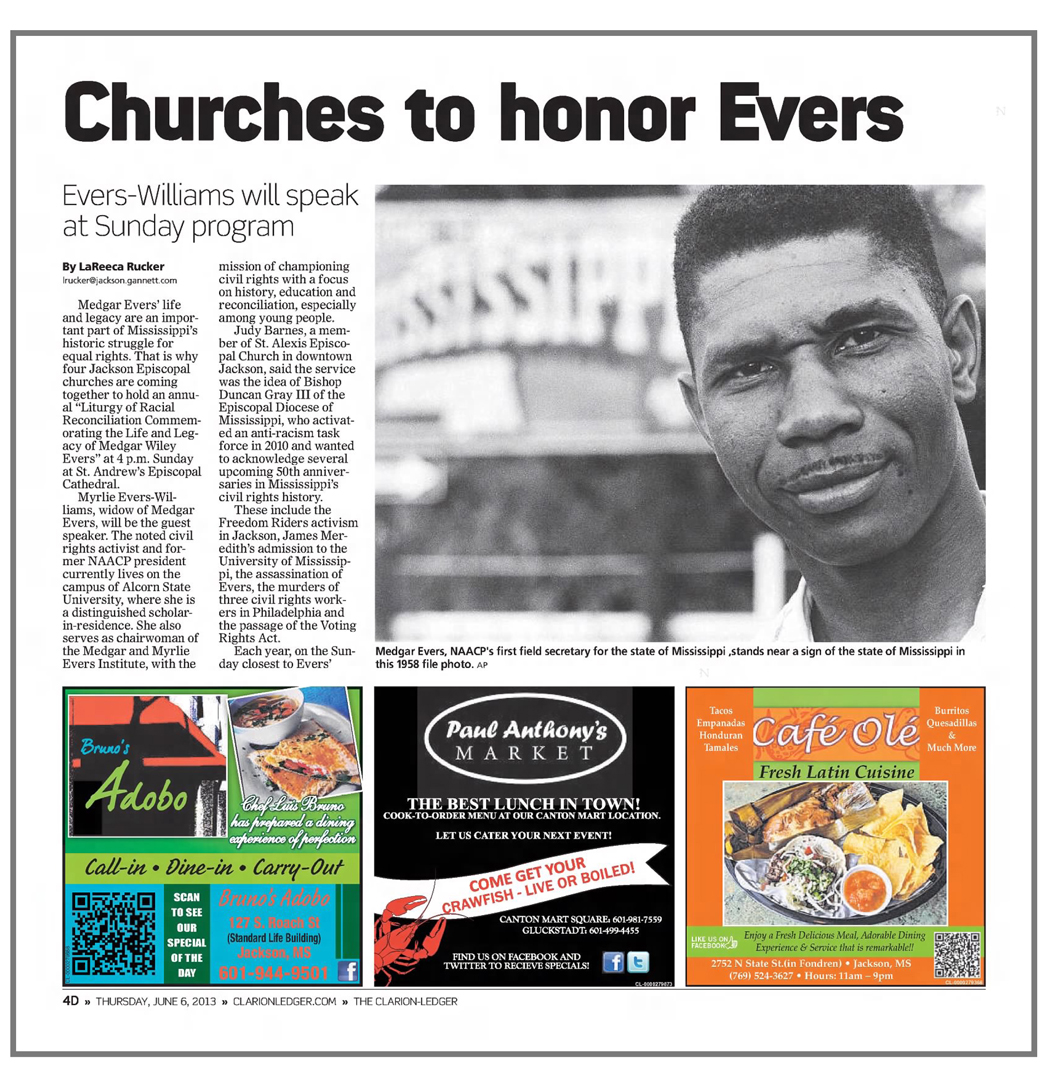 She also serves as chairwoman of the Medgar and Myrlie Evers Institute, with the
mission of championing civil rights with a focus on history, education and reconciliation, especially among young people.
Judy Barnes, a member of St. Alexis Episcopal Church in downtown Jackson, said the service was the idea of Bishop Duncan Gray III of the Episcopal Diocese of Mississippi, who activated an anti-racism task force in 2010 and wanted to acknowledge several upcoming 50th anniversaries in Mississippi's civil rights history.
These include the Freedom Riders activism in Jackson, James Meredith's admission to the University of Mississippi, the assassination of Evers, the murders of three civil rights workers in Philadelphia and the passage of the Voting Rights Act.
Each year, on the anniversary of Evers' death, All Saints, St. Alexis, St. Christopher's and St. Mark's Episcopal Churches host a worship service in memory of Evers with special guest speakers.
"My hope is that we never forget the sacrifices that Medgar Evers and many others made to ensure civil rights for everyone who had been denied those rights for many years," said Barnes. "He had courage to do what was necessary even at great personal risk. ...
"I think if Evers were alive now he would be involved in ensuring voting rights that could be impacted by new photo ID laws. Perhaps he would be in Washington, working to protect student aid, WIC, Head Start, the Affordable Care Act, veterans' benefits."
Barnes said there is still work to do. "He is a hero and example for his time and for ours," she said.
The public is invited to the services. A reception will follow in St. Andrew's parish hall. An offering will be collected to support the work of the Medgar and Myrlie Evers Institute.