Long Live the Mini: Look made popular in the 1960s returns
LaReeca Rucker
The Clarion-Ledger
When Jimmie Hartfield left Louisville in 1966 and moved to Jackson to attend Tougaloo College, she became a student amidst a fashion revolution, and when it came to style, she followed the crowd.
At home, she didn't dare wear the A-line minidresses that helped define the era. Her conservative parents did not approve of short hemlines. But at college, things were different for the sociology major.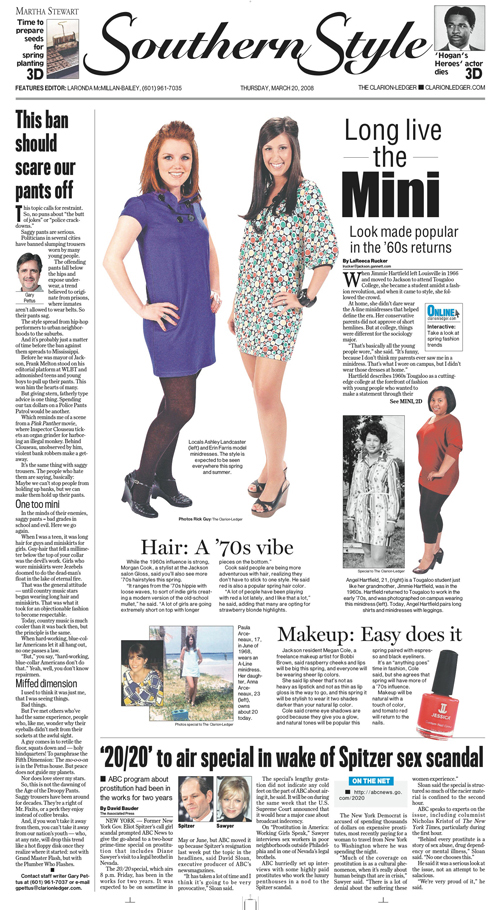 "That's basically all the young people wore," she said. "It's funny, because I don't think my parents ever saw me in a minidress. That's what I wore on campus, but I didn't wear those dresses at home."
Hartfield describes 1960s Tougaloo as a cutting-edge college at the forefront of fashion with young people who wanted to make a statement through their studies and style.
"It was instilled in us that we were young adults, we were forging a new future, and that we should take charge of ourselves," she said. "We were taught to be respectful, but we were encouraged to keep up with fashion and form our own identities. Therefore, I felt very comfortable wearing the minidresses."
Today, Hartfield's granddaughter, Angel Hartfield, 21, is doing the same. The Tougaloo student is studying economics and business, and like many of her peers, she sometimes dons the A-line minidresses similar to the ones Grandma once wore, but with modern appeal.
"A lot of people wear minidresses that look like long shirts with tights," Angel Hartfield said.
Yes, the minidress has returned for a second time around, and it's not possible to discuss it retrospectively without mentioning English designer Mary Quant, whose miniskirts, minidresses, micro-minis and hot pants helped color the '60s.
Minidresses began to reemerge early last year, first seen on the most photographed celebrities, like Britney Spears, who sported a few ensembles that looked more like long shirts than short dresses, sans the tights. It wasn't long until other celebs were raising their hemlines, and the classic minidress eventually went mainstream.
Great for showing off legs in the summer, the dresses also adapted easily to winter paired with tights, leggings and boots. And while micro-minis are a bit daring in length, today's grandmas shouldn't be shocked by short skirts. Get out your 1960s yearbooks, and you may find a picture of Grams showing off her gams in an A-line shift.
Jackson native Paula Arceneaux graduated from Wingfield High School in 1967, and now works as a legal secretary for the Jackson firm Blair & Bondurant. Tuesday night, she attended an organizational meeting for her 40-year class reunion. Her picture was taken in Florida in the summer of 1968 wearing an A-line minidress.
"The older people were shocked by the short styles," she laughed. "I think that's when the parents lost control of their children."
Today, Arceneaux is 57, and her daughter, Anna Arceneaux, a Louisiana State University graduate, owns about 20 minidresses.
"They're very chic and cute, yet comfortable as well," the 23-year-old said, adding that she loves to look at old photos of her mom in similar dresses.
"I think it's inspiring and creative for the fashion industry to take an older style and recycle it to be fresh and modern," she said.
Sarah Milburn, 20, manages the Flowood store Az Well. She said minidresses have been worn with tights and leggings this fall, but that will soon change with the weather.
"The majority of our dresses are mini or above the knee," she said. "We have a lot of graphic designs in now and florals. I think everyone will be wearing them when summer hits. We're starting to transition to that right now."
Megan Barnes, 25, manages the Flowood store MiGi's on Lakeland Drive.
"Our whole store is full of (minidresses)," she said.
Owned by twins Misti Garner and Ginger Wartes, MiGi's has its own clothing line - Lila, Vail & James - that includes a number of minidresses.
"This summer, minidresses are going to be everywhere," Barnes said.
"Dresses were big last year, but they were longer. This year, they are really shooting for the shorter dress, and they are not tight and fitted. For the most part, they are an A-line or babydoll style."
Barnes is also seeing lots of solid colors.
"Yellow and navy are really big this year," she said. "Floral patterns are also in style. Anything bright and colorful is huge. Color is everywhere."
Barnes said bangles, big earrings and clutches are popular minidress accessories, and the dresses work well with wedges, heels or flip-flops, depending on the occasion.
Brandon native Erin Farris, 23, likes the versatility of the style and the retro appeal.
"I look at pictures of my mom wearing them," she said. "Some of the new ones are retro, and some are not, but the body style is definitely a throwback (to the '60s)."
Jimmie Hartfield, 59, who works as a substitute teacher in the Jackson Public School System, now modestly wears her hemlines near her ankles. She admits she's become more like her conservative mother and father, who frowned upon minis.
"The styles take me back, but I am old-fashioned now like my parents," she said. "I have to remember that I once wore them, but I am now a person who would like to see the young people keep their dresses at least at the knee."
Hair: A '70s vibe
While the 1960s influence is strong, Morgan Cook, a stylist at the Jackson salon Gloss, said you'll also see more '70s hairstyles this spring.
"It ranges from the '70s hippie with loose waves, to sort of indie girls creating a modern version of the old-school mullet," he said. "A lot of girls are going extremely short on top with longer pieces on the bottom."
Cook said people are being more adventurous with hair, realizing they don't have to stick to one style. He said red is also a popular spring hair color.
"A lot of people have been playing with red a lot lately, and I like that a lot," he said, adding that many are opting for strawberry blonde highlights.
Makeup: Easy does it
Jackson resident Megan Cole, a freelance makeup artist for Bobbi Brown, said raspberry cheeks and lips will be big this spring, and everyone will be wearing sheer lip colors.
She said lip sheer that's not as heavy as lipstick and not as thin as lip gloss is the way to go, and this spring it will be stylish to wear it two shades darker than your natural lip color.
Cole said creme eye shadows are good because they give you a glow, and natural tones will be popular this spring paired with espresso and black eyeliners.
It's an "anything goes" time in fashion, Cole said, but she agrees that spring will have more of a '70s influence.
Makeup will be natural with a touch of color, and tomato red will return to the nails.