A model collector: From miniature cars to the real deal, he's got it all
LaReeca Rucker
The Clarion-Ledger
With rising gas prices, American consumers and automakers have begun to shift their focus from the large, gas-guzzling SUV to the smaller car, and small cars are something Brandon resident Robert Jackman knows a thing or two about.
He owns 4,000 and estimates his collection of die-cast and handmade models is worth more than $400,000.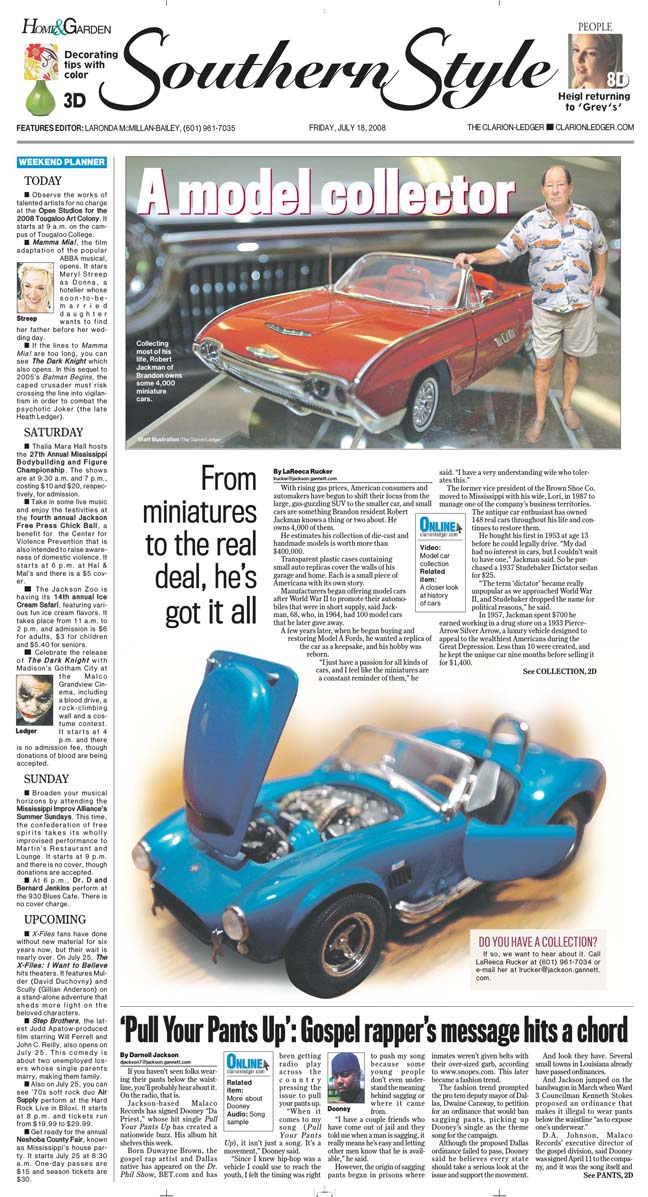 Transparent plastic cases containing small auto replicas cover the walls of his garage and home. Each is a small piece of Americana with its own story.
Manufacturers began offering model cars after World War II to promote their automobiles that were in short supply, said Jackman, 68, who, in 1964, had 100 model cars that he later gave away.
A few years later, when he began buying and restoring Model A Fords, he wanted a replica of the car as a keepsake, and his hobby was reborn.
"I just have a passion for all kinds of cars, and I feel like the miniatures are a constant reminder of them," he said. "I have a very understanding wife who tolerates this."
The former vice president of the Brown Shoe Co. moved to Mississippi with his wife, Lori, in 1987 to manage one of the company's business territories. The antique car enthusiast has owned 148 real cars throughout his life and continues to restore them. He bought his first in 1953 at age 13 before he could legally drive.
"My dad had no interest in cars, but I couldn't wait to have one," Jackman said. So he purchased a 1937 Studebaker Dictator sedan for $25. "The term 'dictator' became really unpopular as we approached World War II, and Studebaker dropped the name for political reasons," he said.
In 1957, Jackman spent $700 he earned working in a drug store on a 1933 Pierce-Arrow Silver Arrow, a luxury vehicle designed to appeal to the wealthiest Americans during the Great Depression. Less than 10 were created, and he kept the unique car nine months before selling it for $1,400.
When he told his parents he had doubled his money, his mother lectured him about the evils of taking advantage of others, but it was Jackman who felt cheated in 1994, when the same exact car sold for $197,000 at an auto auction.
At 19, he bought a used 1956 Austin-Healey, an English sports car that a neighbor housed in her garage while Jackman, a Navy man, was stationed in Pensacola, Fla. When she moved, he was forced to sell the car. And he bought a new 1966 Buick Skylark GS 400 a year after he and Lori married.
"It had a big motor, and it was awesomely fast," he said. "I thought I was something special with that car."
Today, he owns a 1961 Corvette that he's had since 1972; a rare 1963 Thunderbird Sport roadster (only 455 were produced) that he bought in 1990; and a 1929 Model A Ford roadster hot rod. He has models of all his past and current cars.
"For years, the car industry was fun," said the auto historian who sometimes writes historical articles for auto industry Web sites. "They used to tape up the windows of the dealership and keep the new cars a secret until the day they were revealed."
The men of his generation are probably the most avid antique car collectors and restorers, Jackman said.
"Most of us grew up in the 1950s, a decade that was unbelievable, and I feel sorry for kids who didn't experience it," he said. "We had just come out of World War II and the Korean War, and by the mid-'50s, the economy was on fire. Cars were exciting."
Cars were also cheap, and gas was 19 cents a gallon.
"Nobody cared how many miles per gallon they got," Jackman said.
The evolution of the car was also exciting. In the mid-'50s, Jackman said Ford began offering seatbelts and padded dashboards for an additional fee.
"In 1955, cars were all distinctive," he said, "and every year, they would come out with new features. People felt like their cars were a reflection of them."
Jackman, a member of the Mississippi Classic Cruisers car club, travels to car shows and speaks to car enthusiasts throughout the nation. Tom Phillips, president of the Classic Cruisers, has seen Jackman's model collection.
"Those cars are on every wall and every flat surface in the house," Phillip said. "I mean every room. The cars keep coming. This is not a collection that he started years ago and has had enough. Every day, UPS delivers more cars. He and the UPS driver are on a first-name basis."
Louis Ousler, former president of the Classic Cruisers, was also impressed by the collection.
"I suspect that's probably one of the most complete car collections of anybody in the country," he said. "He has a variety of different makes and models, and it seems like he has a story to go along with every one of them."
Jackman's model collection also includes two small microcars that, today, look both futuristic and vintage. The 1957 Messerschmitt is a tiny, three-wheeled auto that resembles the other - an egg-shaped BMW Isetta that opens from the front. Both, produced after World War II, were known as "bubble cars."
"In the last few decades, people have been buying huge cars," Jackman said. "We have to learn to conserve. . . What's going to happen in the next 30 years - I won't be here to know, but cars are going to be very different than they are today."