Power of mother-daughter bonds
LaReeca Rucker:
The Clarion-Ledger
Many mother-daughter pairs share strong physical similarities and personality traits. Some also share memories of beauty and sacrifice.
These steel magnolias have survived challenges of birth, death and divorce. And some of life's surprises that initially seemed unbearably painful became miraculous gifts.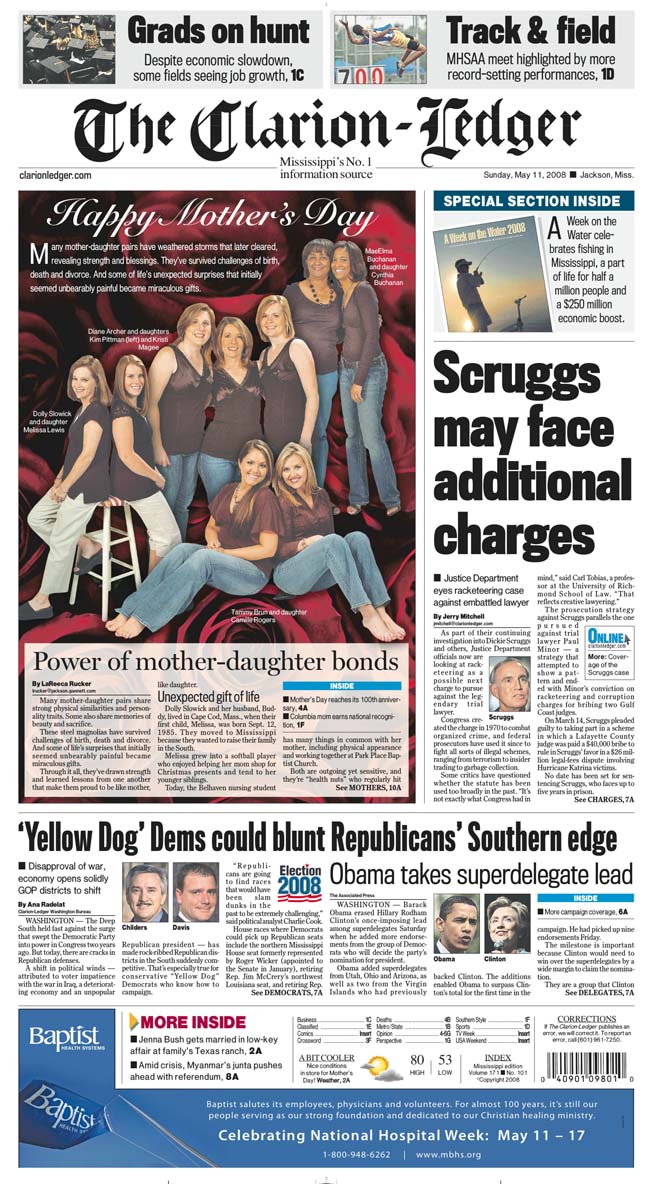 Through it all, they've drawn strength and learned lessons from one another that make them proud to be like mother, like daughter.
Unexpected gift of life
Dolly Slowick and her husband, Buddy, lived in Cape Cod, Mass., when their first child, Melissa, was born Sept. 12, 1985. They moved to Mississippi because they wanted to raise their family in the South.
Melissa grew into a softball player who enjoyed helping her mom shop for Christmas presents and tend to her younger siblings.
Today, the Belhaven nursing student has many things in common with her mother, including physical appearance and working together at ParkPlace Baptist Church.
Both are outgoing yet sensitive, and they're "health nuts" who regularly hit the gym. They're also psychic friends.
"Last weekend, she was at home with her husband, and I was home with mine," Dolly Slowick said. "She text-messaged me to see what I was doing. I said, 'Folding laundry, watching a Lifetime movie and eating an orange.' She was doing the exact same thing."
The two share one other important commonality - Melissa's daughter, Alexis, who has become the love of their lives since her unexpected arrival four years ago.
"I was a senior in (Pearl) high school when I found out I was going to have her," Melissa said. "From the get-go, my mother never said an ugly word. She was so supportive. And now, we can't imagine our life without Alexis."
Dolly Slowick said Alexis was a gift from God. The whole family loves Alexis with a purity I'm not sure we love anyone else with," she said. "It's just made all of us one."
And she already can see little pieces of herself and Melissa in the baby.
Overwhelming times
Diane Archer was a little overwhelmed when she learned she was pregnant with twins but not surprised. She already had 1-year-old Kimberly and knew having three babies in diapers would be challenging, but she awaited the opportunity.
Archer gave birth July 22, 1980. Kristi survived, but her identical twin sister, Kelli, died shortly afterward. Born a month early, Kristi weighed 2 pounds and tiny Kelli was just more than a pound. Her lungs had not matured.
Giving birth to twins meant Diane had carried out a fourth-generation family tradition. She is a twin. Her mother was a twin. And her grandmother was a triplet.
And while raising her children was a blast, she could have lived without the minute 2-year-old Kimberly locked herself and her 6-month-old sister in the hot car when Diane hopped out briefly.
"We lived out in the country, and I had a mile-long driveway," Archer said. "It was in August. I didn't know what to do, so I just started crying and put my head down on the hood of the car.
"Then I heard a knock on the window, and Kimberly said, 'Mommy, do you want me to roll the window down' She was 2, and she knew what to do, but I didn't."
Archer said she passed on different traits to her girls. Kimberly has been an organizational freak since she was a child; Kristi is creative, likes to sew and has followed her mom's academic path.
Today, Byram resident Kim Pittman and Mendenhall resident Kristi Magee are their mom's best friends.
Sharing a strong will
Cynthia Buchanan was born in Jackson 37 years ago today.
"She was the best Mother's Day present I could have gotten," said MaeElma Buchanan, 66, who raised Cynthia and son, Jimmy Jr., in Crystal Springs. As a child, Cynthia sometimes rebelled.
"I think every daughter thinks their mother is mean growing up," Cynthia said. "As a teenager, you always think you know what's best for you and your parents don't understand you. When I look back, I am so thankful she did not allow me to have my way or grow up too fast."
Now, the two have a lot in common. Both are givers who don't upset easily. Family is a priority, and shopping and attending cultural events are favorite pastimes. Both love going to church, laughing at television reruns and hate bugs.
Cynthia and her mother also have had hardship. MaeElma fought breast cancer when her daughter was in junior high.
Twenty years later, Cynthia is thankful her mom is a cancer survivor. She's also happy MaeElma, a retired schoolteacher, pushed her to excel academically and encouraged her to take challenging classes.
Today, she's the executive vice president of the Jackson Chamber of Commerce, a division of the Greater Jackson Chamber Partnership.
Piercing similarities
When Camille Rogers was born in 1990, her mother, Tammy Brun, was told she might not survive.
"She had pneumonia, and they told me they would know whether or not she would make it in 10 or 12 hours," Brun said. "She was in ICU for six days."
Doctors also informed Brun that her daughter might be deaf, though it proved temporary. "We all broke down and started crying because deafness runs in our family," said Brun.
Brun and her husband divorced in 1996, and two years later, she moved Camille and her son, Mason (now 15), to the country into the Leesburg house where she grew up.
"I was a single parent for a little over 10 years, and when she was 14, she decided she didn't want to take money from me anymore," Brun said. "She's been working since then."
Camille got a job cooking and cleaning at a nearby country store, where she worked after school, on Saturdays and during the summer. Most of the money she earned paid for her car and gas, and she helped her mother, who suffered from migraines, making sure meals were prepared for her younger brother.
But life had its fun moments. Brun and her daughter both got belly-button rings on Camille's 15th birthday.
"Because we always do things together, she talked me into getting our belly buttons pierced," Brun said. "We were in this room with a couple of other girls, and I said, 'I can't believe I'm getting my belly button pierced at 40-something years of age.' One of the girls replied, 'Isn't that great? I'm going to do that with my daughter when I get old.'"
Today, Camille, 18, is a senior at Pisgah High School. "We are so much alike," said Brun, 46. "We are first-born girls, and we love the country and everything about family. She is an honor student, like I was. She got prom queen; I got homecoming queen. ... I am blessed."
Learning life's lessons
When Madison resident Teresa Wilson and her husband divorced in 1992, she moved her children, Rebecca and Gregory Day, into a two-bedroom apartment.
"Each kid had a bedroom," she said. "I didn't. I slept on my son's bunk bed. It was just me, the two kids and $17,000 a year I earned from my job. But we managed. "Each week, I'd say, 'This week, we can buy a box of cereal, and maybe next week, we can get some chicken nuggets.' But we made it."
Wilson married again four years later, and the couple raised Rebecca, Gregory and her husband's two children. Rebecca never presented a problem until her transition from elementary to junior high.
"She went through a two-week period when she cried every day and would not get on the school bus," Wilson said. "We call it her 'spell.' "She had been a big fish at the elementary school, but when she went to Rosa Scott, she was not known. It didn't take her long, though; she ended up being the student-body president."
Today, 26-year-old Rebecca says she has become more like her mother. "I have watched and learned from her strength. That's why I'm proud when people tell me I'm like her. We also have the same eyes, smile, and we both have my grandfather's nose."
Raising a 'mini-me' Taylor Elise came as a surprise to Shirley and Ellis Tucker. The Jackson couple had two boys, and they figured that was it. "When I found out I was pregnant, I knew she must be the girl God wanted me to have," Tucker said.
And some of her family members believe Taylor, 9, is her mother's "mini-me." "I first recognized it when she was 5," Tucker said. "She was so outgoing, always talking to people and so complimentary. I thought it was a bit much.
"Then I was talking to my sister-in-law on the phone about her one night, and she said that my brother said I was the exact same way as a child. She likes to talk; I like to talk. We are both very active in our churches. She's one of the few children there who isn't afraid to get up and make a speech."
Dealing with challenges
Mary Emily Moore was a well-planned baby. When Dee Dee and Bob Moore of Ridgeland had trouble conceiving, they sought the help of fertility experts, and during the first month of treatments, Dee Dee became pregnant.
The couple welcomed their daughter in August 1995, but the baby didn't enter the world without issues. Born with an underdeveloped digestive system, Mary Emily cried 24 hours a day for the first nine months of her life.
"The nurses actually brought her to us from the nursery because she was disturbing the other babies," Dee Dee said. "It was very hard. She was probably 9 months old before she smiled for the first time."
Today, Mary Emily is a cheerleader at Madison-Ridgeland Academy. She recently had corrective knee surgery. Her left leg was longer than her right, causing her spine to curve. It's a trait she shares with her mom.
"We had a small window of opportunity (because of her age) for this surgery," Dee Dee said.
On the road to recovery, resilience is just one characteristic the pair shares.