Nichols explores what lurks in the 'Mud' of the mighty Mississippi
LaReeca Rucker
The Clarion-Ledger
All the ladies who plan to buy a movie ticket this weekend to see a shirtless Matthew McConaughey in a G-string like they did in director Steven Soderbergh's sociological experiment "Magic Mike" that drew lines of women to a R-rated, cinematic strip show, may be a little disappointed in "Mud."
While McConaughey is fully clothed in most of this movie, (even wearing a symbolic, signature, white button down shirt), you will be rewarded with a pectoral scene or two, but this film is different kind of sociological exploration.
Just as Soderbergh's films seem to focus on the underworld or behind-the-scenes players who don't always color within the lines of society, director Jeff Nichols' third film explores the rural South, its residents and some of the uncontrollable things they encounter.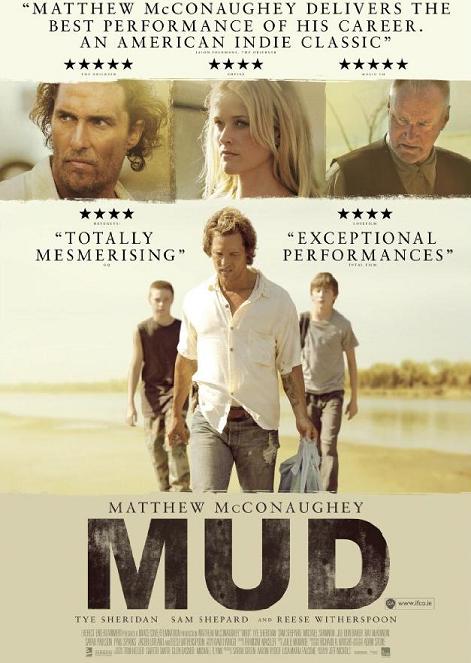 In "Mud," we are introduced to two adventurous 14-year-olds, Ellis (Tye Sheridan) and Neckbone (Jacob Lofland), who against their parents wishes, brave the Mississippi River on a motorboat to explore an uninhabited island. They trek through through the forest and creeks until they arrive at an unusual site - a boat lodged high in a tree, stuck there when the flooded river descended. They soon discover that someone has been living in the boat - a guy who calls himself "Mud." (McConaughey)
"Mud" says he found it first, and by law, he is entitled to it, but he'll make a deal. If the kids bring him food and relay messages to his estranged love, Juniper, who has come to town to be with him, he'll hand over the boat. The children eventually learn that "Mud" is a fugitive who must hide out on the island until he can escape with Juniper. (Reese Witherspoon)
"Mud" is a description of the rural setting of this film, a word that ties McConaughey's character directly to the Southern earth, and it seems as though he may have magically risen from it. This mythical, enigmatic figure has no parents, extolls Native American wisdom, has a large snake tattoo and creatively stretches the truth about his own life experiences. The people who know him best characterize "Mud" as a liar who is able to cleverly deceive others and befriend them with cunning charisma. They deeply love him, but are clearly aware of his character flaws.
The film was wisely cast using actors (McConaughey and Witherspoon) with Southern roots and authentic accents. While McConaughey will probably soon be an Oscar contender for Best Lead Actor for this performance, it's Tye Sheridan (Ellis) who truly owns that role. He's the lead character in this coming-of-age story who learns hard lessons about life and love. Ellis symbolizes morality. He can identify evil, and wants to do the right thing, but he'll do the wrong thing, if it's for the right reason.
He begins to realize that people aren't always truthful, and love is often complicated. It's Sheridan who is awakened in this movie and has the most pivotal scene in which he explodes, confronting "Mud" and all the other people in his life who have disappointed, lied to and deceived him - from his parents and "girlfriend" to his new found island-dwelling buddy. It's no coincidence that Ellis falls into a pit of poisonous snakes shortly thereafter.
Impoverished pride is another element I noticed. Rural Southerners with values are often neglected in film. In "Winter's Bone," the lead character is the moral compass of the story, but she is surrounded by a community of vigilantes. In other movies, poor Southerners are usually backwoods dwellers with axes and chainsaws who don't take kindly to strangers with broken down vehicles and a bad sense of direction. Rural Southern America, more often than not, is stereotypically depicted. Some may say that's true about "Mud," but I think Ellis' family is a touchstone reminder of the importance of values and morality.
"Mud" features beautiful shots of the Mississippi River. The creeks and landscape remind me of my own rural Mississippi upbringing and the adventures had in the untamed forests with my best friend and a strong sense of wonderment. We always hoped to run across something amazing, like a boat in a tree, when exploring our own backyards, and I think this film will deeply connect with anyone who has lived a rural life.
There's a lot of Native American and religious imagery in this film, which seems to support a symbolic statement about government involvement. Ellis proudly lives in a modest, trailer-like houseboat with his family. "I ain't no townie," he says, when told a new law may force the family to give up their river residence.
The film may be a statement about society remaining stagnant (or stuck in the "mud") because of those who relentlessly fight the inevitable changes that time often brings, but it also speaks of a desire to preserve a way of life without interference.
There is also a strong statement made by Ellis' disheartened father whose relationship with his wife is dissolving. "Women are strong. Women will set you up for things," he said, a quality mirrored in both Ellis' "girlfriend" and in Juniper. But we also see deceptive men in this film, including "Mud" and in the men who come after him. It's all commentary about how you can sometimes become a victim of love and respect.
Nichols, an Arkansas native, stunned me with "Take Shelter," a film that took my breath away with a startling, unexpected ending. Starring Michael Shannon (who also has a small role in "Mud") and Jessica Chastain, the film was released the same year Chastain won an Oscar nomination for her scene-stealing role in "The Help."
After a series of nightmares about a terrible storm, Shannon's character begins to prepare for it by expanding the tornado shelter in his backyard, and his family begins to suspect that he is going insane. It's a post-911 movie about impending doom with a lead character whose extra sensory perceptions about the world cause them to fall into a chasm of depression and anxiety - a beautiful, sad poem of destruction.
"Take Shelter" is about things that we cannot control, and so is "Mud."
It's about realizing the world isn't as it seems, and you may never be able to control any part of it. You can't control who loves you and who does not. You can't control society as it evolves. You can't tame a river snake. And you can't control the Muddy Mississippi.