Creativity at your fingertips: Check out nail art from the Nail Nerd
LaReeca Rucker
The Clarion-Ledger
What do you get when you ditch the traditional French manicure for something more fun, funky and fascinating?
If you said nail art, you hit the nail on the head.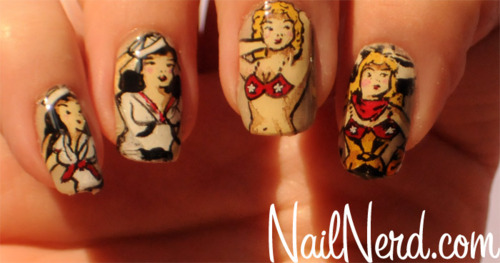 A new fashion craze has hit the Internet thanks to Pinterest.com. Log on, and you'll see fingers and toes polished in a variety of artful ways.
Meghan Jean, a New Orleans-based graphic designer with clients in Mississippi and Louisiana, is known as the Nail Nerd. She began doing nail art a year ago.
"I found that having these little pockets of time throughout the day where I was able to be creative on my terms and for only my pleasure were immensely gratifying," she said.
"The time I was working on my nails, I was able to forget about all of my deadlines and stresses. I was just in the moment focused on making something pretty and happy happen on my hand. It's forced a lot of balance in my life."
Jean's website, Nailnerd.com, features hundreds of her designs, from abstract to pop culture inspirations. Many are fan requests - from The Muppets and Hello Kitty to the cast of "Mad Men."
"Of the 500 some manicures I've done so far, I think the Lorax nails may be my favorite," she said. "There's something about how bright the colors are, and of course, the message of Dr. Seuss' Lorax story that makes me really happy. But it's hard to pick favorites, because I really do love so many of them."
Jean said simpler designs, like tiger stripes or chevron nails, can be done in about 20 minutes. Others take much longer. "The more intricate designs that I do in acrylic paint, like the 'Where The Wild Things' Are or Stan Lee Superhero nail designs, those took me hours," she said.
The effort pays off, she said.

"You'd be amazed how much interest a simple rose on the tip of your nail can garner out in public," she said.
Consequently, Jean said nail art is becoming more popular at salons.
"I think it's currently an untapped market with great revenue potential."
Cleveland, Miss., native Mandy Zuniga is a school librarian and author of the blog readwritemom.com. She recently wrote about the nail art trend.
"I first noticed (it) a few months ago while browsing Pinterest," she said. "I was impressed with how intricate some of the designs were, so I wrote a post about it on my blog.
"I think nail art is beautiful when tastefully done. However, I have seen some really scary looking nails floating around on the Internet. I think it's definitely a trend that the younger crowd pulls off better than adults."
Zuniga said the most interesting technique she has seen is called fimo nail art. It uses polymer clay to create small pieces of fruit or flowers.
"It looked like extremely tiny pieces of real fruit sitting on the fingernails," she said.
If you can imagine it, it can be done, she added.
Karen Butler, of E Salon in Wiggins, offers nail art.
"We have a very talented nail tech who hand-paints each design," she said. "Everything is free-handed - butterflies, flowers, etc. She doesn't use stencils or any type of pattern. She can paint pretty much any design her clients want."
Brandon resident Stephanie McMechan, an Alcorn State University alumna who writes online fashion articles, has been watching nail art evolve.
"I love this trend because every woman seems to be able to embrace parts of the nail art," she said. "There is no specific demographic for it or type of woman who would wear it. Plus, this is a way to have fun without committing to a look for a long term. Polish can be easily changed."
McMechan said celebrities like Katy Perry, Rihanna and Lady Gaga have given the trend a boost.
"When the mass market embraces a trend like nail art, it becomes that much more achievable at home, too, with do-it-yourself kits and nail art paint strips," she said.
Some salons are also offering a new take on the French manicure using bright colors on the base and tips, McMechan said.
"Also, using crackle, glitter, and metallic polishes atop of a base color makes a new layered look," she said. "There are even pointed nails, or 'stiletto' nails for those who dare."
McMechan said nail art is everywhere.
"Some people only paint one toe or finger with designs or just polish the toes brightly," she said. "It depends on personal taste.
"I have tried shellac, nail polish strips by Sally Hansen, and a glitter polish on top of a bright shade. Creativity translated in this way gives women a new way to be fun and expressive, and a new confidence as well."
Tips from a pro
• Don't spend a lot. "When I first began, I was buying $1-$2 nail polishes from the drugstore and started working with some tape I had in the junk drawer."
• Start with taping. Take a piece of masking tape and cover part of your painted nail. Apply another coat of polish with a different color. "It makes a nice clean line separation and is definitely an eye-catcher."
• Create a tool kit. "Include a nail art stamper and scraper, a good set of brushes - I use MASH nail art brushes, a set of 15 for $10 - and whatever paint and polishes you like best."
• Use acrylic paint on top of polish. "Using the small craft acrylic paint sets that you can get from any hobby and craft store and a very small brush, you can use the paint to create anything you want over your nail polish, and then just seal it down with a topcoat. Acrylic paint really stays put and does what you want it to."
• Don't be afraid to mess up. "That's the only way you're going to get better. The trick is to not beat yourself up when something doesn't look exactly the way you pictured it in your head. You've got to use that experience to understand what went right, what went wrong, and how to do it better next time."
- Meghan Jean