Naturally fashionable: Trendsetters take their cue from Mother Nature
LaReeca Rucker
The Clarion-Ledger
What do you get when you ditch the traditional French manicure for something more fun, funky and fascinating?
Inspired by a growing "green" movement, designers in the world of fashion and art are branching out, making trees and birds two of the most popular motifs of the moment.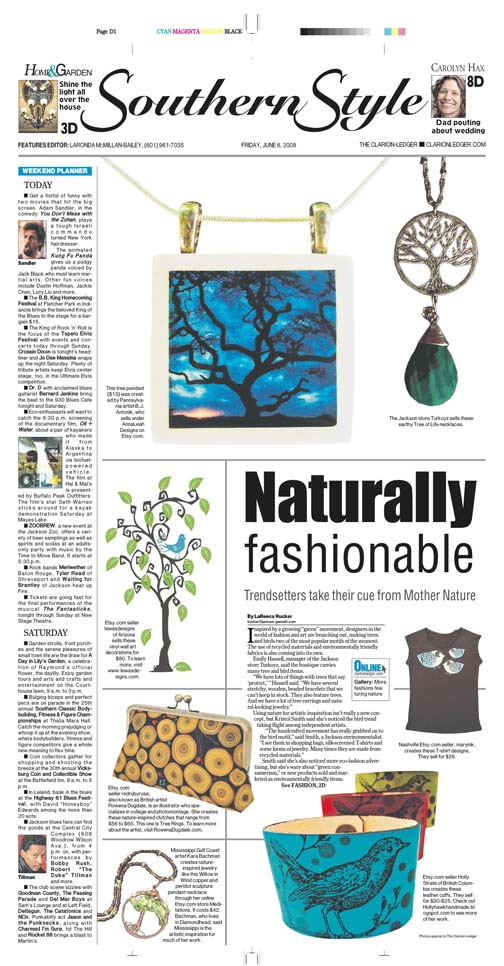 The use of recycled materials and environmentally-friendly fabrics is also coming into its own. Emily Hassell, manager of the Jackson store Turkoyz, said the boutique carries many tree and bird items.
"We have lots of things with trees that say 'protect,'" Hassell said. "We have several stretchy, wooden, beaded bracelets that we can't keep in stock. They also feature trees. And we have a lot of tree earrings and natural-looking jewelry."

Using nature for artistic inspiration isn't really a new concept, but Kristol Smith said she's noticed the bird trend taking flight among independent artists.
"The handcrafted movement has really grabbed on to the bird motif," said Smith, a Jackson environmentalist. "I see them in shopping bags, silk-screened T-shirts and some forms of jewelry. Many times they are made from recycled materials."
Smith said she's also noticed more eco-fashion advertising, but she's wary about "green consumerism," or new products sold and marketed as environmentally friendly items.
"I think there are people who are extraordinarily conscious about where their dollar does or does not go, so they are already making green choices," she said. "I'm not so sure that buying something green is going to save the planet. I'd rather go to Goodwill and get something used and use it until it wears out."
Smith is fan of the blog Wardrobe Refashion on which bloggers, who often purchase thrift store items, use the fabric to redesign and create something entirely different, then post pictures of their refashions.
"This is the best thing in eco-fashion," Smith said, "because it doesn't require you to buy anything new except something you pick up from a yard sale."
In April, the Mississippi State University Fashion Board and the Challenge X engineering team held an eco-fashion show in Starkville, and many of the clothes modeled had been refashioned.
Beverly R. Howell of the Mississippi State University Extension Service said students wore environmentally friendly materials and original designs made of recycled materials. A quilt became a skirt, and a curtain was transformed into a dress.
"We had a wonderful opportunity to have the fashion show during Earth Day weekend to try to help increase awareness about options or opportunities for selecting environmentally inspired clothing," Howell said. "We wanted to draw attention to the availability or option of environmentally friendly fabrics, so we used the theme: 'Green is the New Black.'"
The organic market has grown in the last few years. A survey conducted by the Organic Trade Association revealed that the U.S. organic industry grew 21 percent to reach $17.7 billion in consumer sales in 2006.
U.S. sales of nonfood organic products grew from $744 million in 2005 to $938 million in 2006, reflecting a 26 percent growth rate. Nonfood categories include organic supplements, personal care products, household products and cleaners, pet food, flowers and fiber products such as linens and clothing.
The survey anticipates that organic fiber and clothing product sales will grow 40 percent each year on average through 2010. Many companies are capitalizing on the eco-fashion trend.
Some stores now specialize in it, offering wearable products made of bamboo, hemp and organic cotton.
Arizona Jeans, sold at JC Penney, has a clothing line made of recycled fabrics and organic cotton with many T-shirts featuring tree designs.
Buffalo Peak Outfitters carries Patagonia, a brand that converted its entire sportswear line to organically grown cotton. And Target recently introduced a clothing line by New York designer Rogan Gregory, who focuses on environmentally-friendly materials.
Lisa Palmer, owner of the Ridgeland furniture boutique SummerHouse, said eco-fashion is also prevalent in the home furnishings industry.
"I do think it's tied to our whole awareness of the climate and being green," Palmer said. "I'm seeing a lot of lamps made out of tree trunks, whether they're natural wood or a representation. I see a lot of art reflecting nature, as it always has, but even more so now."
Birds have also nested at SummerHouse. "I've seen a lot of accessories and bird sculptures," Palmer said. "The last two times I went to market, I saw a resurgence of birds in a lot of things."
Palmer has also noticed many upholstery fabrics made from natural fibers that have been labeled "organic" or billed as all natural that use nontoxic dyes.
"One of the furniture lines we carry advertises the fact that their cushions are soy-based," Palmer said, "and when you purchase their furniture, part of the money goes into building forests."
Megh McDill, director of operations for the Ridgeland boutique CoatTails, said people seem to be paying more attention to fabrics.
"I think, in a roundabout way, that comes from the environmentalism movement," she said. "We are becoming more aware of our surroundings, and nature, in general, inadvertently plays a part in what we put on our bodies."