Shrooming: An adventure with the Oxford Mushroom Club: Finding fungi in the forest
LaReeca Rucker
The Oxford Eagle
The red-topped amanita muscaria mushroom is often featured in storybooks, and many Nintendo players may remember it as an element in Super Mario Brothers that, when collected, helped restore a player's "health."

Oxford resident Pat Miller had more than 100 magically appear one day in her yard.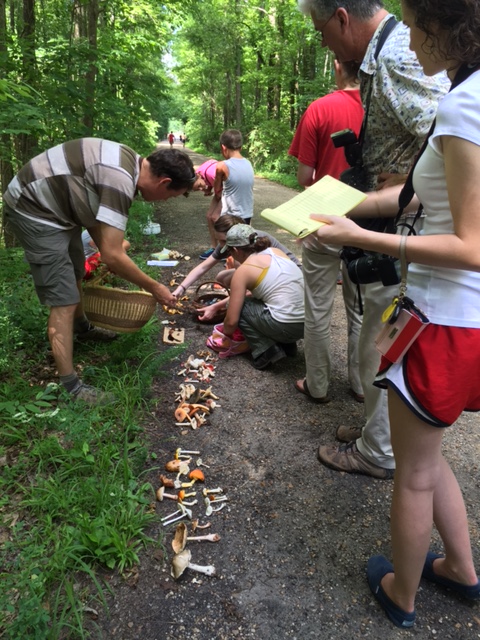 "We had 118 in one day in our yard," she said. "That got us interested in learning more about them."

Miller was one of about 20 people who came to the Whirlpool Trails on Monday to learn more about mushrooms during the Oxford Mushroom Club's first meeting.

Club members walked a path in the woods, collected mushrooms and listened as club leaders Mariah Meachum, a biology graduate student, and Jason Hoeksema, an associate professor of biology, discussed the different types of fungi found in the forest.

"I took Jason's mycology class this past fall," Miller said. "Since then, I've been collecting mushrooms, but I've never collected any in the spring or summer, so this is the first season of these species that I've been able to see. It's fun to see what's different now than in the fall."

Mycology is a branch of biology that deals with the study of fungi. Meachum, who is working on her master's degree in biology with plans to finish in December, specializes in mycology.

"I research mycorrhizae, which is the nutritional symbiosis between fungi and plants," Meachum said Monday before the walk into the woods began. "Many fungi live on the roots of plants, and they provide nutrients to the plant from the soil in exchange for carbon the plant gets from photosynthesizing. So they trade resources with each other, just like the farmer's market (sellers) trade with each other."

Meachum founded the Oxford Mushroom Club because of her interest in fungi.

"This is our first real meeting," she said. "We formed it for the community of mushroom enthusiasts in Oxford, to increase appreciation for North Mississippi fungi, and to increase knowledge about fungi in general. I feel like there's a lot of misconceptions about fungi and mushrooms."

Meachum said she believes there is a growing interest in mushrooms.

"I feel like every time I talk about my research or what I do, a lot of people have these misconceptions about fungi, and I really wanted to just provide a community to help people understand that your hand is not going to fall off if you touch it," she said.

Hoeksema said he had thought about creating a mushroom club in the past, but didn't think there would be enough interest.
"But there are mushroom clubs all over the country, so why not here?" he said. "The interest is definitely growing, but it also helps to have Mariah interested in taking the lead on it. This is an example of something that wouldn't have happened unless she really wanted to do it. The time is right because we have the right people interested in it."

Meachum and Hoeksema led the group through the forest. Many who attended wore straw hats and brought straw baskets to the event in which to collect mushrooms.

They later placed their mushrooms on the ground, and the group leaders sorted and discussed the various types that includes russula, bolete, amanita, chanterelle and one known as the "old man of the woods."

University of Mississippi senior Taylor Brame said he read about the event in the paper and decided to check it out.

"I wanted to come out and meet my fellow fungi lovers of Oxford and do some field biology," he said while walking through the forest. "It's great to know that this exists, and it's a learning opportunity. I'm learning so much. You can look at this stuff in a book, but it's just not the same as being out here and seeing it on the ground."

Club leaders offered the following tips: The proper way to collect a mushroom is to cut around it, and flip it on its side before removing.

Learning what type of tree a mushroom is growing on will help you identify it.

To learn more about mushrooms, read the book "Mushrooms Demystified" by David Arora.

Hokesema cautions the public not to ingest wild mushrooms they pick outdoors without consulting an expert about which types are poisonous and non-poisonous.

They plan to establish a Facebook group and will host some additional forays throughout mushroom season, which runs through fall in Oxford.