UM chandellor listening sessions: Alumni, faculty and staff voice opinions on next chancellor
LaReeca Rucker
The Oxford Eagle
Dozens of alumni and faculty Tuesday let a search committee know what they want in the next University of Mississippi chancellor.

They want a chancellor who graduated from Ole Miss and understands Ole Miss culture. They want a unifying figure with a broad understanding of the world who, perhaps, currently lives in a different region of the United States.
They want someone unconnected to and uninfluenced by Mississippi politics, someone who understands education globally and a person who can repair trust that some feel was broken following former chancellor Dan Jones' departure.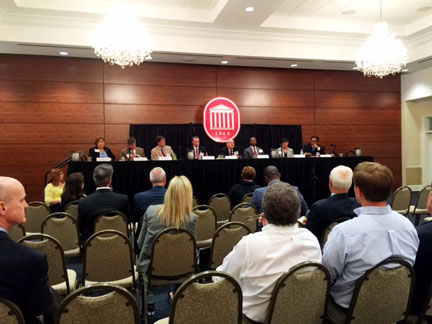 They want someone who understands the importance of diversity; and a leader who can, will and is allowed to stand up to Institute of Higher Learning Board members and state leaders, if needed.

These were just some of the desires from those who attended one of two chancellor search meetings and Listening Sessions Tuesday inside The Inn at Ole Miss ballroom.

The first 11 a.m. session invited alumni to share opinions with IHL Board Search Committee members. The second, at 2 p.m., welcomed faculty and staff.

While in March, thousands of UM students, alumni and faculty protested the College Board's decision not to renew Jones' contract, only a few were present during each of the listening sessions Tuesday. Roughly 30 attended each session Tuesday.

Alan Perry led the IHL's Board Search Committee members including Alice Clark, chair of the Campus Search Advisory Committee; Glenn Boyce, commissioner of higher education; and IHL BSC members Chip Morgan, Ford Dye, Alan Perry, Shane Hooper, Karen L. Cummins and Alfred E. McNair Jr.
"What type of experience do they have? What kind of jobs would they have had that would prepare them to be the chancellor?" Perry asked, offering questions they will ask candidates.

"What are the talents that would make them successful at this job – say raising money or watching over a bigtime athletic program? It's a big job. How do you think we ought to go about identifying the best people for the job? What criteria?"

Only two people spoke during the alumni session.

Differing opinions

Steve Vassallo, a 1969 Ole Miss graduate and Oxford Realtor, said the new chancellor should understand Ole Miss.

"I think it's very important that the next chancellor come from the Ole Miss culture," he said, "and I would say that, in my opinion, it's very important that he or she be a graduate of Ole Miss."

Vassallo said he was attracted to Ole Miss 50 years ago because of its "core American values, Southern heritage and traditions."

"I am as proud of these today as I was then, and they were extremely important to me and my value system," he said. "In regards to this, our name, Ole Miss, should be an eternal branding of the school. It took two centuries to develop this brand, and it's significant in every respect."

Vassallo believes the next chancellor also should adopt economic development as the university's core mission.

"If our graduates cannot find meaningful jobs, what is the point of investing four years or more here in Oxford?" he said.

Mary Barres Riggs, who earned an MBA from Ole Miss, also addressed the panel, offering an opinion different from Vassallo's. She said the search should cross the Mason-Dixon line, and the new chancellor should be someone who unifies.

"I don't think we should only look at people from Ole Miss," she said. "I think the search should be wider, because the faculty and students are now from very broad backgrounds geographically and other ways, regionally.

"I think we need someone more unifying, and I think we need to also get over the Civil War, as (it relates) to both racism and regional discrimination."

Riggs said she hopes for a "broader, wider, more inclusive kind of leadership at Ole Miss."

"Our country doesn't have any laws against regional discrimination, but I think we should, and it may go both ways," she said. "I think we need to open things up, be inclusive and forge ahead to this wonderful inclusiveness rather than to a leadership model of dualistic adversarialism."

Bill Funk of R. William Funk and Associates — a Dallas education search consulting firm — has helped find and recruit 400 of the nation's college and university leaders in the past two decades. He's now looking for the next UM chancellor.

"Unlike the perceptions that a lot of people have, our role is aiding and abetting the search advisory committee," Funk said Tuesday after the first session. "It will be that committee that recommends individuals. I don't have a vote in the process. My job would be to make sure to do everything possible to develop as strong a pool of candidates as we possibly can."

Funk said the average age of all university presidents now is 63, and the average tenure of a university president or chancellor is between five and seven years.

"These are tough jobs, so five to seven years might be long enough for some," he said.

During the second session, Katie Williamson, a recent UM graduate, said the new chancellor should not have any Mississippi political ties, and she received the first applause from the audience.

"We don't need a Phil Bryant lackey," she said. "We don't need a Trent Lott lackey. We don't need a Haley Barbour connection. And I think this is really messing up our entire school by having the Mississippi government so involved in this – academics. That really needs to be a huge concern for the entire search committee."

Jones will begin work at the University of Mississippi Medical Center's obesity research center Sept. 15, the day after his contract as UM chancellor expires.

Trust issues

The state College Board voted March 20 to begin searching for Jones' successor after deciding not to renew his contract. He had been chancellor at the university since 2009 after serving as UMMC's vice chancellor for health affairs.

Doug Sullivan-Gonzalez, associate professor of history and dean of the Sally McDonnell Barksdale Honors College, said, "there is a trust deficit."

"We've experienced a lack of trust because of the actions (regarding the contract of) the past chancellor ... and we still don't understand," he said. "And for us to grasp and move forward, we've got to rebuild that trust."

Sullivan-Gonzalez, who also received applause for his comments, said UM's competition is not Mississippi State, Jackson State or other state universities. Competition is international – in China, Korea, India, etc.

"That's the world we live in," he said. "We've got to look at the broader picture and help choose the kind of leader who's thinking that way."

Kirsten Dellinger, a professor of sociology and chair of sociology and anthropology at UM, said it's important to seek a diverse pool of candidates.

"I think we really need to take seriously — looking at racially diverse, gender-diverse candidates," she said. "We can also look for candidates who value diversity themselves and have shown experience in promoting and encouraging (diversity).

"We can look at the national context right now and see where our nation is and where it's going, and we need to be pushing ourselves forward, because we are really making a great deal of progress. It's extremely meaningful to the people who have been on this campus."

Dellinger said they were sad to see Jones go because of his proven commitment to diversity. "We know there are others out there who can continue this work," she said. "I really encourage you to make this a top priority."

E.J. Edney, a higher education doctoral student, also addressed the "trust deficit" and received applause. He asked the IHL Board to consider hiring a candidate who might sometimes disagree with them and/ or state leaders. His question: How could a candidate keep his or her job if they disagree?

"This next individual needs to be someone who is not so interested in getting the job that they don't ask that question in the process," Edney said. "So, someone who isn't afraid to ask."

Perry said if all goes well, they hope to present a candidate prior to Christmas break.

Additional listening sessions will be held at UMMC in Jackson on Thursday, Aug. 20, and on the Ole Miss campus Thursday, Aug. 27.

The public can submit letters of nomination, applications (letter of interest, resume/CV and references), or expressions of interest via email to tokrisha.creal@rwilliamfunk.com.

Additional contact information is available on the search firm's website, rwilliamfunk.com. The application deadline for consideration is Sept. 1.

For more information and to track progress on the chancellor search, visit the IHL website, www.mississippi. edu/ieo/ or visit Twitter @ UM_Search.