Ron Shapiro: Serendipitious Oxford bohemian
LaReeca Rucker
The Oxford Eagle
Ron "Ronzo" Shapiro, a nickname chosen by Shapiro himself because it rhymes with gonzo journalism and sounds a little silly, has just arrived at Bottle Tree Bakery in Oxford. Wearing Big Ben overalls with copper buttons, a yellow button-down shirt over a black T-shirt with a pair of eyeglasses tucked in the pocket, and a gray fisherman's cap, he parks his bicycle beside the business and retrieves a cup of coffee before finding a seat outside in the warm sun.

Ronzo Shapiro is a lucky SOB and, in Oxford, that stands for Serendipitous Oxford Bohemian.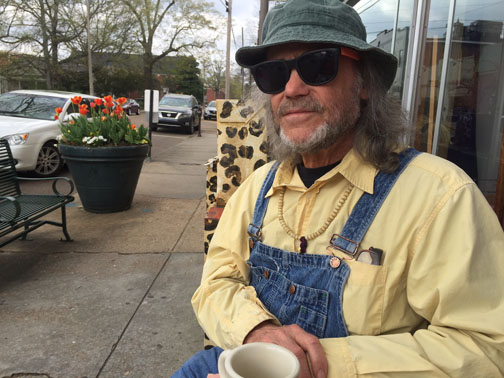 Shapiro has led a lucky life that began in St. Louis. From the ages of 4 to 13, his grandfather took him to every St. Louis Cardinals baseball game. In junior high, a cousin got him a lucky two-year gig working as a ball boy for the St. Louis Hawks, now the Atlanta Hawks.

Shapiro briefly attended Washington University to study business, but was more interested in English literature and anthropology. One of his fraternity brothers was Harold Ramis, who co-wrote the screenplay for "National Lampoon's Animal House."

He was lucky again after college. Drafted into the Army at the height of the Vietnam War, Shapiro was given a desk job in Korea. After serving in the military two years, he later moved to Jackson Hole, Wyoming, to live in the mountains, working at night and skiing during the day.

"It's hard to find jobs in resort towns, because there's waitresses, waiters, bartenders and that's about it," he said. "So I came up with an idea of showing movies at night in the ski area, and it worked. I did that, and I made my living for 30 years opening up movie theaters so my day could be free and I could work at night."

Shapiro couldn't believe he was making a living showing films. He spent four years in Wyoming, yet made another lucky move when his girlfriend, a student at the University of Mississippi, persuaded him to move to Oxford.
Shapiro: Brought indie films to Hoka

"I moved here because I was very impressed with Southern girls," he said. "After being here about a year, the selection of movies was so bad, I decided to find an old building, renovate it and open up a theater."

Shapiro showed films at The Hoka in Oxford until it closed in 1997.

"The enrollment at the university had become so conservative, they didn't want to see the type of movies that I wanted to show," said Shapiro, who looked for unique independent films. "The group here was not as curious as they were in the past."

If lucky enough to find a proper building again, Shapiro said he might consider reviving the Hoka for Oxford's next generation of film lovers. It might not be an impossible task. The Oxford arts community has grown since 1997, and the town continues to attract individuals who want to learn from others and share their unique perspectives.

Artists supportive of one another

"What I especially like about it is there's not this competition and jealousy," Shapiro said. "All of the artists are supportive of one another, and I think that's a really unique situation. With the expense of property and everything, I'm surprised that the arts community still moves here. We are fortunate, because I'd be long gone if it wasn't here."

Shapiro said he recently realized all of his friends are either artists, musicians, painters, writers or bookstore owners. The ones who aren't accompany him to museums, lectures and to Memphis to see foreign language films. He said the modern Oxford community appreciates the diversity of ideas.

"It really encourages other thoughts, which you don't find in a lot of places, especially in some parts of Mississippi, where people kind of want everyone to think the same," he said. "Out of the ordinary is almost encouraged, or at least it's accepted."

Cool job

About 10 years ago, Shapiro got lucky again and landed a cool job while sitting with friends inside Square Books. Author Audrey Niffenegger, who wrote "The Time Travelers Wife," called the store asking if the owners knew a driver she could hire during her book tour.

"I didn't even know I got paid," said Shapiro. "I just thought I was doing the bookstore a favor. As it turns out, I was being hired, in essence, by her publisher."

Shapiro picked up Niffenegger, and the two bonded over politics, music and literature. She shared his name with her publisher, and now whenever a publisher calls Square Books, Shapiro is recommended as a driver.

"So what happens is, whenever I'm hired, they immediately send me the author's book, and I make every attempt I can to read it before I pick them up," he said. "It just adds to the trip, and so accidentally, I've become well-read."
It depends on where the tour leads, but Shapiro tries to take authors to Eudora Welty's house in Jackson, William Falukner's house in Oxford, and Graceland and Sun Records in Memphis. He said Square Books takes pride in finding and introducing future writing phenoms to the world, and he has fortunately met many of them.

"What's great about Oxford is every author wants to come here because of Faulkner, and because John Grisham lived here when his first five books came out. The MFA (writing) program on campus is world renown. There are so many good writers who come through here. It's a mecca for anyone who really likes to read.

"One of the reasons I stay is because you get to go have coffee with world famous people. Other places, you can't even get close to them. But here, you're having a bourbon with them at the bar. I got to drive around the guy who wrote 'The Life of Pi.' He was so bright. Last Saturday, I drove (film director) John Waters. He gave a talk on campus. I've been so lucky."

Lucky dude

Shapiro has been lucky in other ways. He said he's had many nice girlfriends who he's still in touch with. He's been lucky with his health, though he's survived a brush or two. He's lucky to have good friends who challenge him intellectually, and he's only lived in pretty places, a vow he made early in life. He also feels grateful to live only in Oxford.

"There's something about it that makes me reminiscent of junior high school, and that was one of my happiest times," he said. "It's just like school, but I don't have to go to class, and there's no exams. People play here in Oxford. I've got nothing to complain about. I just get lucky."