Supreme Talk: Justices share the stage at the Ford Center; Scalia, Kagan discuss profession, life
LaReeca Rucker
The Oxford Eagle
Two of the world's biggest decision-makers were seated together on stage at the University of Mississippi's Gertrude C. Ford Center for the Performing Arts on Monday as part of "A Conversation with U.S. Supreme Court Justice Antonin Scalia and Justice Elena Kagan."
The two Supreme Court justices, who were introduced by I. Richard Gershon, a law professor and dean of the University of Mississippi School of Law, answered a series of general questions posted by moderator Jack Wade Nowlin, a law professor and associate dean for faculty development.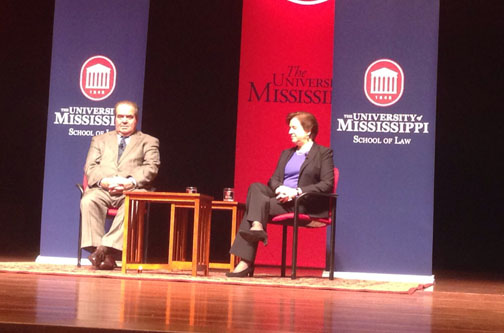 The two discussed what led them to a career in law. Kagan's father was a lawyer, but she said she went to law school for all the wrong reasons, reasons she often warned students about.
"I told them, 'Don't go to law school if you're not sure this is what you want to do, and if you're just doing it because you don't know what else you want to do to keep your options open,'" she said.
"That's why I went to law school. But I was really lucky, because, although I didn't have really good reasons for going, the moment I arrived, I thought this is where I want to be."

Kagan said she had "never loved studying something so much."
" ... There was something about the way it forced you to think and the impact it had in the world," she said. "(It was) the mental stimulation, but also the feeling that it mattered."

Scalia said he was inspired by his "Uncle Vince" to become a lawyer. "Everything about it, was what I liked to do," he said.

"I tell all the students that I speak to, 'Don't go into law, or don't stay in law, if that's not what you like to do.' You're not going to get rich practicing. ... There's no way to get rich by the hour. (Instead), invent a widget or something," he laughed. "The upside is, if you love doing it, you will never work a day in your life."

Nowlin interjected: "I think it's safe to say the choice worked out well for both of you."

Scalia also talked about his law school memories. The Harvard Law grad said it's not something he recalls with "warm and fuzzy feelings."

"It was not a place that was meant to make students feel comfortable and welcomed," he said. "It was hard. It was a lot of work. I saw very little of Boston and kept my nose to the grindstone."

Kagan, who also attended Harvard Law, loved it. "I felt as though every day I learned something new, interesting and exciting," she said.

Both justices talked about rewarding and interesting jobs they had before moving on to the Supreme Court.

Kagan said serving as dean of Harvard Law was her top pick because it enabled her to "exercise different muscles" and learn a variety of things.
After briefly practicing law in Washington, she became a law professor at the University of Chicago Law School, and later at Harvard Law School.

She also served four years in the Clinton administration as associate counsel to the president, and then as deputy assistant to the president for domestic policy. Between 2003-09, she served as the dean of Harvard Law School.

Scalia said he missed the "fang and claw" of having a legal practice and he also missed academia.

He practiced law in Cleveland, Ohio, from 1961-67, and served as a professor of law at the University of Chicago from 1977 to 1982. He was a visiting professor of law at Georgetown University and Stanford University.

The justices were asked if there was a particular Supreme Court justice they admire. Scalia named John Marshall, the fourth chief justice of the Supreme Court, and Robert Jackson, the last Supreme Court justice appointed who did not graduate from a law school.

Kagan said John Marshall and Jackson are also on her list, but she admires justices Thurgood Marshall and Louis Brandeis. Kagan clerked for Judge Abner Mikva of the U.S. Court of Appeals for the D.C. Circuit from 1986-87 and for Justice Thurgood Marshall of the U.S. Supreme Court during the 1987 term.

"The year I spent clerking for (Marshall) was very informative," she said. "When I look back, getting to know this icon ... was sort of a phenomenal experience."

On Brandeis: "You can read his opinions again, again and again," she said. "I'm honored to sit in the Brandeis chair."

'Collegial' court

Kagan described the current Supreme Court as a "collegial" court.

"Sometimes you like people you agree with, and sometimes you don't," she said. "And sometimes you like people you disagree with, and sometimes you don't."

Scalia added, "If you can't disagree about the law without taking it personally, find another day job."

Both justices said they enjoy the oral argument part of court.

"It's almost like an English play with thinking and wittiness," Scalia said. … "It is rare that oral argument changes my mind, and it's frequent that oral argument makes up my mind."

Daniel Fudge, who is in graduate school at the university studying political science, said the event was "exciting."

"It is something to observe the court from afar," he said, "but to see them in a human light reflecting on their experiences was enjoyable."

Theresa Renik, whose daughter is enrolled in the UM law school, said it was an interesting event.

"It was interesting to hear their different perspectives, and how much they agreed despite the differences between the two," she said.

The event was made possible by The James McClure Memorial Lectures in Law.