Student body president eyes job, not making history
LaReeca Rucker
The Oxford Eagle
Jacqueline Certion, a senior academic advisor at the University of Mississippi, noticed something special about Como native Kimbrely Dandridge while watching Dandridge run for freshman homecoming maid.
"Kim has been driven since the day she set foot on this campus, Certion said. "Typically, if you run for homecoming, people know you, but the way she pulled together her support system.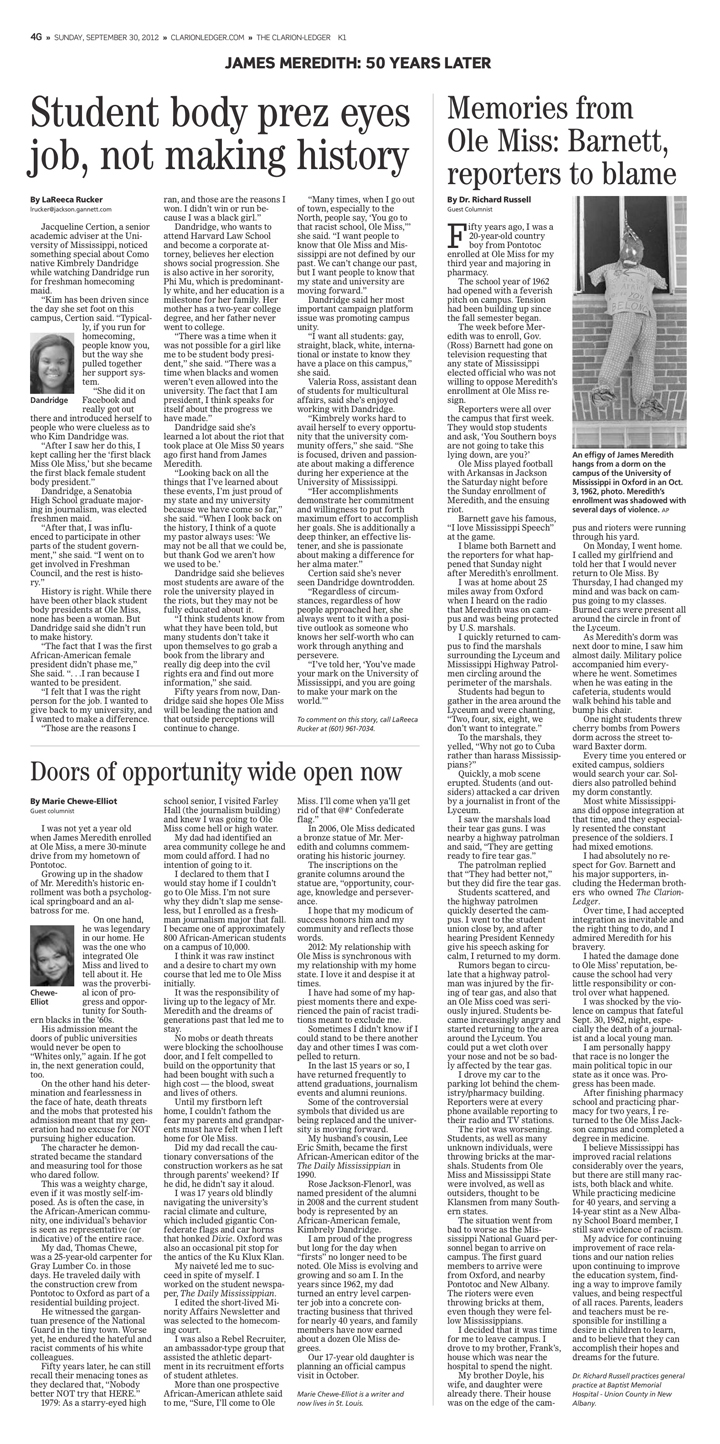 "She did it on Facebook and really got out there and introduced herself to people who were clueless as to who Kim Dandridge was.
"After I saw her do this, I kept calling her the 'first black Miss Ole Miss,' but she became the first black female student body president."
Dandridge, a Senatobia High School student majoring in journalism, was elected freshmen maid.
"After that, I was influenced to participate in other parts of the student government," she said. "I went on to get involved in Freshman Council, and the rest is history."
History is right. While there have been other black student body presidents at Ole Miss, Dandridge became the first black female to hold that position. But she said she didn't run to make history.
"The fact that I was the first African-American female president didn't phase me," She said. ". . .I ran because I wanted to be president.
"I felt that I was the right person for the job. I wanted to give back to my university, and I wanted to make a difference.
"Those are the reason I ran, and those are the reasons I won. I didn't win or run because I was a black girl."
Dandridge believes her election shows social progression.
"There was a time when it was not possible for a girl like me to be student body president," she said. "There was a time when blacks and women weren't even allowed into the university. The fact that I am president, I think speaks for itself about the progress we have made."
Dandridge said she's learned a lot about the riot that took place at Ole Miss 50 years ago first hand from James Meredith.
"Looking back on all the things that I've learned about these events, I'm just proud of my state and my university because we have come so far," she said. "When I look back on the history, I think of a quote my pastor always uses: 'We may not be all that we could be, but thank God we aren't how we use to be.'
Dandridge said she believes most students are aware of the role the university played in the riots, but they may not be fully educated about it.
"I think students know from what they have been told, but many students don't take it upon themselves to go grab a book from the library and really dig deep into the Civil Rights Era and find out more information," she said.
Fifty years from now, Dandridge said she hopes Ole Miss will be leading the nation and that outside perceptions will continue to change.
"Many times, when I go out of town, especially to the North, people say, 'You got to that racist school, Ole Miss,'" she said. "I want people to know that Ole Miss and Mississippi are not defined by our past. We can't change our past, but I want people to know that my state and university are moving forward."
Dandridge said her most important campaign platform issue was promoting campus unity.
"I want all students: gay, straight, black, white, international or instate to know they have a place on this campus," she said.
Valeria Ross, assistant dean of students for multicultural affairs, said she's enjoyed working with Dandridge.
"Kimbrely works hard to avail herself to every opportunity that the University community offers," she said. "She is focused, driven, and passionate about making a difference during her experience at The University of Mississippi.
"Her accomplishments demonstrate her commitment and willingness to put forth maximum effort to accomplish her goals. She is additionally a deep thinker, an effective listener, and she is passionate about making a difference for her alma mater."
Certion said she's never seen Dandridge downtrodden.
"Regardless of circumstances, regardless of how people approached her, she always went to it with a positive outlook as someone who knows her self-worth who can work through anything and perservere.
"I've told her, 'You've made your mark on the University of Mississippi, and you are going to make your mark on the world.'"