Who dat? Popular owl motif reemerging
LaReeca Rucker
The Oxford Eagle
Whoooo's back in style? The owl.
From the land of discarded motifs, the owl has reemerged, and many Mississippians are joining the craze.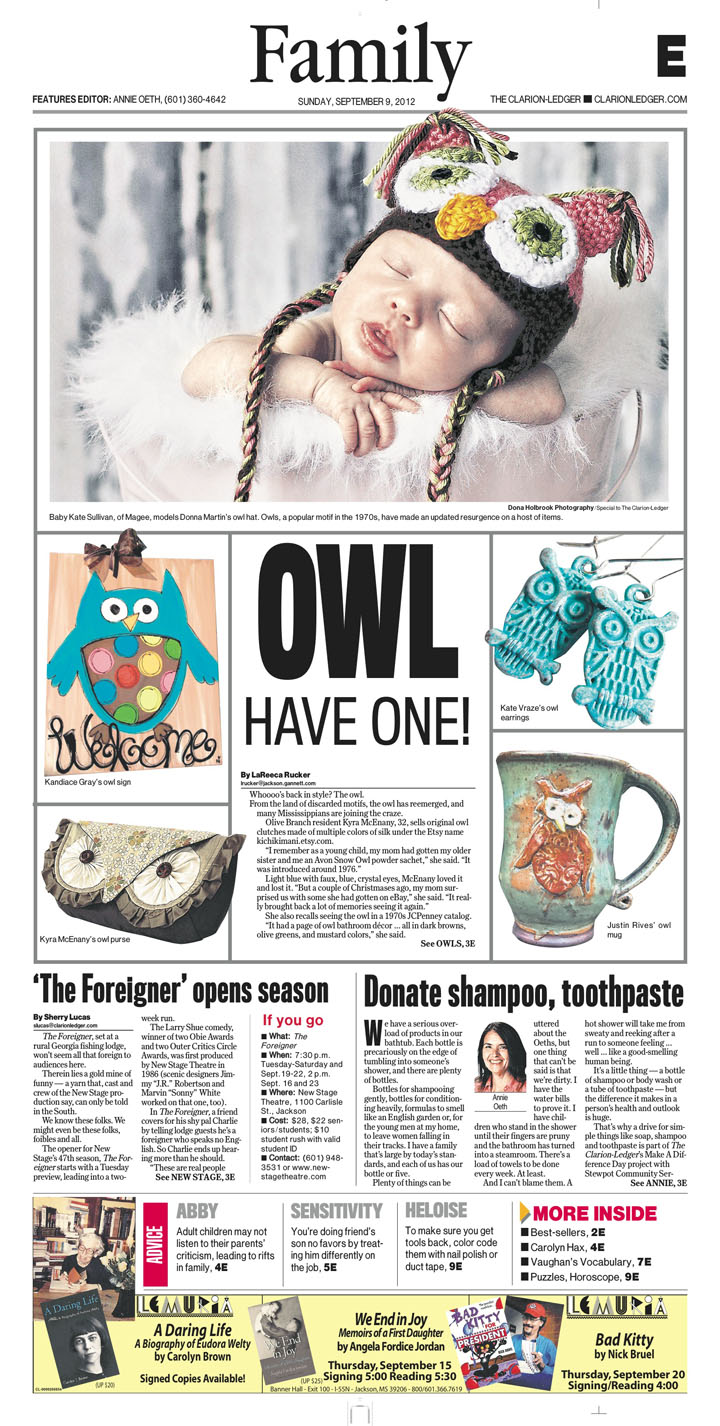 Olive Branch resident Kyra McEnany, 32, sells original owl clutches made of multiple colors of silk under the Etsy name kichikimani.etsy.com.
"I remember as a young child, my mom had gotten my older sister and me an Avon Snow Owl powder sachet," she said. "It was introduced around 1976."
Light blue with faux, blue, crystal eyes, McEnany loved it and lost it. "But a couple of Christmases ago, my mom surprised us with some she had gotten on eBay," she said. "It really brought back a lot of memories seeing it again."
She also recalls seeing the owl in a 1970s JCPenney catalog.
"It had a page of owl bathroom décor ... all in dark browns, olive greens, and mustard colors," she said.
Many, including McEnany, believe the "Harry Potter" franchise may have made owls mystically spread their wings again. Harry had an owl. Cuteness is another factor.
"They have big, cute eyes, small little beaks, big heads, and just look adorable," she said.
"These days, the owl has so many modern twists too it. It can be made extra cute for a child's room with soft pastel colors, but it can also be taken in another direction and used as a graphic print with interesting geometrical shapes, making up the shape of the owl."
Pass Christian resident Kate Vrazel, 32, sells Etsy merchandise under the name Posh Patina. One of her items is called Shabby Chic Verdigris Hand Painted Owl Earrings.
"My mother still has a small owl collection that has been on her bookshelf as long as I can remember, so last Christmas I gave her a handmade ceramic owl from Etsy to add to it," she said.
Vrazel believes the owl is back again because "woodland and nature-inspired designs and colors have become popular fashion trends over the last few years."
"Birds, owls, butterflies, dragonflies and leaves are all big sellers in my shop," she said, "and the last couple of seasons have also brought a return of '70s style.
"In general, I think there's a greater appreciation for nature and the environment in our culture today. The owl, which symbolizes wisdom and luck, is an ancient, mysterious creature that appeals to our desire for adventure and the world of fantasy that we find in some of our favorite books."
Starkville resident Kandiace Gray, 25, sells Etsy merchandise under the name Paintchic. Her owl products range from $35 to $45.
"They fit into the whimsical, retro decor and are a tool used by many to let their imaginations roam and mind drift back to their younger years. The legends and theories surrounding the owl make them interesting to all."
Magee resident Donna Martin, 53, sells Etsy merchandise under the name Doodlebopperz. Her crocheted owl hats range from $22 to $30.
"I definitely remember the '70s owls," she said. "They were not as colorful as today's owls. They had a more 'back to nature' look that spun off the 1960s hippie era.
"There were ceramic owls, oil paintings of owls, and those plastic owl wall sculptures in almost every house on the block."
The owl of this generation, she said, definitely has a new flare with big eyes, bright colors, polka dots, and other whimsical designs.
Martin began using the owl motif because she saw them everywhere.
"The pivotal moment was at the Canton Flea Market in 2010 when everyone that walked by me had bought some type of craft with an owl on it," she said.
"I think they are so cute and very versatile. Those big eyes, and the fact that they can be short, fat, tall, thin, and any color or pattern that you can think of, make them appealing to everyone," she said. "They can also still be sophisticated, as in the copper ear rings that I have."
Flowood resident Bridget Purvis, 33, sells merchandise on Etsy under the name StitchItUpByBridget. Her owl design bags sell for $35.
She made her first as a request by her daughter.
"After she took it to school, several people wanted one," she said. "One thing led to another, and before I knew it, I had an Etsy page and several local orders. I've also sold bags to people all over the world, including Australia and France."
Jackson resident Justin Rives sells merchandise under the Etsy username Riveswarepottery. Prices vary from $15 and up.
"I teach pottery and photography at Ridgeland High School and do a bit of my own work on the side," he said. "Each year, I make a little pottery for extra Christmas money."
When a student asked him what would make a mug sell, he "snidely" responded, 'Probably slap an owl on it.' "
"I have to say this gimmick works great for sales," he said.
Rives said the appeal is all about the cuteness factor.
"I think that most men don't really have much of an appreciation for art for art's sake," he said. "Most women appreciate art for cute's sake.
"Also, for some reason, people like to say they are the first to like owls. I've heard several times people saying how much they hate that owls are trendy now because they have always loved them. People feel that they should remain loyal to the owls."