Parade of Cultures: Pageant highlights backgrounds
LaReeca Rucker
The Clarion-Ledger
A new Miss Mississippi will be crowned tonight. The contestants are all proud Mississippi girls, selected to represent their respective cities and communities, and each has a unique cultural heritage that helps define America and the state as a melting pot of diversity.
Miss West Central Tiffany Boyte's great-grandfather was Cherokee, and her grandmother is a native of Japan. "It makes the holidays so fun because we have sushi at Christmas," Boyte said. "My family is really diverse, and it's made me appreciate all different cultures.

"I still have family in Japan, and for them to hear that I'm in a pageant like this, it really makes them feel proud. I want to represent them well."

Miss Gulf Coast Christine Kozlowski comes from a supportive Mississippi family with a Spanish and Polish background.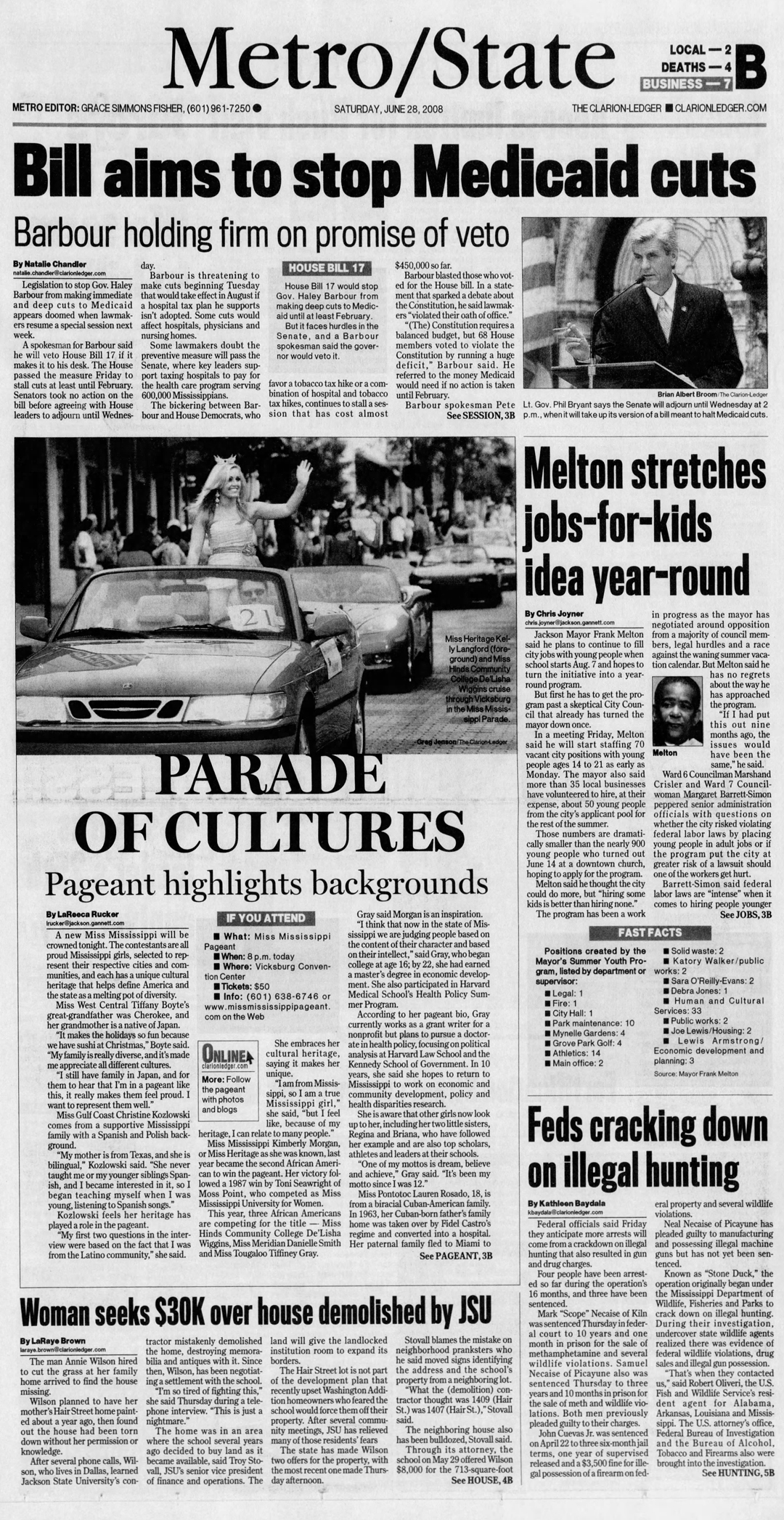 "My mother is from Texas, and she is bilingual," Kozlowski said. "She never taught me or my younger siblings Spanish, and I became interested in it, so I began teaching myself when I was young, listening to Spanish songs."

Kozlowski feels her heritage has played a role in the pageant. "My first two questions in the interview were based on the fact that I was from the Latino community," she said.
She embraces her cultural heritage, saying it makes her unique. "I am from Mississippi, so I am a true Mississippi girl," she said, "but I feel like, because of my heritage, I can relate to many people."
Miss Mississippi Kimberly Morgan, or Miss Heritage as she was known, last year became the second African American to win the pageant. Her victory followed a 1987 win by Toni Seawright of Moss Point, who competed as Miss Mississippi University for Women.
This year, three African Americans are competing for the title Miss Hinds Community College De'Lisha Wiggins, Miss Meridian Danielle Smith and Miss Tougaloo Tiffiney Gray.
Gray said Morgan is an inspiration. "I think that, now in the state of Mississippi, we are judging people based on the content of their character and based on their intellect," said Gray, who began college at age 16. By 22, she had earned a master's degree in economic development. She also participated in Harvard Medical School's Health Policy Summer Program.
According to her pageant bio, Gray currently works as a grant writer for a nonprofit but plans to pursue a doctorate in health policy, focusing on political analysis at Harvard Law School and the Kennedy School of Government. In 10 years, she said she hopes to return to Mississippi to work on economic and community development, policy and health disparities research.
She is aware that other girls now look up to her, including her two little sisters, Regina and Briana, who have followed her example and are also top scholars, athletes and leaders at their schools. "One of my mottos is dream, believe and achieve," Gray said. "It's been my motto since I was 12."
Miss Pontotoc Lauren Rosado, 18, is from a biracial Cuban-American family. In 1963, her Cuban-born father's family home was taken over by Fidel Castro's regime and converted into a hospitaL Her paternal family fled to Miami to the U.S.

Rosado's father was 6 when his family moved to the U.S., and he had difficulty reading in the first grade. That caused him to fall behind in school.
Her father's childhood experience inspired Rosado's platform, Project DREAM, an acronym for Developing Reading Education Around Mississippi.
She said reading is crucial for achievement, but almost 100 million Americans and around 30 percent of Mississippians have limited reading and writing skills. She hopes to make a difference by emphasizing the importance of reading.
Rosado's father was an American success story. He went on to graduate from the United States Air Force Academy in the top 10 percent of his class and now works as a pilot at FedEx.
"Every person in this room is part of some culture," Rosado said