Peace Offering: 50-year-old symbol finds new audience
LaReeca Rucker
The Oxford Eagle
Amanda Winkler, 16, drives a hot pink Volkswagen Beetle with a peace sign hanging from her rearview mirror.
She's not an authentic flower child with tie-dyed clothing, Birkenstocks and patchouli oil, but this Byram neo-hippie frequently rocks the peace sign at Terry High School in a far out, modern way.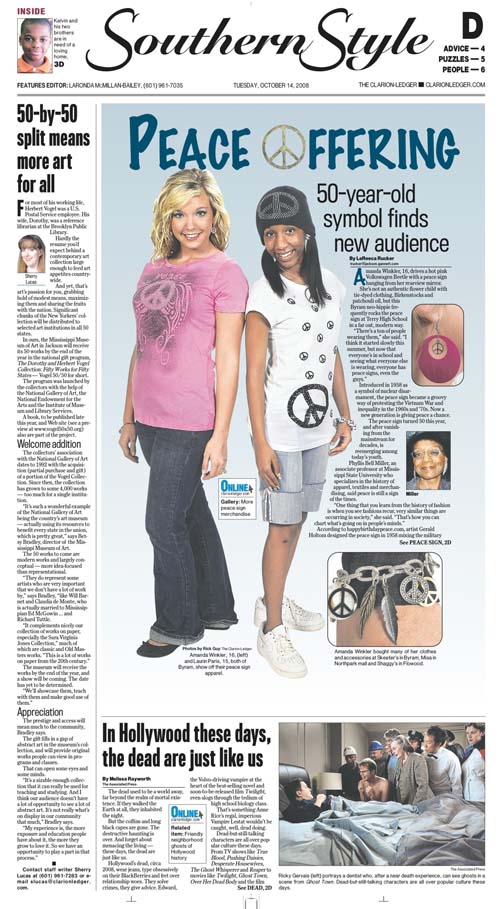 There's a ton of people wearing them," she said. "I think it started slowly this summer, but now that everyone's in school and seeing what everyone else is wearing, everyone has peace signs, even the guys."
Introduced in 1958 as a symbol of nuclear disarmament, the peace sign became a groovy way of protesting the Vietnam War and inequality in the 1960s and '70s. Now, a new generation is giving peace a chance. The peace sign turned 50 this year, and after vanishing from the mainstream for decades, it's reemerging among today's youth.
Phyllis Bell Miller, an associate professor at Mississippi State University who specializes in the history of apparel, textiles and merchandising, said peace is still a sign of the times.
"One thing that you learn from the history of fashion is when you see fashions recur, very similar things are occurring in society," she said. "That's how you can chart what's going on in people's minds."
According to happybirthdaypeace.com, artist Gerald Holtom designed the peace sign in 1958 mixing the military semaphore signals "N" and "D" as the official symbol for the Campaign for Nuclear Disarmament in England. American Vietnam War protesters and civil rights marchers adopted the symbol in the 1960s and '70s.
"It helped promote love and brotherhood among nations," Miller said. "Now, you have the same thing again - the threat of nuclear war, the Iraq War and people concerned about the environment - the same things they were doing inthe 1960s and '70s when that symbol became important."
Stephen L. Rozman, director of the Center for Civic Engagement and Social Responsibility at Tougaloo College, said America has gone from Yippes (radical members of the Youth International Party - an offshoot of the free speech and anti-war movements of the '60s) to yuppies, and the peace sign's popularity may indicate that the pendulum is starting to swing backward.
"During the 1960s, you had John Lennon singing Give Peace a Chance," Rozman said. "That was the equivalent of We Shall Overcome in the Civil Rights movement. The whole idea was rather than prepare for war, prepare for peace. I think people now are concerned about the cold war starting up again.
"They are awakening to an understanding that we're on the wrong course, especially with the economy. (The current popularity of the peace sign indicates that people are) 'concerned about how we can live together without killing each other.' They are not wearing this simply by coincidence. They are concerned about trying to find peaceful solutions to violent problems."
The peace sign may also be worn today to challenge consumerism, Rozman said, but the growing amount of peace sign merchandise for sale challenges that theory. Sarah Milburn, store manager and owner of Misa at Ridgeland's Northpark mall, said the store carries many peace sign accessories.
"(The trend) has been quite popular for the past couple of years, and right now, it's going strong," she said. "It's one of our top symbolic jewelry sellers. I'm not sure exactly why, but everyone is just crazy about the peace sign. I guess maybe it's the fact that we're in Iraq, but it's kind of a laid-back statement too. It's one of those symbols that will continue for along time."
Heather Peevy, manager of Monkey Charms in Flowood, said they frequently have to restock peace sign merchandise.
"We have a ton, and we can hardly keep it," she said. "It's crazy. We opened at the beginning of May, and at the end of June or beginning of July, we kind of realized we needed to order more peace sign stuff."
Peevy said middle and high school students typically purchase such merchandise, and some schools are having hippie-themed days.
Steve Brown, owner of Shaggy's Novelty in Flowood, said he's questioned why the peace sign has suddenly become popular again.
"Nobody who comes in says, 'I'm here to buy this peace sign to protest the war,' but I do wonder if there isn't some hint of that," he said. "I think it's purely a fashion thing for most."
Recognizing the popularity of peace, Women's Wear Daily recently reported that Barney's New York has chosen the holiday theme "Peace and Love: Have a Hippie Holiday" this year.
The store will sell many items this winter featuring peace signs, and it has asked designer labels Balenciaga, Lanvin, Phillip Lim and Alexander Wang to create peace sign dresses honoring the symbol's 50th anniversary. The store has also partnered with Volkswagen of America to create a custom Beetle designed by artist John-Paul Philippe, who added peace signs, flowers and doves.
In 1980, Gina Joseph's brother found a peace sign charm in his car. He gave it to Joseph, and the Philadelphia, Miss., native has kept the thin,18-karat gold charm the last 28 years. She frequently receives compliments from teens about the symbol that she wears on a gold chain.
"A lot of teenagers say they love it and ask where I got it," Joseph, 50, said. "I don't really think it's popularity today is anything more than nostalgia. For them, it's a fad, and something retro they can wear. Everything old is new again."
To Joseph, it holds a deeper meaning.
"I think it means I'm a peaceful person," she said.
Byram resident Laurin Paris, 15, sees the peace sign frequently at Jackson's Murrah High School. "Everyone has it," she said. "They're on purses, hats, bracelets, glasses, shoes. Most everything I have has the peace sign on it. I guess history repeats itself."