Jackson Zoo holding rescued gulf pelicans
LaReeca Rucker
The Oxford Eagle
Huddled in a corner of the shed, the birds moved in fearful unison while watching the man outside the cell.
Cautiously shifting from right to left in opposition to Dave Wetzel's motions, the 20 American white pelicans have not adapted to their temporary home - a large wire holding cage with two kiddie pools that has become their sanctuary since the Gulf Coast oil spill damaged their habitat and forced their removal.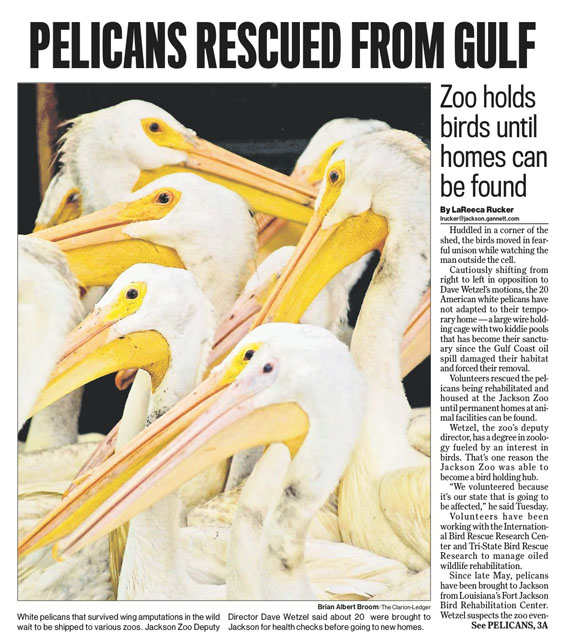 Volunteers rescued the pelicans that are being rehabilitated and housed at the Jackson Zoo until permanent homes at animal facilities can be found.

Wetzel, the zoo's deputy director, has a degree in zoology fueled by an interest in birds. That's one reason the Jackson Zoo was able to become a bird holding hub.

"We volunteered because it's our state that is going to be affected," he said Tuesday.

Volunteers have been working with the International Bird Rescue Research Center and Tri-State Bird Rescue Research to manage oiled wildlife rehabilitation. Since late May, pelicans have been brought to Jackson from Louisiana's Fort Jackson Bird Rehabilitation Center. Wetzel suspects the zoo eventually will receive birds from the other three bird rehab centers in Gulfport, Pensacola and Theodore, Ala.

Birds typically arrive at the center twice a week for a two- to three-week turnaround.

"We put them in temporary holding, band them, photograph them and put them out in their pen," Wetzel said.

It sounds a little like getting booked in jail, but Wetzel said it's for the pelicans' own good.

"Personality wise, we have some real sweethearts, and we have some pelicans from you know where," he said. "Two of the ones we are working with today are some of the nastiest birds I've worked with, but if you get oil poured
all over you and (were) shipped all over the country, you would be, too."

The American white pelican is the largest of two pelican species found in the U.S., Wetzel said. They have huge beaks, and large males can grow up to 30 pounds. Unlike the brown pelican, the whites don't dive for food; they catch prey while swimming. Half the birds brought to the zoo have had light to moderate oiling, while the other half sustained other injuries, Wetzel said.

"If you go to the Coast and spend much time, you are going to see birds with one wing," he said. "They do well for a period of time until something remarkable like the oil spill puts them over the edge."

Fish also are being oil-affected, so birds are having trouble finding food.

"It's a vicious cycle," Wetzel said. "If you're healthy, you fly away. If you're not, you have problems."

Feathers help the birds fly and keep them waterproof and warm, he said.

"The oil coats, so they can't thermo-regulate. In this weather, they'll overheat. In cold weather, they get hypothermia," he said. "And when they're constantly preening, trying to get those feathers cleaned, they're ingesting oil. It reduces their ability to fly and find food."

Wetzel said he's sickened by the coastal oil damage.

"When you think of all the birds and fish in the water that are going to be killed and the impact on the humans down there. These people are having to live and breathe it and know their way of life is altered for the foreseeable future," he said.

Barbara Maxfield, a public affairs specialist with the U.S. Fish and Wildlife Service, said her agency is taking calls from the public as they find oiled birds.

"We have a lot of biologists who are working on the oil spill in various capacities," she said. "Some are collecting birds. Others are accessing the damage to the resources."

Mozart Dedeaux, education coordinator for the Pascagoula River Audubon Center in Moss Point, said volunteer response has been impressive.

"We have more than 30,000 volunteers who have signed up," he said. "A lot of the volunteers are transporting oiled animals to the facilities."

The center also is conducting a coastal bird survey from Louisiana to Florida.

"We are doing a long-term study of the bird species on the shore lines to see how the oil spill may have affected the species," he said.

It's difficult to tell how the pelicans have been psychologically affected, but Wetzel said they are probably pretty confused.

"They get put in an airline sky kennel, put in a van, bounced around for hours, taken out of the kennels and put in temporary holding," he said. "Once they are outside in the yard, they usually settle in very quickly."

The birds brought to the zoo have gained weight and show clean medical tests, he said. They are not on display at the zoo, and will reside elsewhere in the future.

"Once they are brought into a rehab center, federal law doesn't allow them to be released back into the wild if they are not able," he said. "Any of the sea birds that can't be released - we could probably find a home for them here in the zoo up to a point - but we could be talking hundreds upon hundreds of birds over the course of this crises."

Sixteen of the 20 zoo pelicans will be moved to other zoos, such as Omaha's Henry Doorly Zoo, Brookfield Zoo near Chicago, St. Louis Zoo and the Phoenix Zoo. Wetzel said about 70 zoos have volunteered to help in some way.

"The biggest expense we have encountered is the fish," Wetzel said. "It's very expensive to feed a large number of pelicans, but we're not having to foot a whole lot of money. It's mostly needed for food and incidental costs. We've had to buy some kiddie swimming pools."

Donations are helping the zoo underwrite the cost. The goal of a zoo is conservation and education, Wetzel said.

"We can help the population in the wild by showing people these birds," Wetzel said. "We can talk about ecosystems and oil spills and how they affect, not just wildlife, but people."