Getting Personal: Products toting individuality appeal to masses
LaReeca Rucker
The Oxford Eagle
Ole Miss graduate Rima Chaddha and her fiance, Steve Mycynek, are fans of the NBC television show The Office and the show's quirky characters, Dwight and Angela.
"One year for Valentine's Day, Angela gets Dwight the perfect gift - a mini-bobblehead of himself," said Chaddha, who did the same as a first dating anniversary gift for Steve.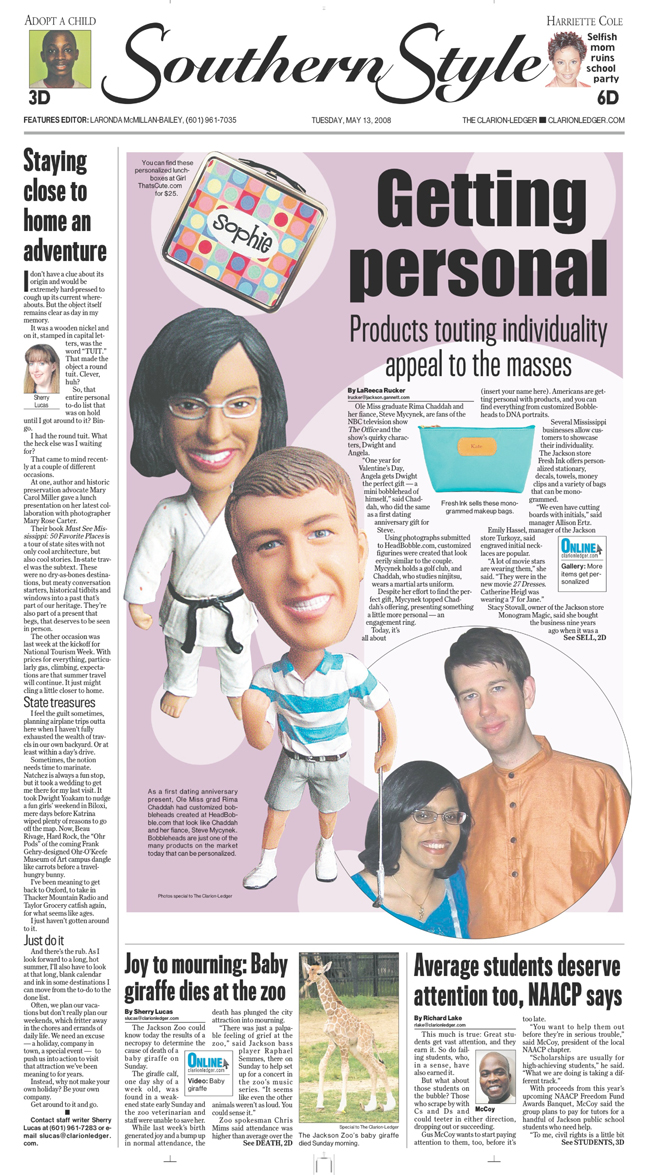 Using photographs submitted to HeadBobble.com, customized figurines were created that look eerily similar to the couple. Mycynek holds a golf club, and Chaddha, who studies ninjitsu, wears a martial arts uniform.
Despite her effort to find the perfect gift, Mycynek topped Chaddha's offering, presenting something a little more personal - an engagement ring.
Today, it's all about (insert your name here). Americans are getting personal with products, and you can find everything from customized bobbleheads to DNA portraits. Several Mississippi businesses allow customers to showcase their individuality. The Jackson store Fresh Ink offers personalized stationary, decals, towels, money clips and a variety of bags that can be monogrammed.
"We even have cutting boards with initials," said manager Allison Ertz.
Emily Hassel, manager of the Jackson store Turkoyz, said engraved initial necklaces are popular.
"A lot of movie stars are wearing them," she said. "They were in the new movie 27 Dresses. Catherine Heigl was wearing a 'J' for Jane."
Stacy Stovall, owner of the Jackson store Monogram Magic, said she bough the business nine years ago when it was a luxury to have an item monogrammed, and since then, the demand has steadily risen.
"It does make a $5 gift look like a $25 gift," she said, adding that the store carries personalized car mats, among other products.
"When I saw the car mats, I thought, 'What will they come up with next?'"
At MyKleenexTissue.com, you can upload a photo and create a customized box of Kleenex for $4.99 plus shipping. M&M's offers custom-printed candies. NikeID.com lets you be the shoe designer. Clinique offers perfume bottles featuring your favorite pictures. And at ColorWarepc.com, you can customize your computer, gaming console, digital music player, cell phone and other products.
Adrian Salamunovic, 32, co-founded DNA 11 three years ago with friend Nazim Ahmed, a 31-year-old geneticist. They started their business in a 600-square-foot apartment in Canada and now operate a multimillion dollar business selling DNA, Fingerprint and KISS Portraits to 52 countries and all 50 states.
Salamunovic saw a brochure of technical DNA images, thought they resembled modern art, and an idea was born. He asked Ahmed to "take a picture" of his own genetic code, and a new personalized product soon hit the market. The company also creates lip and fingerprint portraits that resemble Andy Warhol pop art. You can even send a copy of your signature, and they'll add it to the piece.
"The art is very now, very modern, and it's very personal," Salamunovic said. "Whether it's the DNA of a loved one or a pet, that's what makes it so unique."
Personalization is about distinguishing yourself from the pack, Salamunovic said.
"We've really noticed an interesting trend," he said. "What's happening is, in the world of cookie-cutter homes and generic cars in suburbia, people are trying to differentiate themselves from one another. The bigger and more compact the city, where you've got thousands of people stacked on top of each other, the more we sell."
Chaddaha, who lives in Boston where she produces Web content for the PBSscience television shows NOVA and NOVA scienceNOW, understands the trend.
"We're saturated with things to buy, and the variety we're offered is insane," she said. "Remember how the first iPods were all white, but not the bright white we see today? Now each of the several varieties of iPods has its own line of colors. I think people get addicted to that. Everyone wants to stand out. And why not? To get philosophical, I think it gives some people more of a sense of identity ... Once you have everything, the next step seems to be 'How can I be different?"