Prayers accompany the president-elect
LaReeca Rucker
The Oxford Eagle
Sylvia Walker, a member of Magee's Goodwater Christian Methodist Episcopal Church, is praying the new president of the United States will improve the education system, make higher education more financially accessible, positively affect the economy and promote unity.
"One thing I like about him is he's not just picking all Democrats or picking all black; he is living up to what he said he was going to do unify," she said.
Barack Obama will be inaugurated Tuesday as the 44th president of the U.S. Many around the nation will be praying for him and his vice president.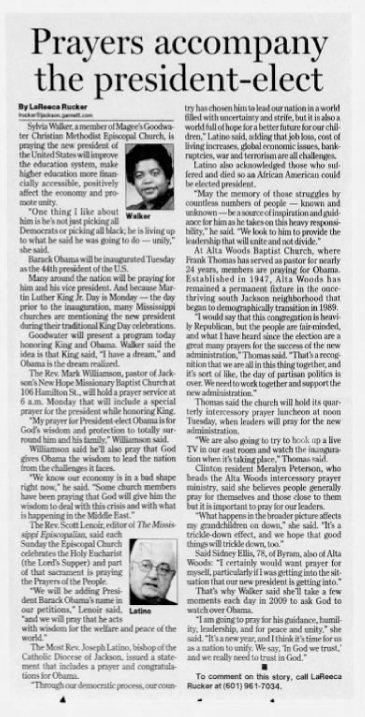 And because Martin Luther King Jr. Day is Monday, the day prior to the inauguration, many Mississippi churches are mentioning the new president during their traditional King Day celebrations.
Goodwater will present a program today honoring King and Obama. Walker said the idea is that King said, "I have a dream," and Obama is the dream realized.
The Rev. Mark Williamson, pastor of Jackson's New Hope Missionary Baptist Church at 106 Hamilton St., will hold a prayer service at 6 a.m. Monday that will include a special prayer for the president while honoring King.
"My prayer for President-elect Obama is for God's wisdom and protection to totally surround him and his family," Williamson said.
Williamson said he'll also pray that God gives Obama the wisdom to lead the nation from the challenges it faces.
"We know our economy is in a bad shape right now," he said. "Some church members have been praying that God will give him the wisdom to deal with this crisis and with what is happening in the Middle East."
The Rev. Scott Lenoir, editor of The Mississippi Episcopalian, said each Sunday, the Episcopal Church celebtates the Holy Eucharist (the Lord's supper) and part of that sacrament is praying the Prayers of the People.
"We will be adding President Barack Obama's name in our petitions," Lenoir said, "and we will pray that he acts with widom for the welfare and peace of the world."
The Most Rev. Joseph Latino, bishop of the Catholic Diocese of Jackson, issued a statement that includes a prayer and congratulations for Obama.
"Through our democratic process, our country has chosen him to lead our nation in a world filled with uncertainty and strife, but it is also a world full of hope for a better future for our children," Latino said, adding that job loss, cost of living increases, global economic issues, bankruptcies, war and terrorism are all challenges.
Latino also acknowledged those who suffered and died so an African American could be elected president.
"May the memory of those struggles by countless numbers of people known and unknown be a source of inspiration and guidance for him as he takes on this heavy responsibility," he said. "We look to him to provide the leadership that will unite and not divide."
At Alta Woods Baptist Church, where Frank Thomas has served as pastor for nearly 24 years, members are praying for Obama. Established in 1947, Alta Woods has remained a permanent fixture in the once-thriving south Jackson neighborhood that began to demographically transition in 1989.
"I would say that this congregation is heavily Republican, but the people are fair-minded, and what I have heard since the election are a great many prayers for the success of the new administration," Thomas said.
"That's a recognition that we are all in this thing together, and it's sort of like, the day of partisan politics is over. We need to work together and support the new administration."
Thomas said the church will hold its quarterly intercessory prayer luncheon at noon Tuesday, when leaders will pray for the new administration.
"We are also going to try to hook up a live TV in our east room and watch the inauguration when it's taking place," Thomas said.
Clinton resident Meralyn Peterson, who heads the Alta Woods intercessory prayer ministry, said she believes people generally pray for themselves and those close to them but it is important to pray for our leaders.
"What happens in the broader picture affects my grandchildren on down," she said. "It's a trickle-down effect, and we hope that good things will trickle down, too."
Said Sidney Ellis, 78, of Byram, also of Alta Woods: "I certainly would want prayer for myself, particularly if I was getting into the situation that our new president is getting into."
That's why Walker said she'll take a few moments each day in 2009 to ask God to watch over Obama.
"I am going to pray for his guidance, humility, leadership, and for peace and unity," she said. "It's a new year, and I think it's time for us as a nation to unify. We say, 'In God we trust,' and we really need to trust in God."