Mississippi native Emily Dees Boulden becomes a 'Pretty Wicked Mom'
LaReeca Rucker
The Oxford Eagle
One night, Mississippi native Emily Dees Boulden and her husband became engrossed in a conversation about the future. "He asked, 'If you could have anything you want, what would be your biggest dream?'" she said.
Boulden, 32, replied that she wanted to turn her Atlanta clothing boutique, Swank, into a fashion powerhouse, and the next day, that dream fell into her lap in the form of a reality show. She received a call from a college friend working in Los Angeles who asked if she wanted to participate in a new show. Now, she's the "queen bee" of Lifetime's new unscripted series "Pretty Wicked Moms" that premieres tonight at 9 p.m.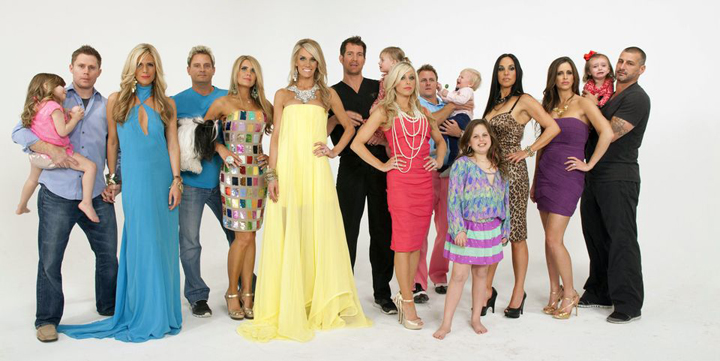 The Atlanta-based show is described as a glimpse into the cut-throat, crazy world of competitive mothering. Six feisty Atlanta mothers, who want to be the ultimate mom, will stop at nothing to one-up each other. Whether it's throwing extravagant birthday parties, devising a strict vegan diet for their 1-year-old or masterminding their baby's social climb to the top, there's no end to their plotting and scheming.
You'll hear Boulden quip lines like: "The hardest part about being a mom is that I have to keep a human being alive," "I'd just rather slit my damn throat than have a play date," and "Pretty girls turn heads, but I break necks."
Boulden grew up in Philadelphia, where her family owns several businesses, including Williams Brothers general store. At Leake Acacdemy, she was a star basketball player and voted most beautiful. Boulden's team completed her senior year with a 46-0 victory.
"I feel like sports keeps your kids out of trouble, and I was involved in tons of sports," she said. "I was really athletic."
Doyle Wolverton, who has spent the past 38 years coaching at Leake Academy," remembers Boulden fondly. He coached Emily in high school and her mother a generation before.
"I can tell you all kinds of things about that child," he laughed. "She was really a good player for us. She played on the only undefeated team I've ever had at Leake. She was really, really good. I moved her up in the ninth grade to the high school team. … She got to star in grades 9-12, and those four years, we probably didn't lose 12 games the whole time. It's probably the best team I've had since I've been in that league, and I've been in it a long time."
Wolverton said he received a call in December from the producers of "Pretty Wicked Moms" asking if they could shoot an episode of the show in the Leake Academy gym.
"My wife and I met them over there," he said. "They probably had 50 people they brought with them. They did a little part of the reality show there where she played basketball against her husband. There was some type of bet where if he won, she had to wash his truck, and if she won, she got a diamond necklace."
He said he's not surprised that Boulden is in the limelight.
"She was always into the shock value of everything — the way she played," he said. "That's just how Emily was. During ballgames, she would try to do something that brought attention to herself, whether it was a shot or a pass, and in school she was like that. So to be honest, it does not surprise me at all. I didn't know it would go as far as a realty show."
When she wasn't playing basketball, Boulden worked at the family store with her cousin, Eli Manning.
"His grandmother and my grandmother owned the store half and half," Boulden said. "Eli would sack groceries some summers, and I sold shoes. Our families taught us the meaning of hard work, and to work for everything we have, and I try to instill that in my daughter, Amzie. She's going to have to work at Swank one day."
Boulden was set to play basketball at Ole Miss, but decided instead to devote more time to socialization and her sorority.
"I didn't want to quit basketball in college," she said. "It was hard on me. I have never quit anything in life. But it was like a job, and I didn't' want a job in college. I wanted to do the sorority thing Quitting basketball was one of the biggest challenges in my life."
After completing an internship with Donna Karan in New York City, Boulden graduated from the University of Mississippi with a degree in fashion merchandising and landed a job as an assistant buyer for Saks' Saks Incorporated's Parisian Division in Birmingham. She worked there two years, launching Swank, a designer clothing boutique, in 2006.
She married Peter Boulden, a cosmetic dentist, in 2009, and opened another Swank store in Atlanta's Buckhead neighborhood in 2010.
"Then Miss Amzie came along, my little girl, and Lord, she just threw me in a tailspin," said Boulden, who decided that she wasn't able to juggle traveling to two stores and caring for a new baby.
"It was tough on me and on her," she said. "It wasn't safe to be taking that drive from Birmingham to Atlanta that much. My husband and I talked about it. That was one of the second biggest challenges in my life. Quitting basketball was hard, because it made me feel like I had failed at something, and I didn't. And when I shut that Birmingham store down, it was hard on me."
Since 2010, Swank has grown, and Boulden hopes the show will continue to make that happen.
"I have always been known to have a pretty big personality, if you can't tell," she said, adding that June 4 will be the first time she sees the show. "There is just no telling what I say in any of them. I'm very outspoken. I put it all out there. It could probably offend somebody, the things I say, but you could never say anything I said isn't true. I say things that other people are thinking."
Boulden said she doesn't think the show will be like the "Housewives" franchise "where everyone is pulling everyone's hair out," but "when you have six women, there is always going to be drama."
"We are all young, hip moms," she said. "It follows us moms and how we juggle motherhood."
What about the title "Pretty Wicked Moms?"
"We are not evil moms," she said. "That's obviously a double entendre. They wanted it to be edgy. In my opinion, a wicked mom is like a bad @$$… mom who can juggle anything while maintaining her family and doing it all. I'm a working mom. I'm not your normal cookie cutter, sit-at-home mom. I juggle a lot of things while trying to be the best mom and wife I can be, so 'Pretty Wicked' is a good thing."
Boulden said she's a little anxious about how she will be portrayed on the show, and so are her Mississippi parents, William Henry "Bud" and Mandy Dees.
"I think my poor mom is so nervous about it," she said. "She was like: 'I'm not watching it anywhere.' She is such a sweet Southern lady, and I'm just like my dad. I'm a bull in a China shop. You never know what's going to come out of my mouth.
"I hope and pray that I come across just as I am," she said. "I am a very real girl. There is no fake about me. And I hope other moms can relate to every single one of us. We are all different."
Boulden said moms compete against each other about whose kids can be the best, but she's, personally, never bought into that.
"I have always been a leader and not a follower," she said. "I just do what I do. And from there, the rest is history. Not everyone is going to like me. I wouldn't have done this show if I thought that. Some won't relate to me. Some will relate to other moms."
Mom Mandy Dees said her daughter is unpredictable.
"You never know what's going to come out of her mouth," she said, "and that's what scares me about this show."
Surprisingly, Emily was a shy little girl.
"She would hide under the tables when people talked to her," said Dees. "I've been very concerned (about the show), but she said: 'Mama, I've got this. I know there's going to be people say things that will probably upset me, but you know how I am, and I know how I am, and everybody who knows me knows.'
"You either like Emily or you don't, but you always know where you stand with her. She's a mess."