Purple Drank: Perscription cough syrup key in drug abuse trend
LaReeca Rucker
The Oxford Eagle
Mississippi authorities say a drug commonly known as "purple drank," "lean," or "sippin' syrup" is becoming more visible in the state.
The main ingredient of the drink is prescription-strength cough syrup that contains promethazine and codeine. Abusers mix it with another liquid such as a soda and hard candy.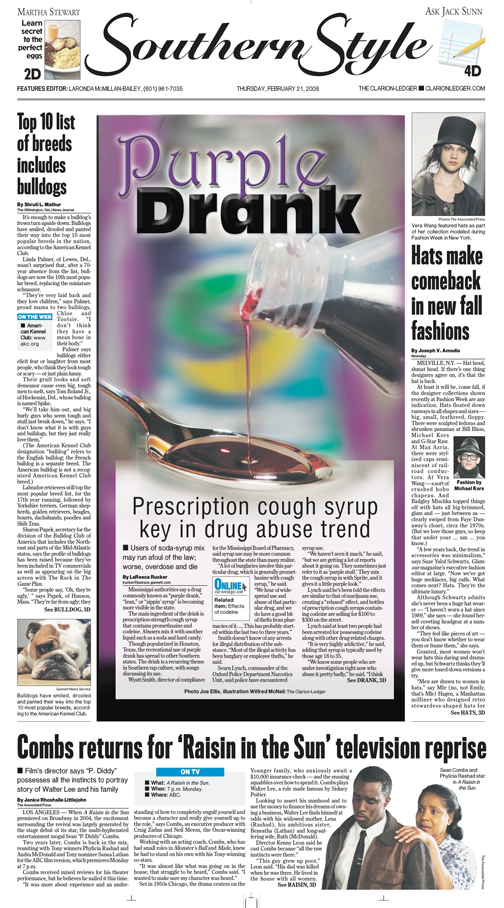 Though popularized in Houston, Texas, the recreational use of purple drank has spread to other Southern states. The drink is a recurring theme in Southern rap culture, with songs discussing its use.
Wyatt Smith, director of compliance for the Mississippi Board of Pharmacy, said syrup use may be more common throughout the state than many realize.
"A lot of burglaries involve this particular drug, which is generally promethazine with cough syrup," he said. "We hear of widespread use and abuse of that particular drug, and we do have a good bit of thefts from pharmacies of it. ... This has probably started within the last two to three years."
Smith said he doesn't know of any arrests for illegal distribution of the substance. "Most of the illegal activity has been burglary or employee thefts," he said.
Searn Lynch, commander of the Oxford Police Department Narcotics Unit, said police have encountered syrup use.
"We haven't seen it much," he said, "but we are getting a lot of reports about it going on. They sometimes just refer to it as 'purple stuff.' They mix the cough syrup in with Sprite, and it gives it a little purple look."
Lynch said he's been told the effects are similar to that of marijuana use, creating a "relaxed" effect, and bottles of prescription cough syrups containing codeine are selling for $100 to $300 on the street. At least two people have been arrested for possessing codeine along with other drug-related charges, he said.
"It is very highly addictive," he said, adding that syrup is typically used by those age 18 to 35. "We know some people who are under investigation right now who abuse it pretty badly. I think what's going on is some of the ones who are ill will get it and turn around and sell it, so people who have a legitimate medical problem will sometimes profit off of it."
Houston, Texas, rap music producer Robert Earl Davis Jr., also known as "DJScrew," has been credited for popularizing the codeine-based drink. But the opiate inspiration would ultimately be his downfall. In 2000, the 29-year-old Davis was found dead in the bathroom of his studio, the result of a lethal overdose of codeine mixed with other drugs.
Earlier this month, authorities ruled that the December death of Chad Butler, a Southern rapper known as Pimp C. of the group UGK, also was caused by an accidental overdose of prescription cough syrup and sleep apnea.
Meridian native Clay Bolton, 22, is a rapper who performs under the name Cashius Clay. He first heard about purple drank about five years ago.
"Me, myself, I don't fool with it," he said. "I have a lot of partners I do the rap thing with in Houston, Texas, and it's a big thing there. It's a way of getting messed up and getting high. They call it leaning."
Memphis rapper Indo G titled his new album Purple Drank. Three 6 Mafia paid tribute to the illicit concoction in their song "Sippin' on Some Syrup." And rappers Frayser Boy, Mike Jones and Paul Wall discuss the drug trend in "I Got Dat Drank." While Lynch said it seems to be a "pop trend," he's not sure rap music is entirely to blame.
"I have heard some songs that have spoken about it," he said. "Whether that influences it, I can't really say. Just from my experience, there is so many other influences, like buddies (who use peer pressure). I've listened to some rap music myself, and I'm not influenced by it."
Sandra Moses, an attorney with the U.S. Attorney's Office, said it isn't wise for those with cough syrup prescriptions to make or consume purple drank personally, but it isn't technically illegal. However, possessing a drug without a prescription is. Depending on the amount in possession, a person can face anything from probation to five years in prison. And the Drug Enforcement Administration reports that possessing a controlled substance with the intent to distribute could result in a prison sentence of five years and a $250,000 fine.
Richard L. Ogletree Jr., coordinator of drug information for the University of Mississippi Medical Center's Department of Pharmacy Services, helps healthcare professionals answer difficult questions about medications and new drug interactions.
"We are seeing more of it," he said. "We're typically seeing cough syrup with codeine that's sometimes in crushed ice and mixed with soda and another piece of hard candy, like a Jolly Rancher. Some people sip on it to get the codeine and promethazine out of it, to try to get a euphoric effect.
"In this area, it's probably not as bad as, for instance, the Houston area, but I am seeing quite an increase in the number of prescriptions written for Phenergan (promethazine) with codeine at the drug stores."
Cough syrups with hydrocodone (Vicodin) are also sometimes used. Ogletree said abusers often tell doctors they have a severe cough and prescription cough syrup has helped in the past.
"The doctor is going to think that something that has helped them in the past is a good idea," he said. "Then they get it and use it recreationally. This time of year, physicians get new patients every day during flu season, and they're coughing. It's really tough to screen for that. You just want to use reasonable discretion."
Ogletree said he isn't aware of any physicians in the area who have lost their license for prescribing cough syrup for recreational use.
"There are probably some doctors, hopefully not any in this state, that will sell prescriptions for it, but I have not seen it happen," he said.
He warns the public that improper codeine use is unwise.
"If you are using other drugs, you slow down the body's normal functions," he said. "One of those normal functions is breathing. It would take a pretty good dose to (kill someone), but adding that with other drugs and alcohol could be very dangerous or fatal."
Ogletree said central nervous system depressants also alter your ability to react, a problem in situations that require attention like driving and making good decisions.
"For people who have used the cough syrup (medicinally) and still have it, lock it up and don't let the kids have access to it," he said. "That's a good idea for any cough syrup."