Put a ring on it: Mississippi couples share engaging stories for Valentine's Day
LaReeca Rucker
The Oxford Eagle
If done creatively, it can result in a romantic story for the generations. Seeking unique proposal stories this Valentine's Day, we asked Mississippians how they "put a ring on it," and here were some of their responses.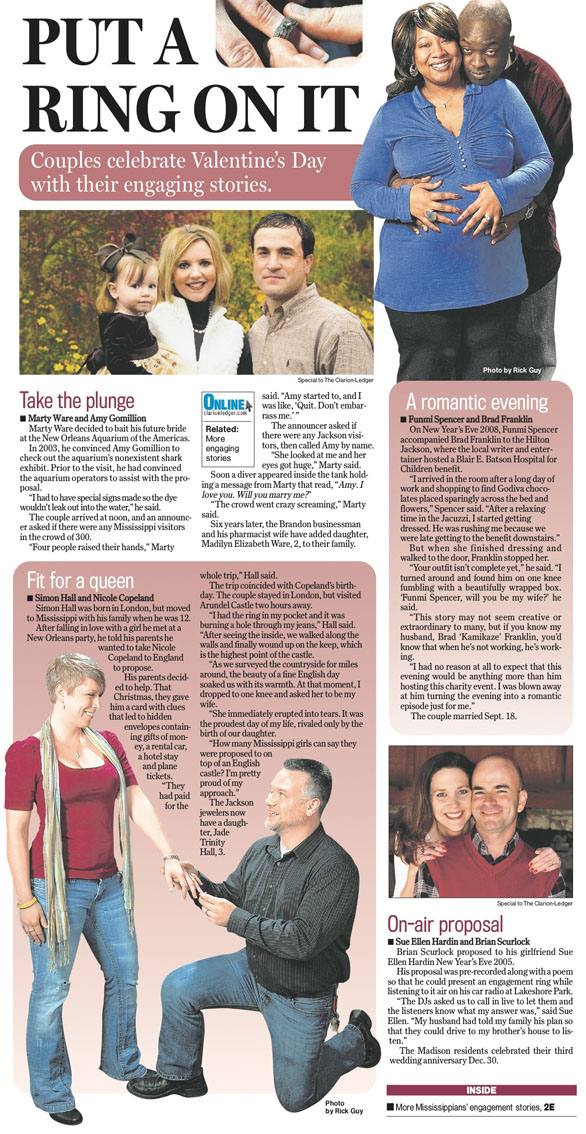 Proposal fit for a queen
Simon Hall and Nicole Copeland

Simon Hall was born in London, but moved to Mississippi with his family when he was 12. After falling in love with a girl he met at a New Orleans party, he told his parents he wanted to take Nicole Copeland to England to propose.

His parents decided to help. That Christmas, they gave him a card with clues inside that led to hidden envelopes containing gifts of money, a rental car, a hotel stay and plane tickets.

"They had paid for the whole trip," Hall said.

The trip coincided with Copeland's birthday. The couple stayed in London, but visited Arundel Castle two hours away.

"I had the ring in my pocket, and it was burning a hole through my jeans," Hall said. "After seeing the inside, we walked along the walls and finally wound up on the keep, which is the highest point of the castle.

"As we surveyed the countryside for miles around, the beauty of a fine English day soaked us with its warmth. At that moment, I dropped to one knee and asked her to be my wife. She immediately erupted into tears. It was the proudest day of my life, rivaled only by the birth of our daughter. How many Mississippi girls can say they were proposed to on top of an English castle? I'm pretty proud of my approach."

The two Jackson jewelers now have a daughter, Jade Trinity Hall, 3.

A night of surprises
Karmon Evans and Lee Gary

Lee Gary told girlfriend Karmon Evans he had to travel to Alabama for business. But Evans realized something was up when Gary's business partner brought a card to her home:

"Karmon. Your day is about to get a little strange, but just go with the flow and know that I have everything under control. I love you more than you know, and I will see you soon. Love, Lee."

Evans was taken to Hawkins Field airport where she boarded a plane - destination unknown.

"After about an hour of flying, the sun was setting, and I could see white sand and ocean below," she said. "I realized I was not in Birmingham. We landed in Destin (Fla.)"

A limousine met them, and the driver took Evans to a beach house where Gary awaited at the end of a staircase leading to the sand.

"I nervously walked to him, and after he talked for several minutes - which at this point I couldn't tell you what he said - he dropped to one knee as the sun was setting over the ocean and proposed," Evans said.

The surprise didn't end there.

"We arrived in the limo for dinner, and we were escorted to a room where, unexpectedly, my family and his were all there waiting on us," Evans said.

Taking the plunge
Marty Ware and Amy Gomillion

Marty Ware decided to bait his future bride at the New Orleans Aquarium of the Americas. In 2003, he convinced Amy Gomillion to check out the aquarium's nonexistent shark exhibit. Prior to the visit, he had asked the aquarium operators to assist with the proposal.

"I had to have special signs made so the dye wouldn't leak out into the water," he said.

The couple arrived at noon, and an announcer asked if there were any Mississippi visitors in the crowd of 300.

"Four people raised their hands," Marty said. "Amy started to, and I was like, 'Quit. Don't embarrass me.' "

The announcer asked if there were any Jackson visitors, then called Amy by name.

"She looked at me and her eyes got huge," Marty said.

Soon a diver appeared inside the tank holding a message from Marty that read, "Amy. I love you. Will you marry me?"

"The crowd went crazy screaming," Marty said.

Six years later, the Brandon businessman and his pharmacist wife have added daughter, Madilyn Elizabeth Ware, 2, to their family.

Scavenger hunt
Stacey Gibson and Preston Everett

In 2007, Stacey Gibson received a picture of her engagement ring via phone message and knew something special was about to happen. When she left work, she found a sheet of yellow legal paper tucked under her windshield instructing her to begin searching for her ring.

"That night, in a drizzle, I had a seven-stop scavenger hunt through the history of our courtship across three counties," she said. "Stops included the Old Captiol Museum, Thalia Mara Hall, Bass Pro Shops, Reservoir Landing, Pelahatchie Bay Park, the old Craft Center on the Trace and the Trace Reservoir Overlook.

"At each stop, I looked for clues on a yellow piece of paper that would lead me to the next stop," she said. "When I got to the last stop - the Overlook - Preston was waiting for me in his truck. He stepped out of the truck in the rain, knelt in front of me and held the ring up into the headlight. He had picked up one of my favorites - cheap pizza - and we ate and just enjoyed the rest of the night."

They were married in January 2008.

"We had our son at the end of March 2009," she said, "and I still get out the notes once in a while and smile remembering that cold rainy night."

A Muppet engagement
Ryanne Duffie and Dan Smith

Ryanne Duffie has always loved Kermit the Frog.

"I used to take a small Kermit the Frog figurine to law school with me to take my law school exams," she said.

So she was really excited when boyfriend Dan Smith arranged a private tour of the new Jim Henson's Fantastic World exhibit at the Mississippi Museum of Art.

"My first thought was, 'Geesh. I didn't get him anything that cool for Christmas,'" she said. "Little did I know, he had something extra special planned. In front of one of the original Kermit the Frogs, he got down on one knee and asked me to be his wife. He planned the whole event in less than an hour, and it was the perfect engagement for me. I've permanently set up residency on Cloud 9."

The couple will wed Sept. 10 at The Grand Floridian Resort at Walt Disney World in Orlando.

The glass slipper
Fallan Ashford and Rob Buie

When Fallan Ashford was a little girl, she often played Cinderella with her grandpa.

"After Papa passed away, I dreamt he had taken a glass slipper up to heaven with him and would give it to my Prince Charming," she said. "I told Rob this story not long after we started dating. He remembered it."

The couple exchanged gifts on Christmas Eve, and Buie gave Ashford a blue velvet box.

"I opened the box, and there sat a glass slipper," she said. "With tears in my eyes, I took the glass slipper out of the box, and on it was engraved, 'My forever princess, Fallan. Will you marry me? Love, Rob.'

"God told Papa which man was my Prince Charming and sent him to me with the glass slipper."

The couple plan to wed May 15 at Twin Magnolias in Bolton.

Solving a puzzle
Chris Allen Baker and Emily Stromberg

It was a puzzling 2004 engagement for Chris Allen Baker and Emily Stromberg. Aware that his future wife liked games, Baker found an Internet program that enables users to create custom crossword puzzles.

"I used topics that related to our relationship," he said. "The final clue - #39 down - was: 'The song that Paula Abdul released in tribute to her then fiancé Emilio Estevez.'"

The answer: "Will You Marry Me?"

"As she worked the puzzle and got to #39, I was down on one knee with the ring and made the proposal," he said.

The Forest editor and professional cellist are now married and expecting their first child in August.

The book of love
Tommiea Jackson and Marlin King Jr.

Six months after Marlin King Jr. began dating Tommiea Jackson, he knew he wanted to marry her, so he began collecting mementos of time spent together.

"I started to develop ideas about how to pull this whole proposal thing off," he said. "I snuck in the office on weekends to work on my project."

In 2008, Jackson traveled to Las Vegas for a business conference, and King flew out to meet her.

"This was my chance," he said.

In their Las Vegas hotel room, Jackson saw King accidentally knock something under the bed.

"He's always clowning around, so I figured he was trying to be funny," she said. "But when I saw he'd fallen to the floor, I went over to see if he was OK."

When he asked her to reach under the bed to see what he'd tripped on, she found a box with her initials on it.

"I sat on the bed and began reading the pages," she said. "They described the things we'd done together over the past three years. There were tickets from our visit to the Biltmore Estate in North Carolina, an India Arie concert we attended and the rodeo we took his dad to. Then there was a picture of a guy proposing, and there was a ring."

The two will wed in Jackson on Saturday.

Making a wish
Rebekah Petrowski and Shane Hixon

Rebekah Petrowski and Shane Hixon made reservations at Jackson's Bravo restaurant and arrived early. So Hixon suggested they walk to a nearby wishing well to wait.

"He began to tell me a story about his childhood, and how his father would always give him and his brother money to throw into the well to make a wish," Petrowski said. "He asked me if I wanted to make a wish to see if it would come true. I figured I might as well because the sooner we did the wish, the sooner we could go back upstairs to eat."

Hixon reached in his pocket for change.

"Instead, he held out a beautiful black box and said, 'Will you marry me?' she said. "He slid the most insanely beautiful, perfect 3-carat ring on my shaking finger."

The northeast Jackson couple has been married three years.

"Cinderella can have her fairy tale," Petrowski said. "I have the real deal."

On-air proposal
Sue Ellen Hardin and Brian Scurlock

Brian Scurlock proposed to girlfriend Sue Ellen Hardin New Year's Eve 2005.

His proposal was pre-recorded, along with a poem, so that he could present an engagement ring while listening to it air on his car radio at Lakeshore Park.

"The DJs asked us to call in live to let them and the listeners know what my answer was," said Sue Ellen. "My husband had told my family his plan so that they could drive to my brother's house to listen."

The Madison residents celebrated their third wedding anniversary Dec. 30.

Wishes come true
James Pierce and Megan Cranmore

They had been dating eight years when Pierce decided to propose.

He purchased a porcelain Christmas ornament that opened. On the outside, it read "Wishes" with the words "do come true" inside. And he wrote "Will you marry me?" on a small scroll and placed it inside the ornament.

Pierce chose Ridgeland's Amerigo restaurant to stage the event and left the ornament with the manager.

That night, the servers brought it out and told Cranmore it was a complimentary gift.

"She opened it up and began to read the scroll," he said. "By that time, I was down on one knee with the ring in hand. I had also contacted some of her old friends that she hadn't seen in years and had them all waiting at her house for a small engagement party along with her family. It was a perfect night."
The couple plans to wed this December.

A romantic evening
Funmi Spencer and Brad Franklin

On New Year's Eve 2008, Funmi Spencer accompanied Brad Franklin to the Hilton Jackson, where the local writer and entertainer hosted a Blair E. Batson Hospital for Children benefit.
"I arrived in the room after a long day of work and shopping to find Godiva chocolates placed sparingly across the bed and flowers," Spencer said. "After a relaxing time in the Jacuzzi, I started getting dressed. He was rushing me because we were late getting to the benefit downstairs."

But when she finished dressing and walked to the door, Franklin stopped her.

"Your outfit isn't complete yet," he said. "I turned around and found him on one knee fumbling with a beautifully wrapped box. 'Funmi Spencer, will you be my wife?' he said.
"This story may not seem creative or extraordinary to many, but if you know my husband, Brad 'Kamikaze' Franklin, you'd know that when he's not working, he's working. I had no reason at all to expect that this evening would be anything more than him hosting this charity event. I was blown away at him turning the evening into a romantic episode just for me."

The couple married Sept. 18.