Roaming rabbi finds a new home: After serving some 30 congregations across eight states, Appel is tapped to lead historic Chicago synagogue
LaReeca Rucker
The Oxford Eagle
At age 9, she dreamed of being an astronaut or a rabbi.
Either job would have brought her closer to God, but Batsheva Appel chose the latter.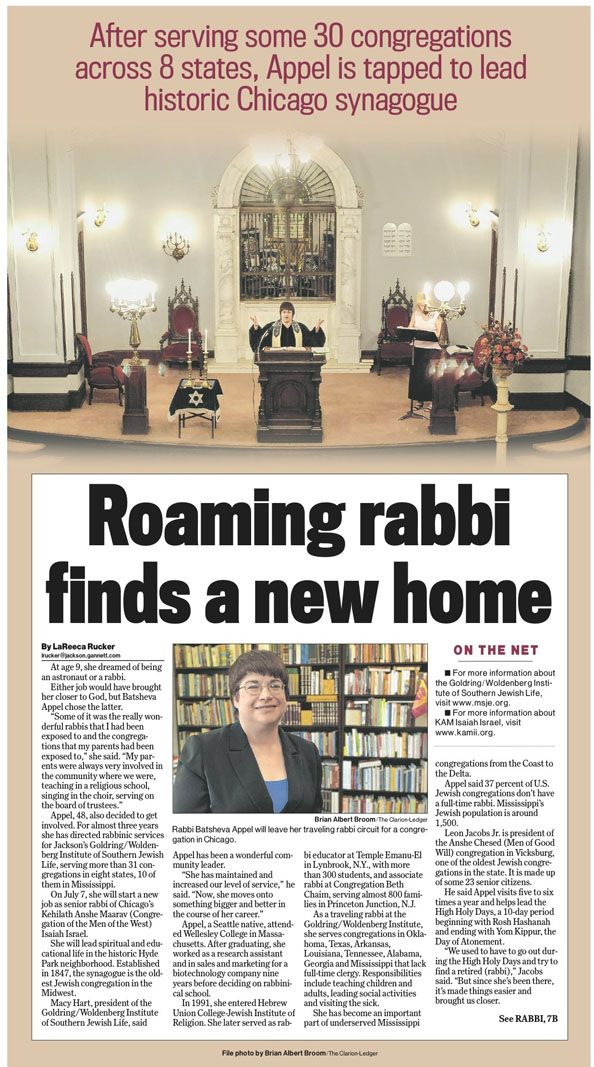 "Some of it was the really wonderful rabbis that I had been exposed to and the congregations that my parents had been exposed to," she said. "My parents were always very involved in the community where we were, teaching in a religious school, singing in the choir, serving on the board of trustees."

Appel, 48, also decided to get involved. For almost three years she has directed rabbinic services for Jackson's Goldring/Woldenberg Institute of Southern Jewish Life, serving more than 31 congregations in eight states, 10 of them in Mississippi. On July 7, she will start a new job as senior rabbi of Chicago's Kehilath Anshe Maarav (Congregation of the Men of the West) Isaiah Israel, leading spiritual and educational life in the historic Hyde Park neighborhood. Established in 1847, the synagogue is the oldest Jewish congregation in the Midwest.

Macy Hart, president of the Goldring/Woldenberg Institute of Southern Jewish Life, said Appel has been a wonderful community leader.

"She has maintained and increased our level of service,"he said. "Now, she moves onto something bigger and better in the course of her career."

Appel, a Seattle native, attended Wellesley College in Massachusetts. After graduating, she worked as a research assistant and in sales and marketing for a biotechnology company nine years before deciding on rabbinical school.

In 1991, she entered Hebrew Union College-Jewish Institute of Religion. She later served as rabbi educator at Temple Emanu-El in Lynbrook, N.Y., with more than 300 students, and associate rabbi at Congregation Beth Chaim, serving almost 800 families in Princeton Junction, N.J.

As a traveling rabbi at the Goldring/Woldenberg Institute, she serves congregations in Oklahoma, Texas, Arkansas, Louisiana, Tennessee, Alabama, Georgia and Mississippi that lack full-time clergy. Responsibilities include teaching children and adults, leading social activities and visiting the sick. She has become an important part of underserved Mississippi congregations from the Coast to the Delta. Appel said 37 percent of U.S. Jewish congregations don't have a full-time rabbi. Mississippi's Jewish population is around 1,500.

Leon Jacobs Jr. is president of the Anshe Chesed (Men of Good Will) congregation in Vicksburg, one of the oldest Jewish congregations in the state. It is made up of some 23 senior citizens. He said Appel visits five to six times a year and helps lead the High Holy Days, a 10-day period beginning with Rosh Hashanah and ending with Yom Kippur, the Day of Atonement.

"We used to have to go out during the High Holy Days and try to find a retired (rabbi)," Jacobs said. "But since she's been there, it's made things easier and brought us closer. The best thing I can say about her is she just fits in. And when you find a person to lead you that everyone likes, it's hard to lose them."

Deborah Halpern, who chairs KAM Isaiah Israel's communications committee, said Appel was selected to serve the congregation of around 450 families because of her strong leadership capabilities.

"Her experience in working with a wide variety of congregations in the Southeastern states helped us understand she will be flexible because we have a lot of different ideas within our congregation," she said. "We also have the best security on the globe for our congregation because we are directly across the street from President Obama's house, and it is surrounded by Secret Service."
Halpern said KAM Isaiah Israel is well known for its nationally and internationally recognized rabbis as thought and spiritual leaders in the Reform movement, as well as its integration, civil rights and immigration reform work.
The Goldring/Woldenberg Institute of Southern Jewish Life is recruiting Appel's replacement. Appel will be saying good-bye to Jackson's Beth Israel, the congregation she attends.

"It's not an easy congregation to leave," she said. "It's a really wonderful community, and I definitely want to come back to visit."

She'll take with her an appreciation for the spectrum of Jewish worship. "I've served congregations of all types and gained a real in-depth knowledge of what it means for a congregation to be a warm and welcoming community," she said.

ON THE NET

* For more information about the Goldring/Woldenberg Institute of Southern Jewish Life, visit www.msje.org .

* For more information about KAM Isaiah Israel, visit www.kamii.org