MTV welcomes Mississippi woman to 'The Real World'
LaReeca Rucker
The Clarion-Ledger
This is the true story of a Mississippi girl ... picked to live in a house with seven strangers ... who work together and have their lives taped ... to find out what happens when people stop being polite ... and start getting real.
The Real World on MTV kicks off its 24th season today, in post-Katrina New Orleans. Aberdeen native Jemmye Carroll, 21, is the third Mississippian in the show's history selected for the cast.
The 2006 Aberdeen High School valedictorian is a senior political science and communications major at Mississippi State University, where she served as president of the MSU Pre-Law Society.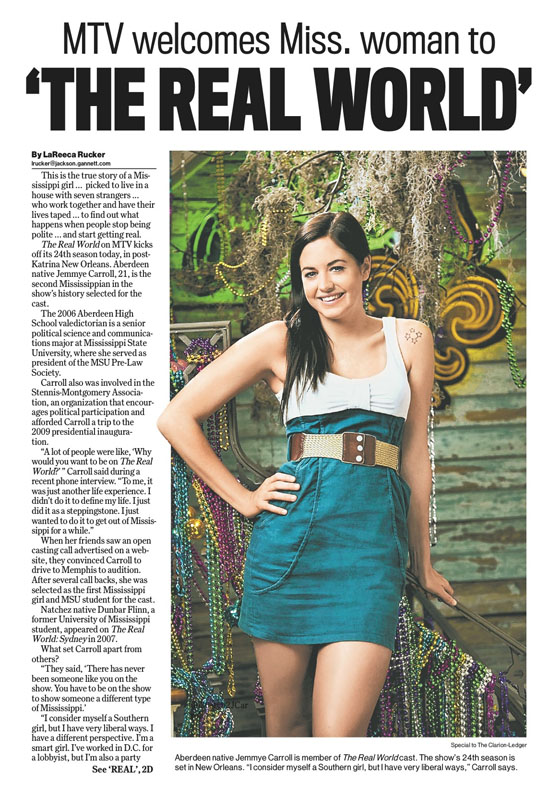 Carroll also was involved in the Stennis-Montgomery Association, an organization that encourages political participation and afforded Carroll a trip to the 2009 presidential inauguration.
"A lot of people were like, 'Why would you want to be on The Real World?' " Carroll said during a recent phone interview. "To me, it was just another life experience. I didn't do it to define my life. I just did it as a steppingstone. I just wanted to do it to get out of Mississippi for a while."
When her friends saw an open casting call advertised on a website, they convinced Carroll to drive to Memphis to audition. After several call backs, she was selected as the first MSU student for the cast.
Natchez native Dunbar Flinn, a former University of Mississippi student, appeared on The Real World: Sydney in 2007. Genesis Moss of Gulfport appeared in the show's sixth season.
What set Carroll apart from others?
"They said, 'There has never been someone like you on the show. You have to be on the show to show someone a different type of Mississippi.'
"I consider myself a Southern girl, but I have very liberal ways. I have a different perspective. I'm a smart girl. I've worked in D.C. for a lobbyist, but I'm also a party girl. I'm focused during the day and wild at night."
Carroll said New Orleans was the perfect setting to demonstrate that and describes their house off St. Charles Street as "the best house they've ever had on The Real World."
"When I found out we were going to be in New Orleans, it was the most amazing place it could be because I'm a huge Saints fan," she said. "I was completely stoked."
The show filmed January through April, and cameras caught the Saints Super Bowl victory, a time Carroll describes as "the craziest night of my life." The cast also rode in the Krewe of Tucks Mardi Gras parade.
The group includes an ex-basketball star, a Florida beach beauty, a girl who leaves her family for the first time, and a hockey player determined to stay sober after an addiction to painkillers.
"I know people like to think negative things about reality TV," Carroll said. "I feel like it helped me become a better person.
"I don't have any regrets for anything I did. I know there are some moments I might not want my parents to see, but it's me, and I can't get mad at something that's true."
Carroll plans to graduate from MSU in the fall.
"I'm sure I'll end up back in New Orleans," she said. "I fell in love with that place, and I could live there forever. I'll definitely do something involving politics, I'm sure."
Carroll isn't the only person connected to the 24th season of The Real World with Mississippi ties.
Jonathan Murray, who co-created the show with the late Mary Ellis Bunim, was born in Gulfport.
"My father was a psychologist, and his first job was for the Veteran's Administration," Murray said. "I was born there, and we ended up living there for about six and a half years."
Widely credited with inventing the modern reality television genre, Murray, who graduated from the University of Missouri School of Journalism, has created and produced more than 80 seasons of reality TV.
He's also responsible for Road Rules, Real World/Road Rules Challenge, The Simple Life, Making the Band and has produced Keeping Up with The Kardashians, Khloe and Kourtney Take Miami, Project Runway and Living Lohan, among others.
"I'm very excited about the cast, including Jemmye," Murray said by phone. "She is just a delightful free spirit. She is not at all what you first expect her to be.
"I think a lot of people have misconceptions about what a young person from the South or Mississippi might be, and I think she turns that around quickly."
Murray said this felt like the right time to return to New Orleans. The show's ninth season was filmed there.
"New Orleans had been through a horrendous experience with Hurricane Katrina, and there appeared to be a renewal going on," he said. "We decided to investigate which areas in the volunteer sphere the cast could be involved in, and how they could improve things there."
The cast worked with New Orleans Habitat Musicians' Village, an organization conceived by New Orleans natives Harry Connick Jr. and Branford Marsalis that is described as the cornerstone of the New Orleans Area Habitat for Humanity post-Katrina rebuilding effort.
They also worked with the New Orleans Mission, the largest private service provider for the city's homeless.
"I think they got a tremendous feeling of satisfaction helping others," Murray said. "It was the perfect antidote for all the partying they did."

As The Real World approaches its 25th anniversary, what does Murray think about the reality TV explosion that has occurred in recent years?

"I don't think any of us could have expected that reality television would have become a mainstay," he said, "and that it wouldn't just be shows like The Real World that are kind of observational documentaries.

"I still get tremendous satisfaction about making The Real World because there's something pure about it."