Recipe for success: Cooking shows inspire new generation of Mississippi chefs
LaReeca Rucker
The Oxford Eagle
Fulton native David Leathers, 28, grew up helping his father, Rick, run the family restaurant, Rick's Barbecue.
"There were no ifs, ands or buts," he said. "You had to help the family business thrive."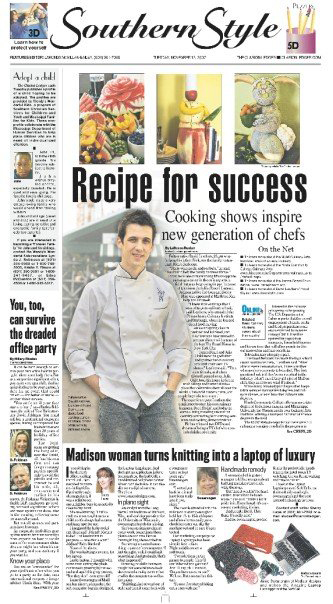 Today, he is one of many young Mississippians pursuing a career in the culinary arts, a field that may be growing in part because of television chefs like Emeril Lagasse, Jackson native Cat Cora and Bobby Flay, who appeared at Mistletoe Marketplace last week.
"I knew at an early age that I wanted to go to culinary school," said Leathers, who attended the Pennsylvania Culinary Institute in Pittsburgh, where he learned about food carving.
An ice sculpting class in Switzerland followed, and Leathers was later invited to prepare dinner with a team of chefs at The Beard House in New York City.
"James Beard and Julia Child were the godfather and godmother of culinary arts with their own TV shows," Leathers said. "They were friends, and when (Beard) passed away, Julia Child took his house in Greenwich Village and turned it into a place that celebrates chefs all over the world. Chefs hold dinners there, and people buy tickets to come."
The experience gave Leathers the confidence to start his own culinary business, Food Stylin', and today he earns a living traveling around the country conducting food carving seminars and cooking demonstrations. He has released two DVDs and dreams of being a TV chef who combats childhood obesity.
Interest in the culinary arts seems to be growing. The U.S. Department of Labor reports that the overall employment of chefs, cooks and food preparation workers is expected to increase through 2014.
It will be spurred by population increases, household income and leisure time that will allow people to dine out more often and take vacations. Television may also play a part.
"The Food Network has made the high school crowd want to be chefs," Leathers said. "After almost every demonstration, I have a mother who says her son wants to be a chef. The first question I ask is if they've ever worked in the industry. I don't care if they get a job at McDonald's, they need to see what it's about."
While many Mississippi colleges offer hospitality services management degrees and culinary classes, at least two offer culinary arts degrees.
Hinds Community College offers an associate degree at its Jackson campus, and Mississippi University for Women has its own Culinary Arts Institute, offering a four-year bachelor of science degree in the field.
The MUW Web site reports that there were 105 culinary arts majors enrolled in the program in spring, including 73 women and 32 men.
While most students came from Mississippi, 11 different states and five international countries were represented. Grenada native Casey Parkman, 26, is an MUW student.
"Cooking shows like Justin Wilson and the Food Network seemed to hypnotize me and made me want to know how to cook for myself," he said. "I realized that food can be an art that touches many senses and emotions. It's tough work, but making your hollandaise sauce just right can take you out of this world and help you forget your problems."
Parkman said TV cooking shows have also influenced many of his peers.
"I certainly think the culinary arts are more popular now than ever, as the growing MUW culinary student populace can attest to," he said. "The Food Network and other shows are a major reason for that."
Florence native Chan Patterson, manager of curriculum services for Viking Cooking School, assisted visiting chef Cora during cooking demonstrations at Madison's Viking Classic golf tournament in September. She said TV cooking shows have captivated a new generation and helped make Viking cooking camps for kids successful.
"We have camps in the summer where kids can go for a whole week," she said, adding that she's impressed by the knowledge of the cooking-sophisticated teens she encounters.
Some camp classes include "Cooking Around the World," "Cooking for Any Occasion" and "Recipes from Favorite Food Network Stars. "Each day, the dish is from a different chef on TV," Patterson explained.
The classes are taught at 11 cooking schools across the United States, including Greenwood. Patterson, who writes the curriculum, said they are usually well-attended by both boys and girls.
Johnna Emerson, 22, was adopted from South Korea as a baby, but she's a Mississippi girl through and through who eventually hopes to open a restaurant in her home state.
The native of Glen, a small town near Corinth, graduated from Alcorn Central High School in 2004 and enrolled in the MUW culinary arts program. She'll graduate in May.
"I was that little Southern kid who helped cut out biscuits, stir the cornbread batter, or roll out sausage balls," she said.
At age 7, Emerson realized she wanted to be a cook after preparing her grandfather a hearty meal of Ramen noodles, assisted, of course, by her grandmother.
And while everyone else was watching MTV, Emerson was tuning in every afternoon for Great Chefs of the World on the Discovery Channel. Lagasse was also a favorite.
"I watched Emeril Live all the time," she said. "I became fascinated with the food he created and the ingredients he used in that short one-hour time slot. One day, the lights upstairs flipped on, and I realized I could actually cook for a living."
Emerson said The Food Network has played a huge role in introducing different cuisines, cooking terminology and ingredients to the general public.
"I wasn't concerned with produce when I was 5, but I'm pretty sure there weren't many people demanding leeks and pomegranates at the local grocery store," she said. "Now, you can find them at places like Wal-Mart and Kroger.
"I think that people have become more food savvy. And, personally, I might have never thought about becoming a chef if I hadn't been so interested in watching the Food Network."
Emerson is another Mississippi student who's willing to pay her dues in the industry to earn the elite title of chef. "Hopefully, I'm on my way," said the student, who interned in Seattle last summer. The culinary arts program at MUW requires that all majors complete an internship.
"I worked all summer for free for the James Beard award-winning chef, Thierry Ratureau, and his executive chef, Adam Hoffman, at Rover's. So I moved to Seattle by myself, and worked like a dog all summer long. My brain became a human sponge, and I learned so much. It inspired me to push harder.
"After graduation in May, I hope to move back to Seattle and work, but not forever. One day, I want to come back and open up a restaurant here in Mississippi. I'm not exactly sure what kind, but I'll have it all figured out when that time comes."