Local company plans slate of new films
LaReeca Rucker
The Oxford Eagle
Check your Netflix selections, and you may run across a 2011 horror movie called "Rites of Spring" with a creepy, vintage-style poster image of a woman dangling from a rope in front of an old farm house and the tag line "Fear has a season."
Watch the first few seconds of it, and you'll learn that the movie has a Mississippi connection. Google it, and you'll see it was shot entirely in the Jackson metro area in 2010.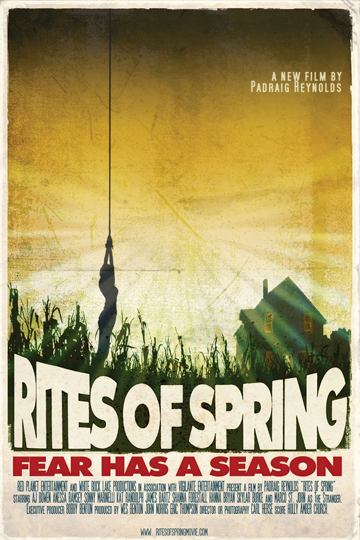 After kidnapping a young girl from her wealthy parents in a ransom scheme, a group of villains soon discover that there's something more frightening and horrible than them lurking about. And when their hideout in an abandoned school becomes inhabited by a chilling curse that resurfaces each spring, they lose grip of their plan.
"Even though I was there and I helped, and in most scenes I am standing within 20 feet of the actors at all times, I jumped at the suspenseful moments when I watched it, like a person seeing it for the first time," said Amanda Bowman, who worked as a hairstylist on the movie set.
"I was raised in a little town in Mississippi, and never in a a million years, did doing anything in the film industry ever cross my mind," said Bowman. " I never even knew it was my dream until it was. I mean, I never chased my dream. It found me, and I am so thankful it did."
A "Rites of Spring" sequel is in the works, according to producer Wes Benton, who has owned the Mississippi-based production company Red Planet Entertainment with his brother, Bobby Benton, since 1980. The two grew up in Mississippi and decided to produce a film that would be shot in the state. "Rites of Spring" was chosen.
Benton recently announced that Red Planet Entertainment will collaborate with Outlier, a Beverly Hills-based film production and finance company, to produce three feature films that will be shot on the Mississippi Gulf Coast in 2013 and 2014.
According to the website, Outlier is run by producers Mark Morgan and E. Thompson, whose work includes "The Wedding Planner," "Agent Cody Banks," "The Stepfather," "Rites of Spring" and "The Twilight Saga."
Benton said all three films will be shot on the Mississippi Gulf Coast and surrounding areas to utilize the state's tax rebates and financial incentives, while striving to grow the local film community.
Benton said they plan to work with the University of Southern Mississippi to employ and mentor film students, as well as hire as many local qualified industry professionals for all areas of production.
"If you look at the writers, entertainers and musicians that come out of the state, we have a rich heritage, and being able to draw on that is a good deal for us," Benton said, during a recent phone interview. "It's a good time in Mississippi. We are Louisiana 12 years ago. Louisiana started the incentive bill, and everyone started going there. We see Mississippi being in that same position."
Photography is scheduled to begin in July 2013 on "Open 24 Hours," the first film in the three-picture deal. It's about a woman employed at a 24-hour gas station, who is tormented by paranoia and hallucinations. Padraig Reynolds, who wrote and directed "Rites of Spring," also wrote this project.
The second film is a youth-driven comedy, and Benton said the third will be mutually determined by both companies. Reynolds grew up in Missouri and moved to Los Angeles in 2002 to begin working in film and television. His credits include a short film called "The Election," and writing the Sony Pictures miniseries "Buried Alive." He said he has also written and developed a script for Sean Cunningham (producer of "Friday the 13th" and "Last House on the Left.")
"I never went to film school," he said, "but have been interested in film since I was a kid. When I write a script, I usually do a lot of research on locations and where I would shoot the film. I got really lucky with Mississippi because it had everything that I could imagine and more. It was a writer's dream."
"Rites of Spring" filming took place in the spring of 2010 in Canton and Jackson.

"We shot in a 100-year-old barn, an abandoned high school, a graveyard, Martin's Bar in Jackson and several other locations," Reynolds said. "It was such a great experience working with the Mississippi Film Commission. They really went out of their way to help us find such amazing locations."
Nina Parikh, deputy director of the Mississippi Film Office, said the office "assisted with location scouting, finding local crew and equipment resources, announcing casting calls, and offered general support on a daily basis as needed during pre-production and production."

Parikh said most of the locations in the film are not frequently visited by the general public, so they may not be initially recognizable.
"A few of the locations include the old high school in Canton, a parking lot near Martin's/Hal and Mal's, a barn and farmland in Canton," she said. "The farmland and landscapes are extremely memorable – lush and beautiful."

Reynolds said the script, originally written in 2002 for other producers, was initially set in his Missouri hometown. The production deal fell through, and years later, the script was passed on to the Bentons.
"We were able to get the money together, and we shot the movie in 2010," Reynolds said. "Once we were on location scouting for the movie, I tailored the whole script around the beautiful locations in Canton."
The movie had limited theatrical release from IFC Films, and can now be seen on Video on Demand, Netflix, Blockbuster, iTunes and Xbox. Reynolds said it was a goal to use as many locals as possible.
He said actors Hannah Bryan, Katherine Randolph, Marco St. John, Andrew Breland, Skylar Burke, Amille Wilson and Shanna Forrestall, all from Mississippi, were part of the cast. The crew included Mississippians Mary Goodson, Cher Foley, Chris Riddle, Trey Wilson, Colt Covington, Peter Budd and Amanda Bowman.
"I got to make bloody, sweaty hair and call that art," Bowman said. " I appreciate film more now. I never knew that movies aren't shot in the order of which you see them on screen. It is all mixed up, and it depends on what location is available and when."
Bowman said she also learned to take pictures of hair and makeup at the beginning of each scene as a reference for the next stage of filming.
"Even if it was shot a week ago, you can look and see what the hair and make-up is suppose to look like," she said. "It's called continuity, and it is the backbone and most important rule for every single department on a film shoot."
Continuity also means passing what she's learned on to other Mississippians interested in film.
"We have an ever-growing crew base and now offer classes for people interested in the film industry at the Rankin Branch of Hinds Community College," Bowman said.