The Sauce Boss: Madison man markets bottled-up dream
LaReeca Rucker
The Clarion-Ledger
Say you've found a new cookin' sauce with a rootin' tootin' kick that may just have the absolute most bodacious flavor you've ever tasted in your whole, entire, little ole bitty, Mississippi-livin' life?
Madison resident David Wilson will tell you that's just plain HogWash.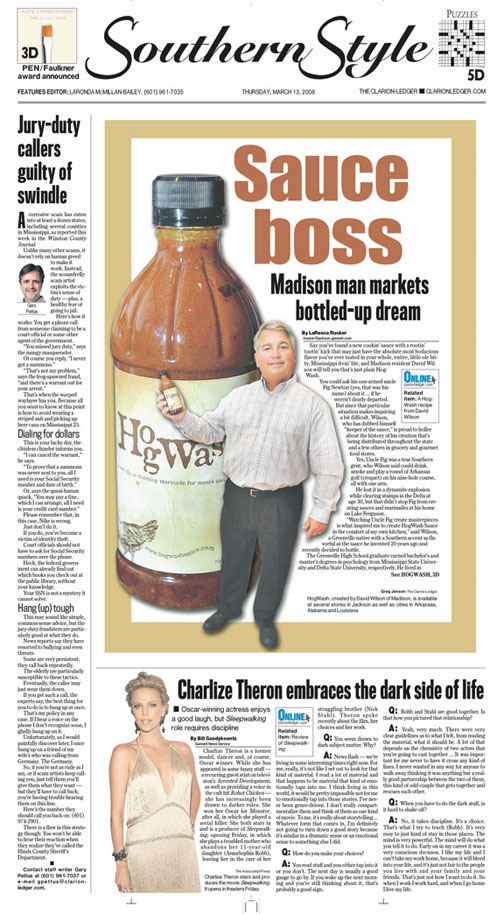 You could ask his one-armed uncle Fig Newton (yes, that was his name) about it ... if he weren't dearly departed. But since that particular situation makes inquiring a bit difficult, Wilson, who has dubbed himself "keeper of the sauce," is proud to holler about the history of his creation that's being distributed throughout the state and a few others in grocery and gourmet food stores.
Yes, Uncle Fig was a true Southern gent, who Wilson said could drink, smoke and play a round of Arkansas golf (croquet) on his nine-hole course, all with one arm.
He lost it in a dynamite explosion while clearing stumps in the Delta at age
30, but that didn't stop Fig from creating sauces and marinades at his home on Lake Ferguson.

"Watching Uncle Fig create masterpieces is what inspired me to create HogWash Sauce in the comfort of my own kitchen," said Wilson, a Greenville native with a Southern accent as flavorful as the sauce he invented 20 years ago and recently decided to bottle.

The Greenville High School graduate earned bachelor's and master's degrees in psychology from Mississippi State University and Delta State University, respectively. He lived in Greenville 49 years before moving to Jackson to work as chief administrative officer in the department of psychiatry at the University of Mississippi Medical Center.

Today, he operates a private practice, conducting mental health evaluations and specializing in child custody issues. And in his spare time, he markets HogWash Sauce, a venture his wife Denise of 34 years encouraged him to pursue.

"Two years ago, she said, 'Do you know what you can get me for Christmas?' I said, 'No, but I pay good attention for a man.' She said, 'Lose 10 pounds and bottle that sauce.' So I began the process, and I knew I didn't just want to sell it at the fair."

Wilson found Reed Food Technology in Brandon and hired the Jackson advertising agency Liquid Creative to help him develop a brand and logo for his product. He opted for something country, but classy - not a predictable picture of a portly pig in a pot.

"I wanted a wine bottle label look," he said. "I wanted it to be more of a gourmet sauce than a barbecue sauce. It's a finishing sauce because it's really too good to be a marinade. And we were looking for a name that just kind of told the story all in one word."

HogWash summed it up.

The first bottle of HogWash Sauce was produced Oct. 1, and Wilson began peddling it at local grocery and speciality stores.

"I would go to a grocery store deli, get them to shred two chicken breasts for me and pour the HogWash on," he said, explaining his marketing tactic. "Then I'd get the cooks in the deli to try it. After I had four or five women raving about the new flavor, I'd ask to speak to the new manager, and that's how I got in many grocery stores."

Wilson said Reed Food Technology is now making about 210 gallons a batch, and the sauce is being sold in Oxford, Starkville, Hattiesburg, Winona, Greenville, Columbus, West Point, Vicksburg and throughout the Jackson metro area. It can also be found in Arkansas, Alabama and Louisina, and Wilson said it will soon be distributed in all Bass Pro Shops.

Dyan Melton, of Jackson's Everyday Gourmet, said HogWash has sold well. Foodies can meet Wilson at the store from 2 to 6 p.m. Friday.

Flo Bryan, manager of the Madison store Persnickety, said the store hosts Saturdays at the Snick every weekend, offering samples of edible merchandise. Wilson is scheduled to appear there from 11:30 a.m. to 3 p.m. March 22.

Marty Smith, owner of the Greenville food speciality store Grandma's Best, has been carrying the sauce for five months.

"Once we tasted the product, I thought we could sell it," he said. "We started putting it in our ads, and people started coming in."

Grandma's Best carries small bottles and gallon containers of HogWash.

"I think there's about 12 bottles in a case," Smith said. "We have already gone through 12 or 15 cases easily. People have bought it and come back and repurchased the product."

The sauce is also sold at McTaggart's Meat Market in Madison. That's where Madison resident Terri Morgan found it.

"David told me about his entrepreneurial idea and gave us some of the sauce a while back," she said. "It was just delicious, and I was like, 'You have to produce this.'

"Fast-forward a year or so, and I see a new sauce I haven't tried. It's called HogWash. I thought what a great name, and there was David's name on the label too. It's just a great product.

"I recently got back from Anguilla," Morgan said. "We were vacationing with friends and doing a little diving about a month ago. I had a couple of bottles in the cabinet that I brought because you never know what the grocery situation might be in the islands. We actually prepared it with chicken, and it was great."

Greenville resident Tom James has been Wilson's friend the past 27 years. In fact, the two broke bread and drenched tenderloin with HogWash last weekend at a gathering of old friends in Greenville.

"I'm happy it's something I can go and buy now," he said. "It's just got a different taste that makes you want more of it. It's wonderful on chicken and tenderloin, and even a baked potato."

While he won't reveal the secrets of the sauce, Wilson said apple cider vinegar is key.

"After 27 years, I can make it in about five minutes," he said, "and there's no cooking to it. It's all a mixture. People use it instead of butter and sour cream on a baked potato, and there's a couple of restaurants that use it on baked mushrooms."

Wilson's goal is to distribute HogWash throughout the Southeast, getting it into the hands of tail-gaters and on family reunion tables.

"I don't want to sound 'bragadocious,' because I'm not that kind of guy," he said. "For a long time I thought the world didn't need another sauce any more than we need another make and model of a car.

"My brother, who's in the pharmaceutical business, said the world doesn't need another antihistamine either. But I thought that if I could sell good times to people, I'd be selling more than a flavor. I'd be selling memories.

"When I'm through doing my report or testifying in court, I take my coat and tie off, put on my sweater, load my car full of 30 cases of HogWash, and off I go having a ball.

"I'm having more fun now than I've ever had in my life. This hobby has become almost a second job, and I couldn't be happier."