Segregated Services: Hands still not joined on Sunday
LaReeca Rucker
The Clarion-Ledger
Mary E. Gilbert often drove right by the large, intimidating church buildings in her community, never stopping to go inside because she feared she would not be accepted or welcomed. God would invite her in, if He was there, but would the all-white congregation be as hospitable? The thought kept her away.

The 26-year-old Jackson State University student recently shared her feelings with a diverse congregation at Central United Methodist Church.

Sunday Morning Segregation: How much has changed since the days of Dr. Martin Luther King Jr. was the latest topic of The Medgar Evers/Ella Baker Civil Rights Lecture Series.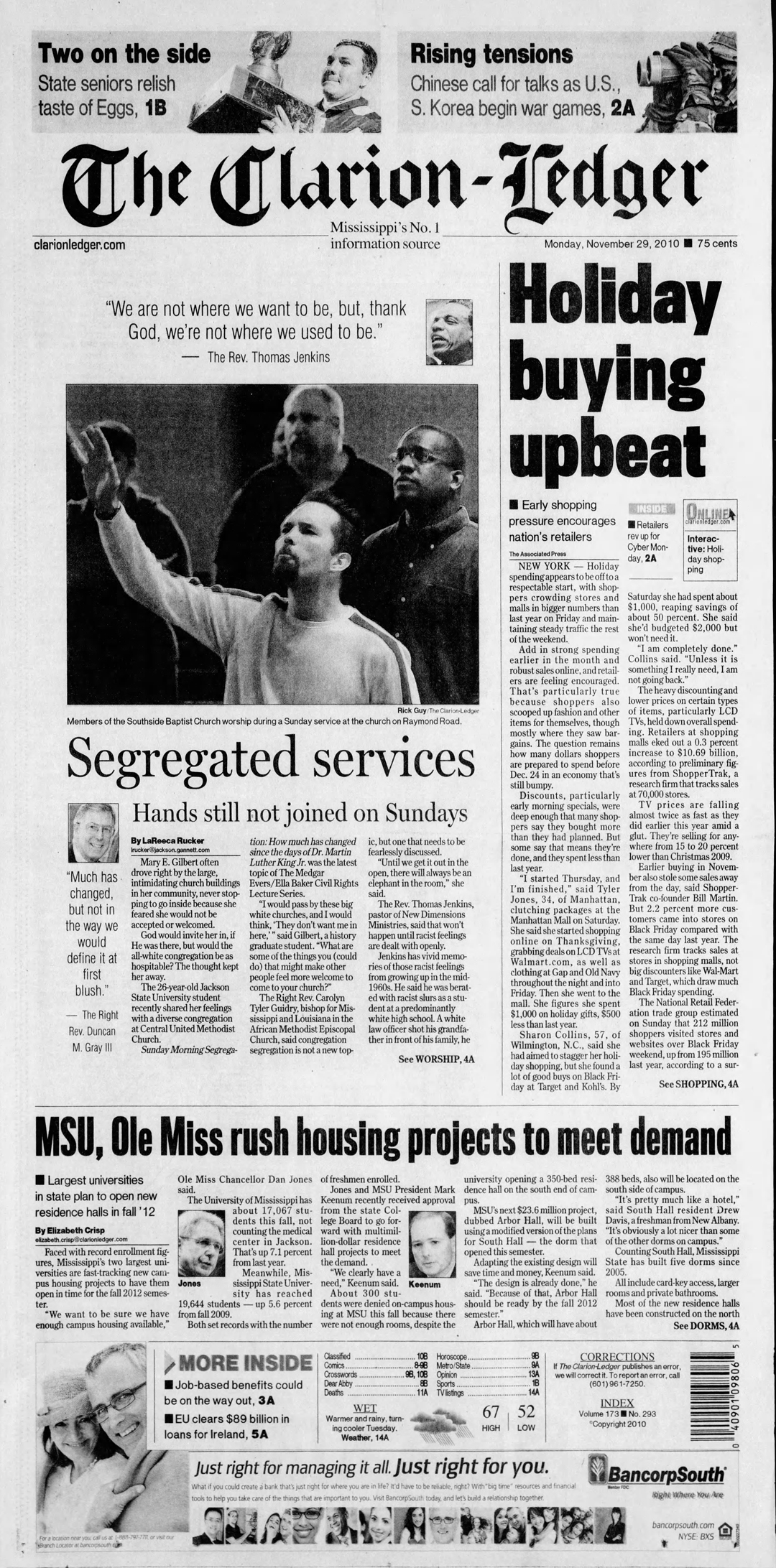 "I would pass by these big white churches, and I would think, 'They don't want me in here,'" said Gilbert, a history graduate student. "What are some of the things you (could do) that might make other people feel more welcome to come to your church?"

The Right Rev. Carolyn Tyler Guidry, bishop for Mississippi and Louisiana in the African Methodist Episcopal Church, said congregation segregation is not a new topic, but one that needs to be fearlessly discussed.

"Until we get it out in the open, there will always be an elephant in the room," she said.

The Rev. Thomas Jenkins, pastor of New Dimensions Ministries, said that won't happen until racist feelings are dealt with openly.

Jenkins has vivid memories of those racist feelings from growing up in the mid-1960s. He said he was berated with racist slurs as a student at a predominantly white high school. A white law officer shot his grandfather in front of his family, he said. And his home was bombed.

"We were always concerned about whether or not we would see the next day," said Jenkins, acknowledging that he had to confront his anger. "Once I opened up the wound and got the splinter out, the pus began to come out, and I could heal."

Many can't do that because they don't want to feel uncomfortable, Jenkins said, though he acknowledges progress has been made.

"We are not where we want to be, but, thank God, we're not where we used to be," he said.

The Right Rev. Duncan M. Gray III, bishop of the Episcopal Diocese of Mississippi, said "much has changed, but not in the way we would define it at first blush."

"In my own particular denomination, several initiatives have taken place to combine historically black congregations with historically white congregations," he said.

Recognizing that the 50th anniversary of many important historical civil rights events will occur in the next few years, Gray recently sent a letter to Mississippi's Episcopal leaders urging them to continue racial reconciliation work.

The Rev. Stan Buckley, senior pastor of First Baptist Church of Jackson, said not enough has changed, a problem that isn't owned by one particular racial group.

"There are a lot of people my age who didn't live through the '60s, and they don't want to have these conversations," he said. "They say, 'Why don't we just move on?' ... You can't just move on in Mississippi. The issue of race is in every room."

Neddie Winters, president of Mission Mississippi, agrees.

"We can't deny the fact that race makes a difference," he said. "We have to rise above it and see that grace matters more than race."

Mission Mississippi was founded in 1993 to encourage and demonstrate unity across racial and denominational lines.

"We believe people in this state who confess to being Christians should demonstrate their love for one another irrespective to race," Winters said, adding that forging relationships initiates change. Mission Mississippi groups now meet in 19 communities across the state.

"(Churches) are getting to the point where we are being more open, welcoming and warm," he said, adding that the group's primary goal is not to integrate every church, but to encourage all churches to become places where anyone can feel comfortable.

"It's to get it so that anyone can go into any church in the state and not feel out of place," he said.

Winters said the difference in worship styles is sometimes a factor in segregation, but people also sometimes hide behind those excuses so they won't feel uncomfortable about change.

Hope Morgan Ward, bishop for Mississippi in the United Methodist Church, said Mississippians carry a history "that continues to be burdensome for us."

"We name racism as a sin, and continue to work toward that day when it is no more part of our culture in Mississippi and in the world."

That's also happening at Southside Baptist Church in Jackson, a transitioning congregation of about 200 members.

"Our staff is pretty well integrated," said Reginald Glenn, youth minister. "I would say it's a predominantly white, traditional Southern Baptist church, yet if you were to come to our congregation on Sunday morning, you can definitely see those lines being blurred.

"We have a large percentage of youth who are African American, who we are trying to mold."

Glenn said location is one of the reasons the church has become more racially integrated in the last 10 years, but it's also because members have intentionally welcomed all.

"We believe that one day we will be in heaven worshiping our God. So why be segregated on earth?"