Sex in the real world: Churches addressing AIDS, STDs
LaReeca Rucker
The Clarion-Ledger
Sex may seem a taboo subject in churches.
But not in some Jackson churches alarmed by recent federal statistics showing Jackson with the third highest rate of AIDS cases in the country.
Hanging Moss Road Church of Christ and New Bethel African Methodist Episcopal Church are two churches educating their congregations this month about the consequences of unsafe sex.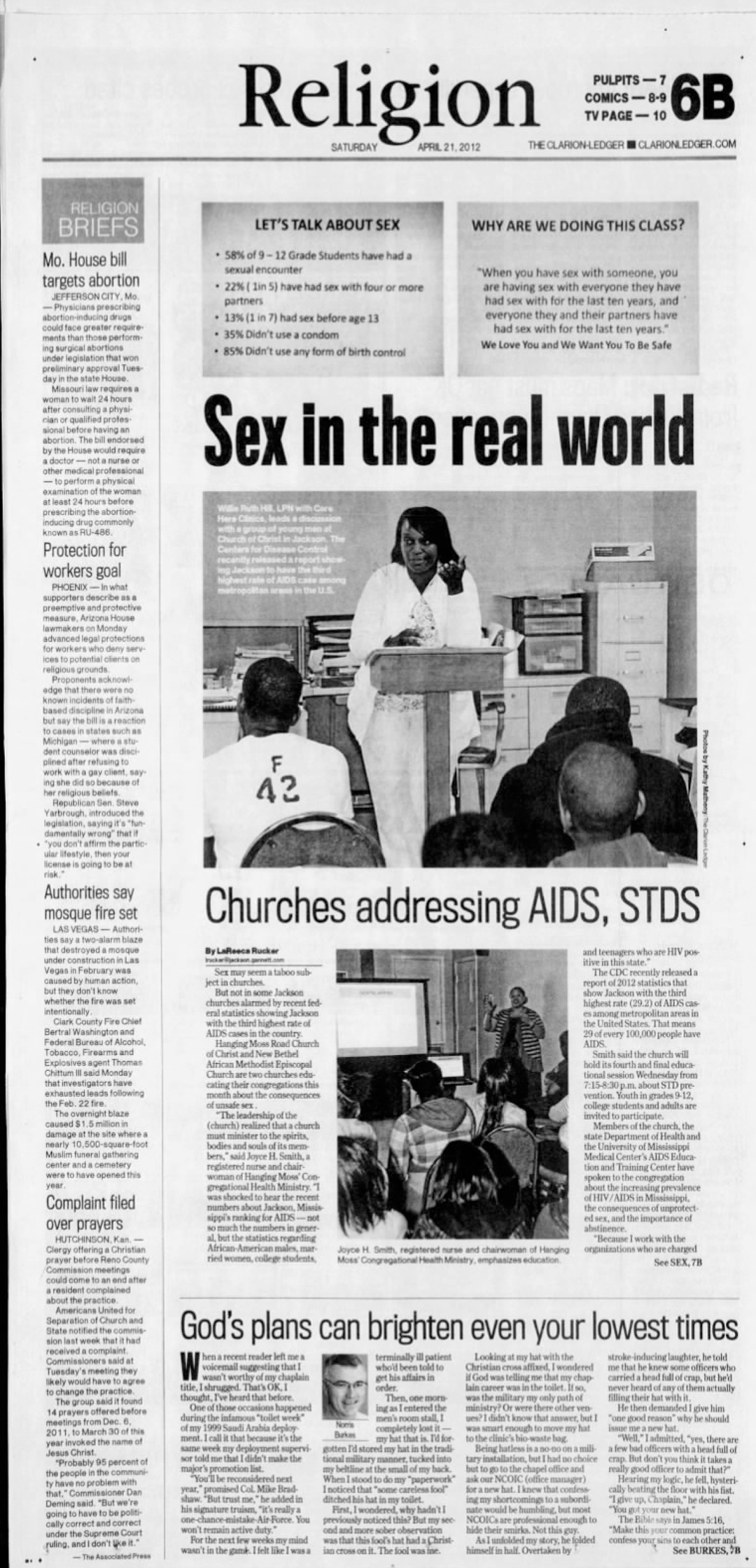 "The leadership of the (church) realized that a church must minister to the spirits, bodies and souls of its members," said Joyce H. Smith, a registered nurse and chairwoman of Hanging Moss' Congregational Health Ministry.
"I was shocked to hear the recent numbers about Jackson, Mississippi's ranking for AIDS - not so much the numbers in general, but the statistics regarding African-American males, married women, college students, and teenagers who are HIV positive in this state."
The CDC recently released a report of 2012 statistics that show Jackson with the third highest rate (29.2) of AIDS cases among metropolitan areas in the United States. That means 29 of every 100,000 people have AIDS.
Smith said the church will hold its fourth and final educational session Wednesday from 7:15-8:30 p.m. about STD prevention. Youth in grades 9-12, college students and adults are invited to participate.
Members of the church, the state Department of Health and the University of Mississippi Medical Center's AIDS Education and Training Center have spoken to the congregation about the increasing prevalence of HIV/AIDS in Mississippi, the consequences of unprotected sex, and the importance of abstinence.

"Because I work with the organizations who are charged with finding ways to decrease these numbers, it is very important to me for communities to branch out in educating our neighbors and friends about prevention and treatment of HIV," Smith said, adding the advancing treatment for HIV can be bittersweet.
"The medications are great in reducing the viral load, and that is wonderful, but since people with the disease don't look like the emaciated, sick people we saw about 20 years ago, the disease isn't viewed as a chronic disease.
"People may think it's no big deal to get tested and get prompt treatment because they erroneously believe there is a cure. The public must be educated that there is no cure for HIV."
Smith believes other churches should get involved. "There is a lot of stigma associated with HIV," she said. "This has to stop. There is no place for prejudice of any sort in the church. The church can educate a huge number of people through small efforts, such as what we are doing."

Church member Bobbie B. Brantley, who works with the the Mississippi Health Department's Office of Human Resources, is helping with the sessions. She said she felt "alarmed" and "shocked" when she heard about Jackson's latest AIDS/HIV statistics.
"The churches are the heart of the communities," she said. "We must help lead the way to make sure that all are taught the truth about these diseases from health professionals. Better informed people will most likely make better decisions about their lives."
Last week, New Bethel African Methodist Episcopal Church held an AIDS awareness event featuring actress Sheryl Lee Ralph of "Designing Women" and the Broadway musical Dreamgirls. She promoted the Call My Name campaign that offers panel-making workshops for The AIDS Memorial Quilt.
The quilt is composed of more than 47,000 individual 3-by-6-foot panels, each commemorating the life of someone who has died of AIDS. Ralph is also founder of the The Diva Foundation, an organization focused on HIV AIDS prevention and awareness.
Lorenzo T. Neal, pastor of New Bethel, said the event was to raise awareness of HIV in the African-American community by remembering the names of African Americans who have passed away.

AIDS is still a taboo subject in the black community Neal said. "We wanted to host the event to speak out, speak up and empower black churches and communities to take a stand against AIDS and live a better, more fulfilled health lifestyle."
Neal said the AME Church has a history of being on the forefront of social justice issues. "I strongly encourage churches, particularly black churches, to get involved in issues like this," he said.