Sex & the City: Fans get into character
LaReeca Rucker
The Clarion-Ledger
They were fabulously single in the city - four intelligent, professional women living life and looking for love in New York.
Viewers tuned into the HBO series weekly to follow eclectic Carrie, sexy Samantha, career-driven Miranda and sweet Charlotte's taste in men, martinis and Manolos.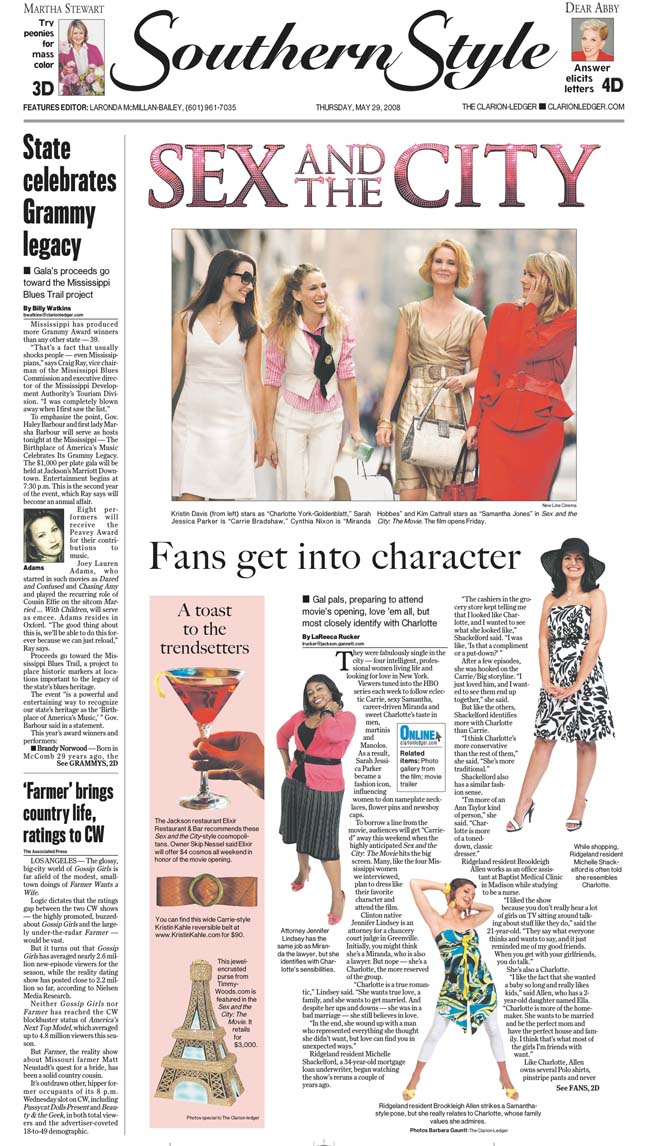 As a result, Sarah Jessica Parker became a fashion icon, influencing women to don nameplate necklaces, flower pins and newsboy caps.
To borrow a line from the movie, audiences will get "Carrie-d" away this weekend when the highly anticipated "Sex and the City: The Movie" hits the big screen.
Many, like the four Mississippi women we interviewed, plan to dress like their favorite character and attend the film.
Clinton native Jennifer Lindsey is an attorney for a chancery court judge in Greenville. Initially, you might think she's a Miranda, who is also a lawyer. But nope - she's a Charlotte, the more reserved of the group.
"Charlotte is a true romantic," Lindsey said. "She wants true love, a family, and she wants to get married. And despite her ups and downs - she was in a bad marriage - she still believes in love. In the end, she wound up with a man who represented everything she thought she didn't want, but love can find you in unexpected ways."
Ridgeland resident Michelle Shackelford, a 34-year-old mortgage loan underwriter, began watching the show's reruns a couple of years ago.
"The cashiers in the grocery store kept telling me that I looked like Charlotte, and I wanted to see what she looked like," Shackelford said. "I was like, 'Is that a compliment or a put-down?' After a few episodes, she was hooked on the Carrie/Big storyline. I just loved him, and I wanted to see them end up together."
But like the others, Shackelford identifies more with Charlotte than Carrie. "I think Charlotte's more conservative than the rest of them," she said. "She's more traditional."
Shackelford also has a similar fashion sense. "I'm more of an Ann Taylor kind of person," she said. "Charlotte is more of a toned-down, classic dresser."
Ridgeland resident Brookleigh Allen works as an office assistant at Baptist Medical Clinic in Madison while studying to be a nurse.
"I liked the show because you don't really hear a lot of girls on TV sitting around talking about stuff like they do," said the 21-year-old. "They say what everyone thinks and wants to say, and it just reminded me of my good friends. When you get with your girlfriends, you do talk."
She's also a Charlotte. "I like the fact that she wanted a baby so long and really likes kids," said Allen, who has a 2-year-old daughter named Ella. "Charlotte is more of the homemaker. She wants to be married and be the perfect mom and have the perfect house and family. I think that's what most of the girls I'm friends with want."
Like Charlotte, Allen owns several Polo shirts, pinstripe pants and never leaves home without her pearls. "It's rare if I do because they go with everything," she said.
Vicksburg native Melissa Dixon, 30, owns Blufish Design Studio in Starkville, where she works as a graphic designer. "I was part of a group of girls who got together about once a month for 'Sex and the City' night to watch the entire season on DVD," she said. "It took us about two years to get through all six seasons.
"It was a good girls night for us, as many of us stay busy with work and kids. ... We usually drank cosmos, but it was a good excuse to try other fun and fruity drinks."
The group finished the series last fall by playing the "Sex and the City" board game. "You make up your own questions," she said, "and you can make it as conservative or risque as you like."
Dixon and her gal pals will be attending the movie opening night. "Several of us have tossed around the idea of following the trend of the 'Star Wars' nerds and going to the midnight show all dressed up," she said.
Lindsey and her girlfriends will be doing the same. "We are going to get dressed up, have martinis and a good dinner, and speculate as to what has happened to all these characters in the interim since the last episode," she said. "We thought about having a contest to see if they could guess what has happened to the characters and maybe win a pedicure or something."
And just why are women so taken with the show? "I think the show introduced a lot of topics that were on the minds of single women in their 20s, 30s and 40s," Lindsey said. "It sparked a lot of conversations between me and my friends.
"The show is one of the few in which the cast is comprised mainly of women. No character is stupid or ditsy. Each woman is very successful in her chosen profession. I feel women shouldn't have to hide their intelligence to gain the attention of a man, but that message is rarely conveyed to today's young girls."
Lindsey said the show also resonated with women because the characters juggle love and life. "As wonderful as those women were, even they had hard times when it comes to finding the right guy, something I can personally attest to," she said. "I feel like no person can be all of Charlotte or a 100 percent of Miranda, but you know a lot of people who are like these people in some ways."