Mississippi native battles sex trafficking
LaReeca Rucker
The Clarion-Ledger In 2006, while working in an impoverished area in the South African country of Swaziland, Clinton native Alli Mellon met a little girl who had been sold for sex.
"I was working in a slum area where young children and their mothers sold their bodies for something so small as a loaf of bread," she said. "I held a 5-year-old girl on my lap, who regularly was sent by her mother to have sex with a grown man. The little girl would be sent to one abandoned car in the city dump, while the mother went to another car or behind a pile of trash with another man."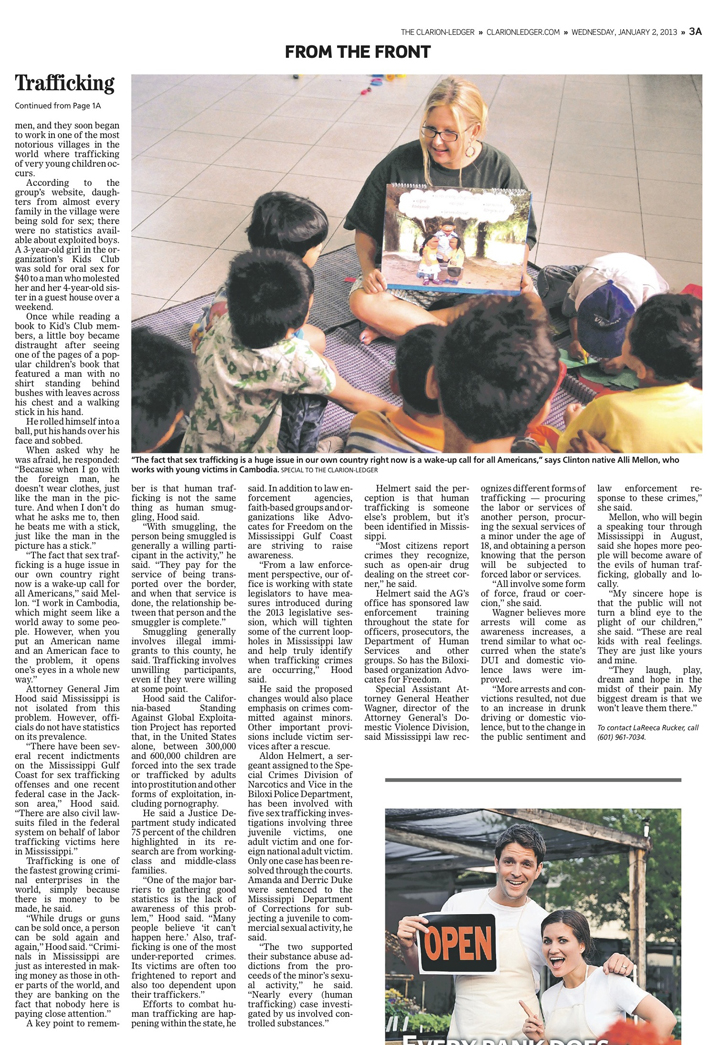 Today, the Mississippi State University graduate who later moved to Nashville and earned a master's degree in human development counseling is working in Cambodia to fight sex trafficking, a crime that Mississippi officials say is happening here and abroad.
Mellon became interested in the fighting sex trafficking about seven years ago after watching a movie, a work of fiction related to the subject.
"As I watched the horror unfold before me on the screen, I knew in my heart that what I was watching was real," she said. "I prayed as I watched, 'God, please don't let me get off this couch and pretend that this doesn't happen in the world. Please don't let me just get up and ignore this issue.'"
Mellon has been working in Cambodia as director of an organization called The Hard Places Community that seeks to help victims of human trafficking. Leaders of the organization were drawn to the country because of the age of children who are being exploited.
On their first trip there, representatives verified that children as young as 5 were being sold on a regular basis for sex with grown men, and they soon began to work in one of the most notorious villages in the world where trafficking of very young children occurs.
According to the group's website, daughters from almost every family in the village were being sold for sex; there were no statistics available about exploited boys. A 3-year-old girl in the organization's Kids Club was sold for oral sex for $40 to a man who molested her and her 4-year-old sister in a guest house over a weekend.
Once while reading a book to Kid's Club members, a little boy became distraught after seeing one of the pages of a popular children's book that featured a man with no shirt standing behind bushes with leaves across his chest and a walking stick in his hand.
He rolled himself into a ball, put his hands over his face and sobbed.
When asked why he was afraid, he responded: "Because when I go with the foreign man, he doesn't wear clothes, just like the man in the picture. And when I don't do what he asks me to, then he beats me with a stick, just like the man in the picture has a stick."
"The fact that sex trafficking is a huge issue in our own country right now is a wake-up call for all Americans," said Mellon. "I work in Cambodia, which might seem like a world away to some people. However, when you put an American name and an American face to the problem, it opens one's eyes in a whole new way."
Attorney General Jim Hood said Mississippi is not isolated from this problem. However, officials do not have statistics on its prevalence.
"There have been several recent indictments on the Mississippi Gulf Coast for sex trafficking offenses and one recent federal case in the Jackson area," Hood said. "There are also civil lawsuits filed in the federal system on behalf of labor trafficking victims here in Mississippi."
Trafficking is one of the fastest growing criminal enterprises in the world, simply because there is money to be made, he said.
"While drugs or guns can be sold once, a person can be sold again and again," Hood said. "Criminals in Mississippi are just as interested in making money as those in other parts of the world, and they are banking on the fact that nobody here is paying close attention."
A key point to remember is that human trafficking is not the same thing as human smuggling, Hood said.
"With smuggling, the person being smuggled is generally a willing participant in the activity," he said. "They pay for the service of being transported over the border, and when that service is done, the relationship between that person and the smuggler is complete."
Smuggling generally involves illegal immigrants to this county, he said. Trafficking involves an unwilling participant, even if they were willing at some point.
Hood said the California-based Standing Against Global Exploitation Project has reported that, in the United States alone, between 300,000 and 600,000 children are forced into the sex trade or trafficked by adults into prostitution and other forms of exploitation, including pornography.
He said a Justice Department study indicated 75 percent of the children highlighted in its research are from working-class and middle-class families.
"One of the major barriers to gathering good statistics is the lack of awareness of this problem," Hood said. "Many people believe 'it can't happen here.' Also, trafficking is one of the most under-reported crimes. Its victims are often too frightened to report and also too dependent upon their traffickers."
Efforts to combat human trafficking are happening within the state, he said. In addition to law enforcement agencies, faith-based groups and organizations like Advocates for Freedom on the Mississippi Gulf Coast are striving to raise awareness.
"From a law enforcement perspective, our office is working with state legislators to have measures introduced during the 2013 legislative session, which will tighten some of the current loopholes in Mississippi law and help truly identify when trafficking crimes are occurring," Hood said.
He said the proposed changes would also place emphasis on crimes committed against minors. Other important provisions include victim services after a rescue.
Aldon Helmert, a sergeant assigned to the Special Crimes Division of Narcotics and Vice in the Biloxi Police Department, has been involved with five sex trafficking investigations involving three juvenile victims, one adult victim and one foreign national adult victim. Only one case has been resolved through the courts. Amanda and Derric Duke were sentenced to the Mississippi Department of Corrections for subjecting a juvenile to commercial sexual activity, he said.
"The two supported their substance abuse addictions from the proceeds of the minor's sexual activity," he said. "Nearly every (human trafficking) case investigated by us involved controlled substances."
Helmert said the perception is that human trafficking is someone else's problem, but it's been identified in Mississippi.
"Most citizens report crimes they recognize, such as open-air drug dealing on the street corner," he said.
Helmert said the AG's office has sponsored law enforcement training throughout the state for officers, prosecutors, the Department of Human Services and other groups. So has the Biloxi-based organization Advocates for Freedom.
Special Assistant Attorney General Heather Wagner, director of the Attorney General's Domestic Violence Division, said Mississippi law recognizes different forms of trafficking — procuring the labor or services of another person, procuring the sexual services of a minor under the age of 18, and obtaining a person knowing that the person will be subjected to forced labor or services.
"All involve some form of force, fraud or coercion," she said.
Wagner believes more arrests will come as awareness increases, a trend similar to what occurred when the state's DUI and domestic violence laws were improved.
"More arrests and convictions resulted, not due to an increase in drunk driving or domestic violence, but to the change in the public sentiment and law enforcement response to these crimes," she said.
Mellon, who will begin a speaking tour through Mississippi in August, said she hopes more people will become aware of the evils of human trafficking, globally and locally.
"My sincere hope is that the public will not turn a blind eye to the plight of our children," she said. "These are real kids with real feelings. They are just like yours and mine.
"They laugh, play, dream and hope in the midst of their pain. My biggest dream is that we won't leave them there."