Spa visits among teens rising
LaReeca Rucker
The Clarion-Ledger
Jackson Academy student Lindsay Guild, 16, has no shame in treating herself to a manicure, pedicure and facial every now and then.
With hectic schedules that include schoolwork, extracurricular activities, jobs, friends and the day-to-day challenges of 21st-century life, Guild says some teens view going to a spa a necessity rather than a luxury.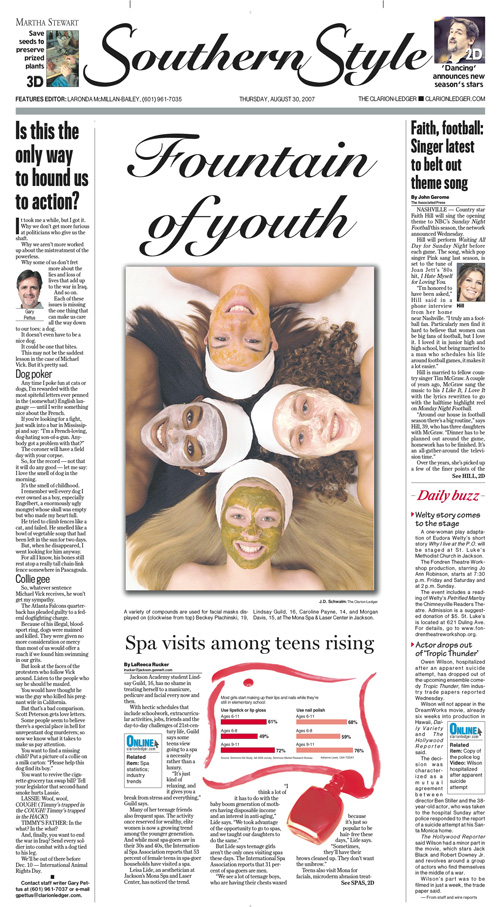 "It's just kind of relaxing, and it gives you a break from stress and everything," Guild says.

Many of her teenage friends also frequent spas. The activity once reserved for wealthy, elite women is now a growing trend among the younger generation. And while most spa-goers are in their 30s and 40s, the International Spa Association reports that 53 percent of female teens in spa-goer households have visited a spa.

Leisa Lide, an aesthetician at Jackson's Mona Spa and Laser Center, has noticed the trend.

"I think a lot of it has to do with the baby boom generation of mothers having disposable income and an interest in anti-aging," Lide says. "We took advantage of the opportunity to go to spas, and we taught our daughters to do the same."

But Lide says teenage girls aren't the only ones visiting spas these days. The International Spa Association reports that 31 percent of spa-goers are men.

"We see a lot of teenage boys, who are having their chests waxed because it's just so popular to be hair-free these days," Lide says. "Sometimes, they'll have their brows cleaned up. They don't want the unibrow."

Teens also visit Mona for facials, microderm abrasion treatments, lip and bikini waxes and laser hair reduction, Lide says.

Peggy Jennings, a licensed aesthetician at Brandon's Merle Norman Cosmetics and Magnolia Day Spa, says most of her teen clients come for acne treatments and makeovers.

"We had a lot of 13- and 14-year-olds right before school who started coming in to get makeup and skincare advice," she says.

Teenagers also frequent The Spa at Virginia College, where other teens, such as cosmetology student Latreese Hill, 19, are learning about the spa industry by providing hands-on services.

While Hill prefers giving pedicures to clients, she also enjoys being pampered herself and frequently visits spas.

"The atmosphere is peaceful and relaxing," she says, "and you have different music to listen to that will take your mind to another level. Some people don't feel that teenagers have problems, but I think everyone has problems, and we all deserve to go to the spa and relax."

From family issues like divorce to school transitions, demanding academic schedules, relationship woes, changes onset by puberty, college plans, and balancing work, school and extracurricular activities - some would argue teens have as much to worry about as adults these days.

Rebecca Canzoneri, owner of Ridgeland's SpaBeca, says spa visits are not extravagances. They can be therapy for teenage clients who feel overwhelmed by life.

"Children have stress just like adults do," she says. "Their problems may seem minor to us, but it's big to them. I have had parents bring children in who were going through divorce, and their counselors recommended it."

Canzoneri says teens also may be visiting spas more today because people are more health conscious.

"I think more people are aware of the need to take care of their bodies," she says. "It spills over to their children, and they raise them to take care of themselves too."

Tania Walters, manager of Hattiesburg's Healing Touch Spa, says about 25 percent of her clients are teens who generally come for massages, manicures and pedicures, and she believes many who do are influenced by television.

"I think you see all these reality shows where the girls are doing these things," Walters says.

While most local spas do not currently offer packages geared toward teens, several have opened across the nation that specifically serve the teenage population.

Angela Padgett, owner of Teens Too spa in Raleigh, N.C., says an influx of teens at the adult day spa Skin Sense led to the creation of Teens Too. With treatments like the Cheek-to-Cheek mini facial and the Twinkle Toes pedicure, teens can relax in the purple and gold spa decorated with signature stars.

Padgett says treatment times are a little shorter for teens than adults and are priced a little lower. A facial can run $45, and a Sit and Chill chair massage costs $1 a minute.

"We also have packages because we find that a lot of teens like to come as a group," she says. "We do a lot of birthday parties."

While many teen girls view a trip to the spa as a rite of passage and step toward maturity, others see it as a routine part of femininity.

For Guild, going to the spa is part of being a girl, but she says most teens may view it as an opportunity to forget about their worries.

"There is always school and peer pressure, and sports and strenuous activity can take a toll on your body," she says, "so it's nice to kick back and relax. It gives you a break from stress and everything. I guess this generation is starting out doing it younger."