Spring fashion
LaReeca Rucker
The Clarion-Ledger
While floral prints and bright colors have always been a spring staple, local experts say there are a few style surprises that have taken root this season.
Look out for lace and anything feminine, but spring 2013 is also about geometric lines, sculptural shapes, tribal-inspired clothing and photorealistic prints.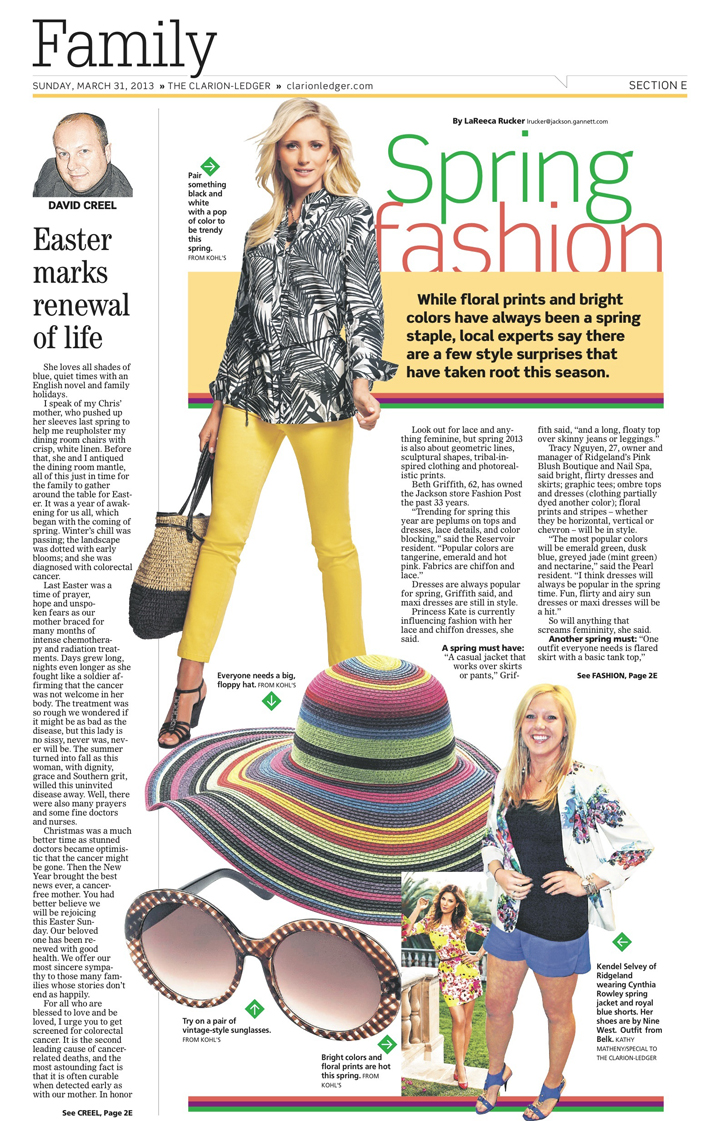 Beth Griffith, 62, has owned the Jackson store Fashion Post the past 33 years.
"Trending for spring this year are peplums on tops and dresses, lace details, and color blocking," said the Reservoir resident. "Popular colors are tangerine, emerald and hot pink. Fabrics are chiffon and lace."
Dresses are always popular for spring, Griffith said, and maxi dresses are still in style.
Princess Kate is currently influencing fashion with her lace and chiffon dresses, she said.
A spring must have: "A casual jacket that works over skirts or pants," Griffith said, "and a long, floaty top over skinny jeans or leggings."
Tracy Nguyen, 27, owner and manager of Ridgeland's Pink Blush Boutique and Nail Spa, said bright, flirty dresses and skirts; graphic tees; ombre tops and dresses (clothing partially dyed another color); floral prints and stripes – whether they be horizontal, vertical or chevron – will be in style.
"The most popular colors will be emerald green, dusk blue, greyed jade (mint green) and nectarine," said the Pearl resident. "I think dresses will always be popular in the spring time. Fun, flirty and airy sun dresses or maxi dresses will be a hit."
So will anything that screams femininity, she said.
Another spring must: "One outfit everyone needs is flared skirt with a basic tank top," Nguyen said. "You can always easily mix the skirt with a bright or fun print top and mix the basic tank top with a fun print bottom."
Nguyen said spring trends will also be mixed with a modern bohemian look, like flowy maxi dresses with a big, floppy hat.
Alabama native Arlene Goldstein, Belk's vice president of fashion direction and trend merchandising, offered the following spring fashion tips and trends:
Lady luxe: Look for ribbon, ruffles and beading this spring. Lace will be big this season. Greens, pinks and corals will be popular colors. Floral fabrics and floral motif jewelry are also in style.
Sharp and chic: Geometric lines, sculptural shapes and sleek proportions will contrast with the lady luxe trend. Look for bold sleeves, exaggerated peplums, innovative textiles and attention-getting patterns. "Chevrons, photorealism and pattern mixes also play an important role," said Goldstein, who suggests wearing black and white clothing with pops of color and architectural shapes.
Passport: Tribal-inspired clothing and prints, as well as safari style, will be hot. Goldstein said details like uneven hems, handcrafted embellishment, beading, tassels, feathers and fringe add dramatic, mixed-media details that are both modern and crafty. Look for cheetah, zebra and snakeskin prints. "Any pattern celebrating an African essence is key," she said. Accessorize with polished wood jewelry, bold bangles and metal cuffs.
Goldstein recommends these spring must haves: Buy a bold print dress, a silky top, a spring jacket, a statement necklace, a pair of wedges, something lacy and a new tote.
Kohl's offers the following spring fashion trends and tips:
Spring layering: "Spring's unpredictable weather can make choosing the right outfit a challenge," said Sofia Wacksman, vice president of trend for Kohl's Department Stores. "Adding chic, layering pieces is an easy way to handle changing temperatures."
Pattern play: Look for floral prints and dresses with photorealistic patterns.
Sorbets and brights: Update your wardrobe by adding sorbet and vibrant colored apparel and accessories to any look. Colors include hot fuchsias, mint greens, tangy tangerines, pale pinks, peachy corals, lemon yellows, energetic emeralds and neon-lime chartreuses.
Denim dressing: "This season, denim-on-denim dressing is the epitome of casual chic," Wacksman said, "from denim dresses and blazers to printed jeans and chambray shirts."
Graphic black andwhite: "Pair a mint green peplum top with a black and white photorealistic skirt, or add a coral blazer with a black and white sheath dress," she said.
All-over white: In a season filled with bright and pastel colors, the all over white trend is a break from daily, colorful spring hues.