Drawing a Dream
LaReeca Rucker
The Clarion-Ledger
In cartoons, a light bulb sometimes appears above someone's head when he or she has a bright idea. That's kind of what happened to Madison resident John Read, 51, last May while reading articles that originally appeared in a cartoonist magazine.
While reading an autobiographical piece written by Marcus Hamilton, who was hired at age 50 by retiring Dennis the Menace creator Hank Ketcham, the bulb appeared.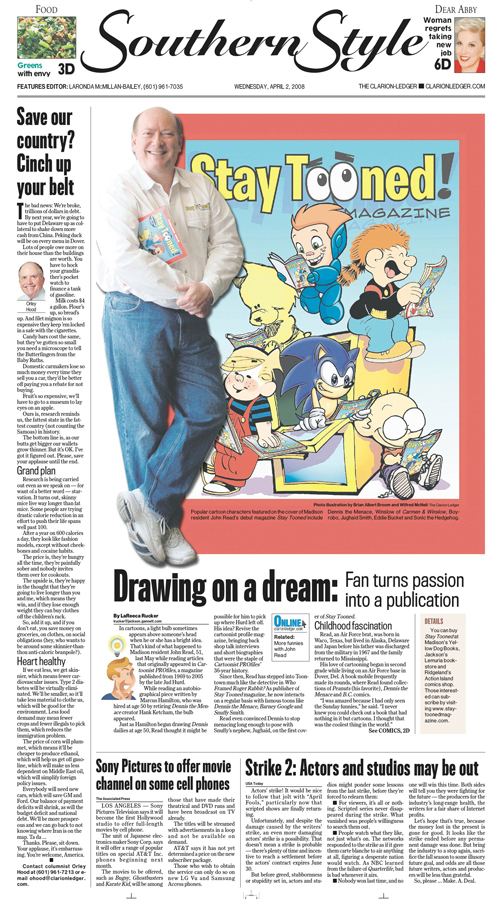 Just as Hamilton began drawing Dennis dailies at age 50, Read thought it might be posible for him to pick up where Hurd left off. His idea? Revive the cartoonist profile magazine, bringing back shop talk interviews and short biographies that were the staple of Cartoonist PROfiles' 36-year history.
Since then, Read has stepped into Toontown much like the detective in Who Framed Roger Rabbit? As publisher of Stay Tooned magazine, he now interacts on a regular basis with famous toons like Dennis the Menace, Barney Google and Snuffy Smith. Read even convinced Dennis to stop menacing long enough to pose with Snuffy's nephew, Jughaid, on the first cover of Stay Tooned.
Childhood fascination
Read, an Air Force brat, was born in Waco, Texas, but lived in Alaska, Delaware and Japan before his father was discharged from the military in 1967 and the family returned to Mississippi.
His love of cartooning began in second grade while living on an Air Force base in Dover, Del. A book mobile frequently made its rounds, where Read found collections of Peanuts (his favorite), Dennis the Menace and B.C. comics.
"I was amazed because I had only seen the Sunday funnies," he said. "I never knew you could check out a book that had nothing in it but cartoons. I thought that was the coolest thing in the world."
In 1966, he discovered comic books while living in Japan, but it wasn't until the '90s that he began to appreciate humorous illustrations again.
An aspiring cartoonist himself, Read published his first toon at age 13 in Southern Horseman magazine. He later attended Meridian Junior College and the University of Southern Mississippi. Intending to study commercial art, he changed his major to film production and graduated in 1980 after creating the school's first animated short film.
Read, who was also the editorial cartoonist for the college newspaper, became more interested in pursuing a career in film, and his first opportunity came two weeks after graduation when Hollywood came to Hattiesburg.
"It was a TV movie called 'Don't Look Back' about Satchel Page, and George C. Scott was the director," said Read, who was hired as a production assistant.
His next gig was a film shot in Alabama called 'The Jaws of Satan.'
"It was about a snake possessed by the devil who terrorizes a small Alabama town," he laughed.
And then there was "The Beast Within," also shot in Mississippi. "It's about a young man, who on his 17th birthday, discovers that he has a monster growing inside him," he said. "It was pretty awful, but I had a blast."
Read later worked as an assistant director and locations coordinator on the TV series "In the Heat of the Night." He was an assistant locations manager for "Oh Brother, Where Art Thou," and he did work for "The Patriot" with Mel Gibson and the PBS film "The Ponder Heart."
"One thing led to another," he said. "I was just very fortunate to get work like that. It put my interest in cartooning on the back burner for many years."
Steady work
In 1999, Read decided he wanted steady work. He was hired as a graphic designer at the Pearl Stamp and Sign Company, but soon felt compelled to do more. So he began contacting cartoonists like Scott Stantis of The Birmingham News and Steve Kelley of The Times-Picayune to see if he could interview them for a possible magazine.
"Then, I got brave enough to call Marcus Hamilton himself," said Read. The first issue of Stay Tooned was published this month with a Southern cartoonist theme. Nine of the featured artists work in the South, including Hamilton, who lives in Charlotte, N.C.
Read hopes to attract up to 4,000 subscribers, similar to the readership base of Cartoonist PROfiles, publishing four times annually. So far, he's received subscription inquires from Italy, South Africa, Canada, France, Germany and Australia. He also hopes his magazine brings attention to the disappearing editorial cartoonist.
"There's less than 100 full-time editorial cartoonists left in the country," he said. "They are an endangered species."
Marshall Ramsey, The Clarion-Ledger's editorial cartoonist, is featured in the first edition of Stay Tooned.
"My sister got me a subscription to Cartoonist PROfiles when I first started out," Ramsey said. "It was my cartooning textbook. I was featured in it several years later. To be featured in Stay Tooned is an equal thrill. It is further proof that I am living my dream."
Read received a handwritten letter and drawing from John Rose, the cartoonist who draws Barney Google and Snuffy Smith.
"I loved every page of the first issue," he wrote. "I feel very honored that you included Snuffy and I in your inaugural edition ... Keep up the great work. Bodacious regards, John Rose."
Read owns reprints of the first 12 years of Peanuts comics and continues to buy them. He also played the lead role in The Center Players' (a Madison County community theatre group) musical production of You're a Good Man Charlie Brown last year.
"It fascinates me that we have grown men and women in the United States of America that make a living drawing funny pictures," he said. "I think it's a very valuable and needed form of entertainment in this country, and I want to celebrate it."
Read is also a fan of Calvin & Hobbes and owns more than 100 original Batman sketches. And he reads around 40 comic strips daily on the Internet. He said if his life were a comic strip, the theme would revolve around how lucky he is.
"It's just been one wonderful blessing after another with the wife and kids and everything," he said. "My life is mostly ups."
But he does regret that his mom isn't alive to witness the creation of Stay Tooned.
"She was in the print business, and she was very proud of everything I did," said Read, whose mother died of cancer in 2000. "She didn't even know I had this in me."