Stewpot: Group that feeds the hungry expands services: Helping poor, disinfranchised in the community
LaReeca Rucker
The Clarion-Ledger
With $2 million in pledges already committed, Stewpot Community Services is moving into the public phase of its fundraising campaign. The goal is $4 million.

The Rev. Frank Spencer, chief executive officer of Stewpot, said the three-year Capital Campaign began in 2008 as an effort to renovate the organization's facility.
"We were advised by our architect to repurpose the old sanctuary for the kitchen and make the eating space useful as a place where community events can be held," he said.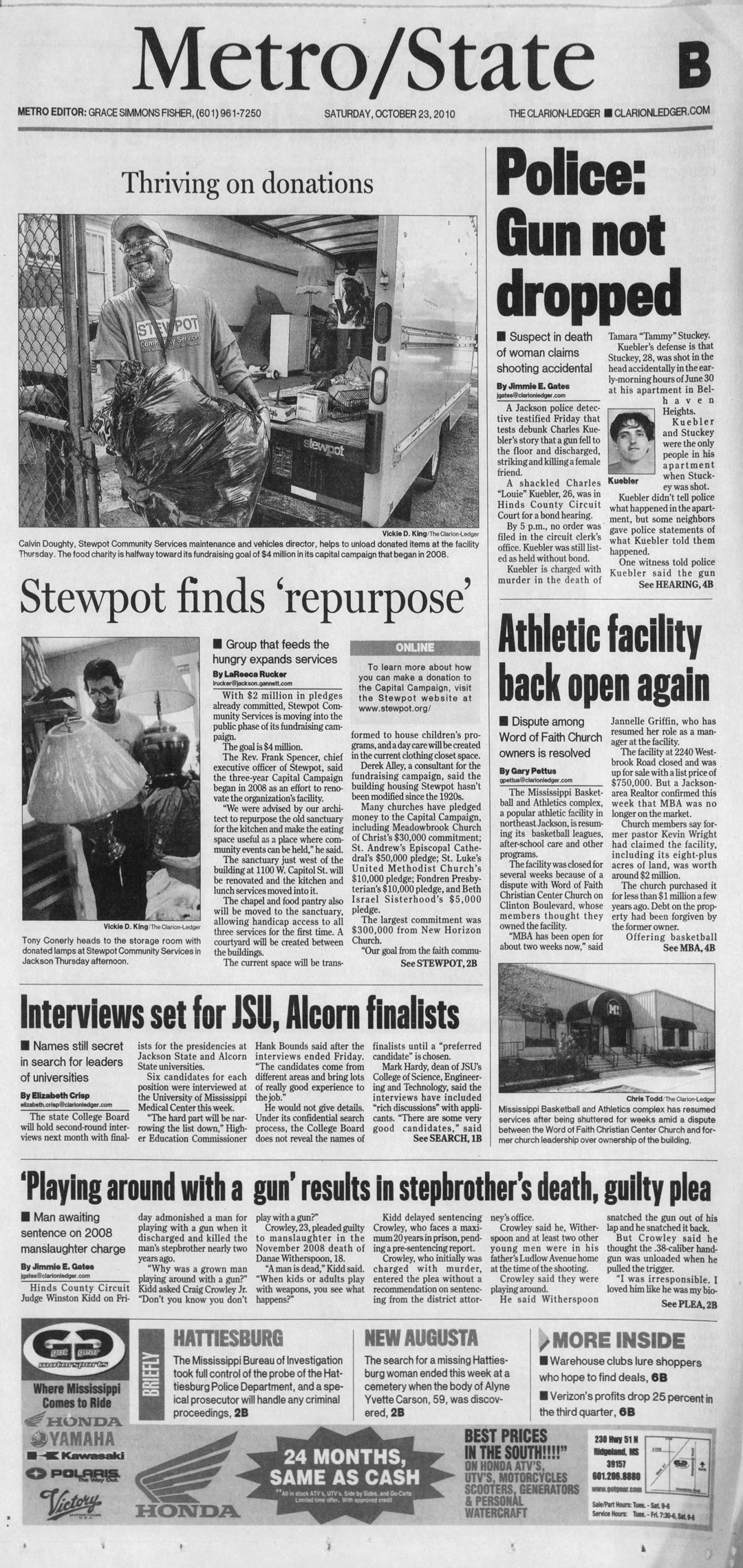 The sanctuary just west of the building at 1100 W. Capitol St. will be renovated and the kitchen and lunch services moved into it. The chapel and food pantry also will be moved to the sanctuary, allowing handicap access to all three services for the first time. A courtyard will be created between the buildings.
The current space will be transformed to house children's programs, and a daycare will be created in the current clothing closet space.
Derek Alley, a consultant for the fundraising campaign, said the building housing Stewpot hasn't been modified since the 1920s.
Many churches have pledged money to the Capital Campaign, including Meadowbrook Church of Christ's $30,000 commitment; St. Andrew's Episcopal Cathedral's $50,000 pledge; St. Luke's United Methodist Church's $10,000 pledge; Fondren Presbyterian's $10,000 pledge, and Beth Israel Sisterhood's $5,000 pledge.
The largest commitment was $300,000 from New Horizon Church.
"Our goal from the faith community is half-a-million dollars, and so far, we have $405,000 from churches," Alley said. "We are asking them to give above and beyond what they already give."

Bishop Ronnie Crudup, senior pastor of New Horizon Church, said he's involved with the campaign because he likes Stewpot's work and mission.
"The second reason is because of race," said Crudup, whose congregation is predominantly black. "When I look at Stewpot, what I see is 95-98 percent of the people that Stewpot serves are poor, beat-up black folks, but I also see that 95-98 percent of Stewpot's finances come from white people. I think there is something wrong with that picture.
'I just feel deeply convicted that, as African Americans, we, too, have to step up to the plate with another level of commitment to the poor and disenfranchised in this metropolitan area.
'I'm asking people who read this article, particularly African Americans, to make a commitment, a pledge, or just give the money to assist the hurting masses out there that Stewpot serves."
The Rev. Ricky James of St. Luke's United Methodist Church said the congregation has a historic relationship with Stewpot. "We see partnering with Stewpot as an extension of the mission for the church," he said.
Michele Schipper, president of the Beth Israel Sisterhood, said Stewpot is one of the group's community service projects.
"I think the mission of what Stewpot is accomplishing and what the Capital Campaign dollars are going toward is certainly a worthwhile cause. We can all look at ourselves and say there is always someone a lot worse off than we are."