Guidance for Girls: New organization based on founder's own life lessons
LaReeca Rucker
The Oxford Eagle
On Sunday afternoons in the late 1960s when church let out in rural Collins, Jacqueline Boykin's brothers often played baseball at a neighbor's house while she and her sisters became "Sunday Girls."
It was a routine established by her mother, who spent Sundays teaching her daughters that they were intelligent, powerful, divine beings with a special purpose in life.
"My mother wanted to instill in her daughters a sense of strong faith and belief in themselves that they had the power to do whatever they wanted in this world," said Boykin, 51.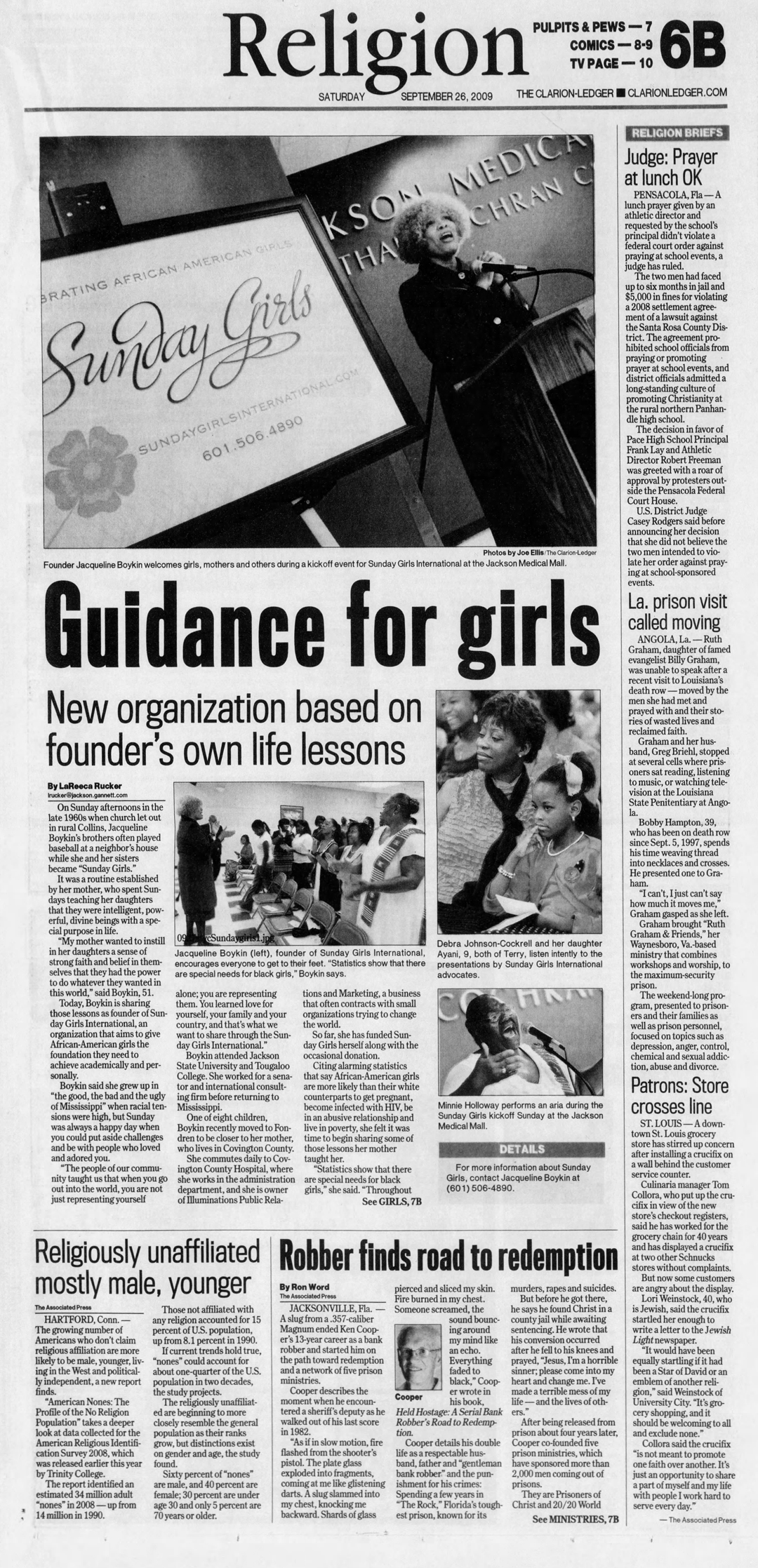 Today, Boykin is sharing those lessons as founder of Sunday Girls International, an organization that aims to give African-American girls the foundation they need to achieve academically and personally.
Boykin said she grew up in "the good, the bad and the ugly of Mississippi" when racial tensions were high, but Sunday was always a happy day when you could put aside challenges and be with people who loved and adored you.
"The people of our community taught us that when you go out into the world, you are not just representing yourself alone; you are representing them. You learned love for yourself, your family and your country, and that's what we want to share through the Sunday Girls International."
Boykin attended Jackson State University and Tougaloo College. She worked for a senator and international consulting firm before returning to Mississippi.
One of eight children, Boykin recently moved to Fondren to be closer to her mother, who lives in Covington County. She commutes daily to Covington County Hospital, where she works in the administration department, and she is owner of Illuminations Public Relations and Marketing, a business that often contracts with small organizations trying to change the world.
So far, she has funded Sunday Girls herself along with the occasional donation. Citing alarming statistics that say African-American girls are more likely than their white counterparts to get pregnant, become infected with HIV, be in an abusive relationship and live in poverty, she felt it was time to begin sharing some of those lessons her mother taught her.
"Statistics show that there are special needs for black girls," she said. "Throughout this country, black girls are facing challenges that negatively influence their quality of life and their future. We want to leave a mark on the hearts, souls and spirit of these girls that can never be erased."
Once established, Boykin hopes to feature an online magazine and blogs on SundayGirlsInternational.com. Some of Boykin's college friends plan to launch chapters in California, Michigan and on the East Coast, and she is recruiting individuals, churches, sororities and others to mentor girls.
Last Sunday, around 50 girls signed up for the program at the Jackson Medical Mall, and some churches expressed interest in adopting it. While it targets African-American girls, any girl can join. It is based on spiritual principles, but has no religious affiliation.
"I ask women to meet with five girls in their home every month," Boykin said. "We will prepare the lesson plan, if they will just commit to build a relationship and sisterhood to help them face challenges.
"As I travel, I meet so many young ladies who simply don't have a sense of self. They don't believe in themselves; they just believe that they are born by happenstance. Many are frightened in their community or household by violence. They don't believe they can finish college and go on to lead a successful life."
Walley Naylor, executive director of child support enforcement with the Mississippi Department of Human Services, will serve on the Sunday Girls board. He hopes parents, especially fathers, will realize they are needed in their children's lives.
"I've learned that children generally do better when both parents are involved in their lives," said Naylor, the father of two daughters, 21 and 23. "The father-daughter relationship is important in developing their self-esteem and letting them know they are loved."
Susan Mitchell, a freelance consultant and writer, is also involved with Sunday Girls.
"I've lived in Jackson most of my life, and I've seen so many young people with so much potential who haven't been able to live up to it because of missteps, a lack of guidance or poverty," she said.
"Although there have been improvements over the years, there's sort of an outreached degree of poverty that does not let go. It's like we have accepted as a society, that we have a number of people who are poor and don't have opportunities."
Debra Johnson-Cockrell, a member of Jackson's Greater Bethelehem Temple Apostolic Faith Church, is a Sunday Girls adviser and mother of a 9-year-old.
"I am teaching my daughter that you don't have to say 'yes' to everything, and you have to have self-control and discipline," she said. "The ultimate thing is to have respect for yourself and recognize your value in life."