Swimsuits: Suit up for summer
LaReeca Rucker
The Clarion-Ledger
Barbara Kellett, in celebrating her 40th birthday in December, realized she needed to start living life.
"I wouldn't call it a mid-life crisis," said the Rankin County resident, "but I decided I wasn't going to wake up at 80 and realize there were things I wanted to do, but never did."
So in January, she and three friends booked a cruise to Cozumel. That meant Kellett had to find a swimsuit she felt comfortable wearing on the ship in front of friends and strangers.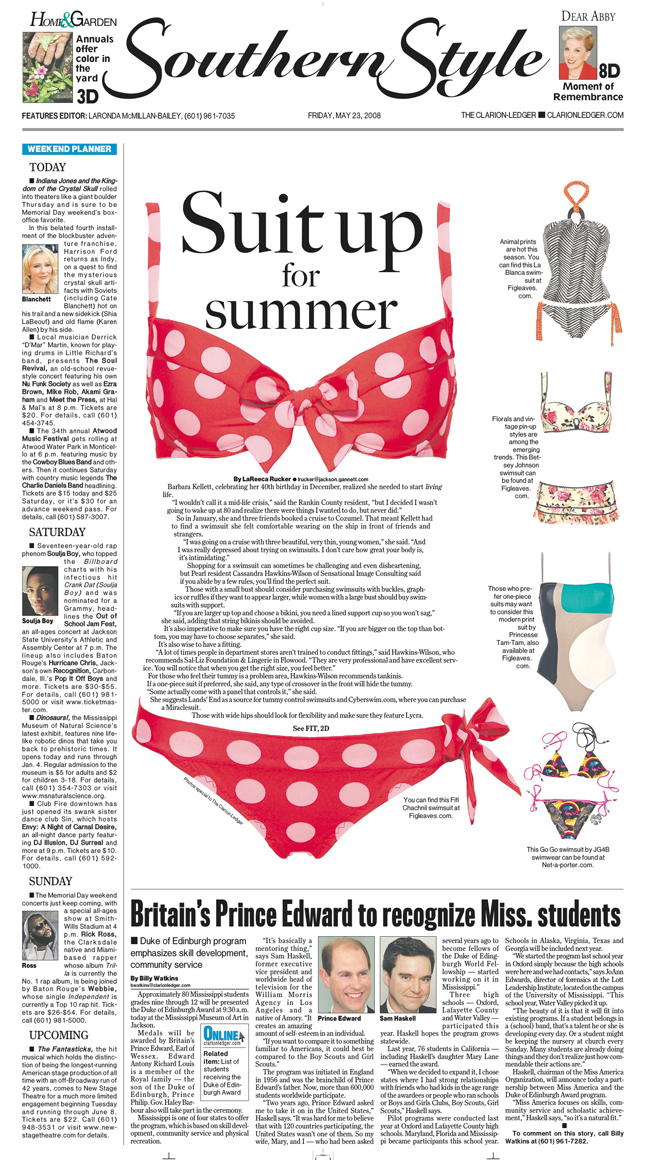 "I was going on a cruise with three beautiful, very thin, young women," she said. "And I was really depressed about trying on swimsuits. I don't care how great your body is, it's intimidating."
Shopping for a swimsuit can sometimes be challenging and even disheartening, but Pearl resident Cassandra Hawkins-Wilson of Sensational Image Consulting said if you abide by a few rules, you'll find the perfect suit.
Those with a small bust should consider purchasing swimsuits with buckles, graphics or ruffles if they want to appear larger, while women with a large bust should buy swimsuits with support.
"If you are larger up top and choose a bikini, you need a lined support cup so you won't sag," she said, adding that string bikinis should be avoided.
It's also imperative to make sure you have the right cup size. "If you are bigger on the top than bottom, you may have to choose separates," she said. It's also wise to have a fitting. A lot of times people in department stores aren't trained to conduct fittings," said Hawkins-Wilson, who recommends Sal-Liz Foundation & Lingerie in Flowood.
"They are very professional and have excellent service. You will notice that when you get the right size, you feel better."
For those who feel their tummy is a problem area, Hawkins-Wilson recommends tankinis. If a one-piece suit is preferred, she said, any type of crossover in the front will hide the tummy.
"Some actually come with a panel that controls it," she said. She suggests Lands' End as a source for tummy control swimsuits and Cyberswim.com, where you can purchase a Miraclesuit.
Those with wide hips should look for flexibility and make sure they feature Lycra. To show off legs or make them appear longer, she suggests wearing a one-piece with a high cut.
"To make yourself look slimmer all over, purchase a basic black or any solid color one-piece, and make sure it has a high-cut style," she said, adding that swimsuits with empire waists draw attention to the face and balance out larger hips. Swimsuit etiquette is also important.
"If you're in an area where there are a lot of kids at water parks, it's more appropriate to wear a one-piece or tankini to show yourself and other parents respect," she said. And don't forget a cover-up.
"It's very important to keep a sarong or tunic on you," she said. "Make sure when going to the beach or pool that you have an outfit you can roll up and put in a bag.
"And women should always have an emergency kit with $20, an outfit they can put on and maybe a pair of black ballet flats in case of an emergency."
If you don't plan on buying a new swimsuit, Hawkins-Wilson said try on your old suit and make sure it fits properly.

Versatility Vicksburg native Ashley Beard is no stranger to the pool. Her father and grandfather own and operate Paradise Pools in Pearl, so having a swimsuit has always been a necessity. She will begin searching this week for a new swimsuit she can wear at home and on vacation.
"I have to buy one because I'm going to Gulf Shores for Memorial Day," said Beard, who will likely buy a tankini, but often purchases separates that she can mix and match.
"Normally, when I go somewhere, I'm doing something athletic," she said, adding that she generally prefers black swimsuits. Anytime I try to find a swimsuit, I'm in a store shopping for two or three hours."
Kellett also spent a lot of time shopping for the perfect swimsuit for her cruise. She tried on 10 different suits at Target. Most were monokinis, and she was surprised to discover how well they fit her 4'11'' frame.
"The monokinis were flattering because they cut in on the side and cover the pooch," she said. "My problem area is mainly my gut and hips." Pleased with the fit, Kellett bought five, including an expresso-colored Mossimo chain-print swimsuit.
"These particular swimsuits have really good backend coverage," she said. "I went up a size to make sure I was covered.
"I'm very self-conscious about my body, but I tried them on, looked in the mirror, and I was like, 'You look hot,' " she said, laughing. Then it was off to Cozumel. "We had so much fun," she said. "The stories I could tell."