Switchfoot to the rescue: Mississippi concert to help restore civil rights leader's music studio
LaReeca Rucker
The Clarion-Ledger
Barbara Kellett, in celebrating her 40th birthday in December, realized she needed to start living life. His life as a civil rights leader and advocate of racial reconciliation inspired a 2009 rock song.
Switchfoot - a nationally known, Dove award-winning rock band - released a track called The Sound (John M. Perkins Blues) last October on its latest album Hello Hurricane. It is about Perkins, the founder of Jackson's John M. Perkins Foundation, who also appears in the video.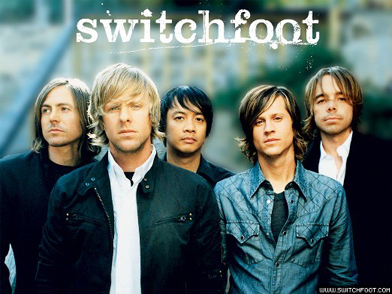 The spiritual rock group from San Diego will perform at 7 p.m. today on the Belhaven University campus during an event called "An Evening with Switchfoot and Dr. John M. Perkins."
The performance will help rebuild the foundation's music studio, which was burglarized in 2008.
Perkins' grandson, John P. Perkins, is the foundation's development director. He said Switchfoot had just finished recording Hello Hurricane when they decided to lay one more track.
Switchfoot lead singer/guitarist Jon Foreman "wrote that one (The Sound), and it became a smash hit," said the younger Perkins. "When they got together in May to record the video, (John M. Perkins) told them about the recording studio burglary. We didn't have it up eight months before it was burglarized."
Sound equipment, a switchboard, music, speakers and computers were taken.
"We envisioned our children being able to express their youth and creativity through music by learning music and video production," John P. Perkins said. "As soon as (Foreman) heard that, with his love for music, he wanted to bring a concert here to do a benefit for the studio."
Founded in 1983, the foundation offers after-school programs that emphasize reading and math, a summer arts camp, character development and programs that help single mothers, low-income families and the elderly in west Jackson. It also serves as a base for volunteers from around the country who conduct area mission work and promotes racial reconciliation.
In the video, Foreman, holds up cardboard signs that read: "This song was inspired by John M. Perkins, dedicated to his ongoing commitment to love the oppressed and the oppressor. John Perkins said it right. Love is the final fight." The song is about racism's impact on America.
The elder Perkins, a New Hebron native who fled Mississippi's turbulent racial climate as a teenager after his brother was shot by a deputy marshal, returned in the 1960s to help other oppressed African-Americans during the civil rights movement and was, at times, brutalized for doing so.
"I was able to see that love and reconciliation was the way to go," said John M. Perkins, who spoke via phone Monday while attending a speaking engagement in Oklahoma City. "We can keep on hating, but if you respond with some love and some desire to reach out and forgive - that has power to it."
He has penned nine books. Let Justice Roll Down inspired the song The Sound that is now No. 9 and 21, respectively, on Billboard's Alternative Songs and Rock Songs charts. The elder Perkins said he is flattered the song drew inspiration from his book, which chronicles his struggles during the civil rights era in Mendenhall and Brandon, and his perseverance in developing a racial reconciliation movement.
John P. Perkins said his grandfather celebrated 50 years of ministry, his 80th birthday and 59 years of marriage to Vera Mae Perkins in June. He describes his grandfather as a man with a third-grade education and 11 honorary doctorates.
"He has been a fighter for civil rights and justice in America and the state of Mississippi," Perkins said. "I believe my grandfather has a heart and passion for this young generation and believes in their inherited dignity. He believes that, given the skills, they can impact and change the world for the better."
Frank Dolansky, Belhaven facilities coordinator, said Belhaven and the John M. Perkins Foundation have always had a close relationship. "We were more than happy to have them come and do this for the community," he said.