Everyone's cup of tea: Sales expected to exceed 10 billion in U.S. by 2010
LaReeca Rucker
The Clarion-Ledger
The practice of drinking tea started about 5,000 years ago in China, but today, it's a defining characteristic of the American South. There's nothing like a tall, sweet, iced glass of tea on a warm day.
And while some like it refreshingly cold, industry statistics show that tea is also hot - a popular product consumed by health-conscious hipsters searching for modern ways to make the traditional trendy.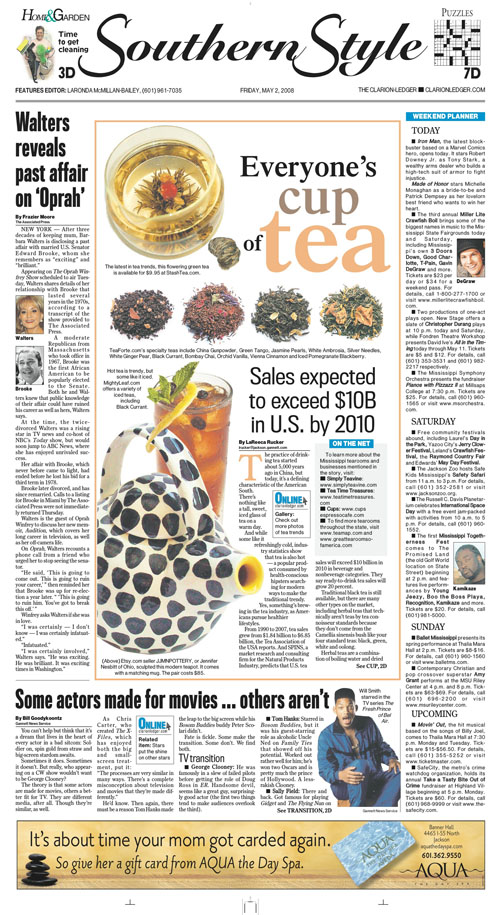 Yes, something's brewing in the tea industry, as Americans pursue healthier lifestyles.
From 1990 to 2007, tea sales grew from $1.84 billion to $6.85 billion, the Tea Association of the USA reports. And SPINS, a market research and consulting firm for the Natural Products industry, predicts that U.S. tea sales will exceed $10 billion in 2010 in beverage and nonbeverage categories. They say ready-to-drink tea sales will grow 20 percent.
Traditional black tea is still available, but there are many other types on the market, including herbal teas that technically aren't teas by tea connoisseur standards because they don't come from the Camellia sinensis bush like your four standard teas: black, green, white and oolong.
Herbal teas are a combination of boiling water and dried fruit, flowers or herbs, but many have health benefits.
Some tea and herbal tea flavors include apple pie, blueberry pie, candy bar, chocolate cream pie, gingerbread, mint chocolate chip, mint julep, orange sherbet and pina colada.
Dean Smith is co-owner Simply TeaVine, a Victorian-style Hattiesburg tearoom that opened a year ago offering 40 authentic teas. Pomegranate and chocolate flavors are recent additions.
Simply TeaVine is one of the few tearooms in the state, but Smith predicts more will materialize.
"We are definitely seeing a trend of people coming back to tea," she said. "I think maybe the coffee market has become saturated, so people are looking for something else, and tea is very healthy for you."
Smith said many Americans are discovering loose-leaf teas, and branching out to sample more flavors.
She's held tea-tasting events comparable to wine-tastings in her tearoom, and she said white teas and blooming teas with flowering blossoms is an emerging trend.
"Within a year, the flowering teas have been a new thing," she said. "You can use them as a centerpiece and drink them afterward."
Pickens resident Laura Leathers is founder of Tea Time Treasurers. Known as "The Tea Lady," she's been in the tea business for 12 years.
She edits a Tea Cups & Friends newsletter that's distributed throughout the U.S. She's taught tea classes at Hinds Community College in Ridgeland, and she founded the Royal Ladies' Tea Society.
Her work is a ministry, and she uses the organization to unite women through biblical hospitality, encouraging them to take time to slow down and have tea.
About five years ago, Leathers opened the My Cup Overflows tearoom in Pickens, but closed it three years later. With interest in tea on the rise, she may reopen this summer.
"I've seen (the industry) grow phenomenally," she said. "I would have to say the introduction of The (annual) World Tea Expo has been one of the biggest trends that has taken place. It brings in tea vendors, people who have tearooms and tea educators."
This year, the expo will be held May 30 through June 1 in Las Vegas, where a variety of new tea products will be introduced. You can visit TeaTimeTreasures.com to sample one of Leather's own.
She has her own tea brand called Lady Laura's Afternoon Tradition, a black tea with a touch of caramel blended by Harney & Sons Fine Teas.
Laurel native Rebecca Hatten-Carr is a tea drinker.
"I love (Celestial Seasonings) Goji Berry Pomegranate Green Tea with a spoonful of sugar," she said.
Hatten-Carr said she drinks it because it's calming. "It seems to help settle my tummy and keep me awake and alert throughout the day."
Introduced to hot tea by a co-worker, Hatten-Carr said she has experienced tea's health benefits.
"I used to drink the cold tea in the bottle, but one of my co-workers started drinking hot tea, and she was more productive and alert," she said. "Now, I am too."
Ridgeland resident Janet Hendrick Clark became a tea drinker while living abroad.
"I lived in England during my junior year of college," she said. "They didn't drink much coffee, so I took up with tea, and I guess I just continued."
Clark prefers Assam tea, a sweet, black, breakfast tea from Assam, India, with a distinct molasses and caramel flavor.
Many fast-food restaurants have added iced tea to their menus in recent years, including Sonic, Dunkin' Donuts and McDonald's, while coffee shops like Starbucks and Cups, with locations in Jackson, also provide tea.
New York native Sherman Bloom, a retired chairman of the University of Mississippi Medical Center's Department of Pathology, has a unique taste when it comes to tea. His favorite is called lapsang souchong, a black tea from the Fujian province of China.
"It has a very strong, smoky quality," said Bloom. "It's not easy to get in Jackson, so I get it on the Internet."
Another tea he drinks can be found growing wild in Mississippi. Sometimes, while driving, he stops to pull berries from sumac trees.
While some sumacs are poisonous, Bloom, a self-described "outdoorsman," said nonpoisonous sumacs that bloom in fall make good tea. It's imperative to research and know the difference.
"There are about four or five varieties of sumacs," he said, adding that his tea suppliers produce clumped red berries in the fall.
"You take one cluster and put it in a cup of boiling water, and you have sumac tea, which was a drink used by the Native Americans and early pioneers," Bloom said. "It has a very woodsy flavor, and it's very distinctive.
"I suspect it's not everyone's cup of tea," he laughed.