Ties that bind: From traditional to whimsical, Father's Day staple now a year-round fashion statement
LaReeca Rucker
The Clarion-Ledger
It's a tune about archaeologically excavating Americana in second-hand stores — an activity that has become a hipster hobby, but it's also for anyone who loves salvaging vintage finds and thinking practically in a throw-away world.
Andy Cook became a dad three years ago. And with the new role of daddy to Isaac and Dylan, 1, came the traditional Father's Day gift - a tie.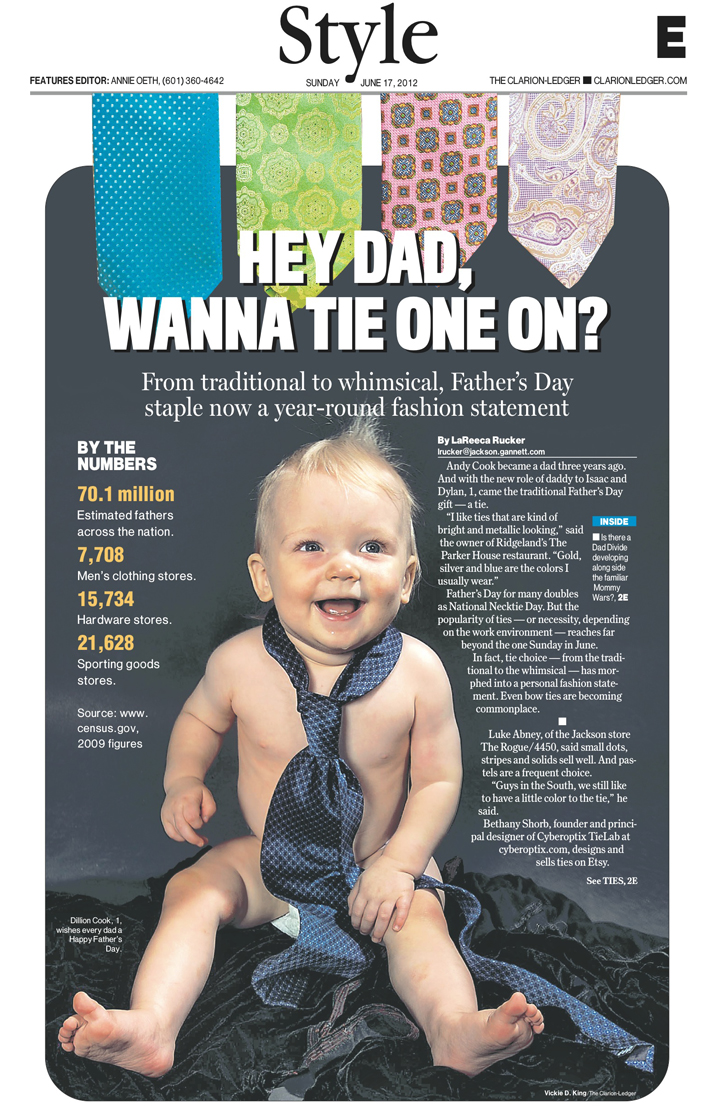 "I like ties that are kind of bright and metallic looking," said the owner of Ridgeland's The Parker House restaurant. "Gold, silver and blue are the colors I usually wear."
Father's Day for many doubles as National Necktie Day. But the popularity of ties - or necessity, depending on the work environment - reaches far beyond the one Sunday in June. In fact, tie choice - from the traditional to the whimsical - has morphed into a personal fashion statement. Even bow ties are becoming commonplace.
Luke Abney, of the Jackson store The Rogue/4450, said small dots, stripes and solids sell well. And pastels are a frequent choice.
"Guys in the South, we still like to have a little color to the tie," he said.
Bethany Shorb, founder and principal designer of Cyberoptix TieLab at cyberoptix.com, designs and sells ties on Etsy.
"Conceptually, the tie is a traditionally hated object, one that symbolizes restraint, conformity and is the symbol of corporate American drudgery ... I wanted to change that," the Detroit resident said.
Among her best-sellers: a striped tie that features a bike chain aimed at cycling enthusiasts, a "Stag Party" tie with an antler print, and a "Beer" design aimed at home-brew fans.
Shorb said thinner ties, on fashion runways for years, are becoming more mainstream, thanks to one particular TV show.
"The popularity of the 'Mad Men' series has probably directly influenced the change in necktie width (and people dressing up more in general) than merely the vintage movement."
And bow ties are back, thanks to stars such as Kanye West, who embraces the "geek chic" look.
"Nerds do rule, and nerdy fashion is just as popular," Shorb said.
Caroline Driggs began sewing bow ties for her son in college. Soon, his friends were requesting them.
The North Carolina resident later created a company called CCADesign, with products available on Etsy.
"I like the fact that something inexpensive can make such a statement and can really brighten someone's day and finish off an ensemble to perfection," said Driggs. "I have a gray bow tie with owls on it that flies off the shelf every time I make one and list it."
Bow ties, she says, are resurfacing as part of the "vintage" look.
"The 30-and-below crowd will happily wear bow ties with shorts or jeans, as well as formal or dressy occasions," she said.
"The fact that so many guys are wearing bow ties itself is a pretty big switch from the days when only professors, geeks and pediatricians wore them," Driggs adds. "I think men are realizing that they can make a strong fashion statement with a bow tie, and young guys have really embraced the trend."
Griggs considers her bow ties more whimsical than novelty.
"The white sharks tie is what I call a 'sartorial wink,' " she said. "From a distance, it just looks like a traditional bow tie, but when you get up close you see the humor. Lawyers love this tie."
Toronto resident Keira Morgan owns The Neck Tie Reformatory.
"Ties, for me, are so powerful," she said. "They can get you the job or land you a really cool chick. It's also a great way to represent who you are in an office where everyone is wearing a navy or black suit."
Morgan, also on Etsy as HandsomeAndLace, creates monogrammed ties.
"I can turn your father's old clothing into neckties (shirts, pants, jackets), so that's always a big request," she said.
She, too, has noticed the return of the bow tie. "As a woman, I have to admit, it's really sexy to see a man in a bow tie, as long as he owns it and doesn't feel insecure while wearing one.
"I think men are realizing that they can make a strong fashion statement with a bow tie, and young guys have really embraced the trend."