Jackson native produces 'The Way, Way Back'
LaReeca Rucker
The Clarion-Ledger
In fourth grade, Jackson native Tom Rice told his classmates that he wanted to be a film director.
"I was a very creative-minded person growing up in a school that was very sports-centered," he said. "If you didn't play sports you were kind of a fish out of water.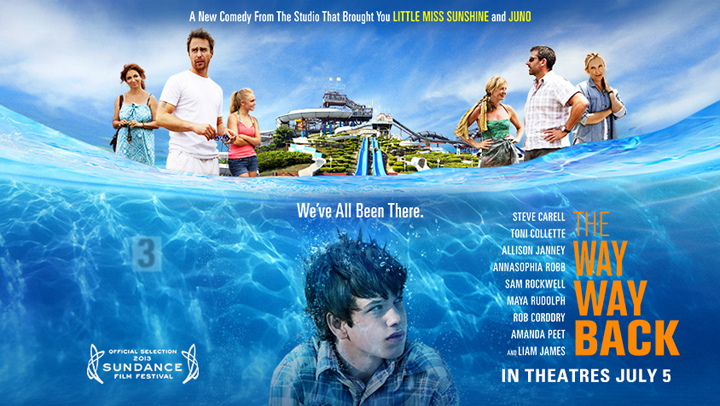 "I tried to fit into the sports scene without playing sports. I was the school mascot. It was a way to fit in and adapt. But I had a family who loved me, an interest in artist endeavors, and I was on my own to find out where I would find that creative satisfaction and find out who I was in the same way Duncan does."
Duncan is the lead character in Rice's latest film. The Jackson creative who eventually founded his own production company is celebrating the opening of his latest project – an indie with an all star cast that includes actors Steve Carrell, Toni Collette and Sam Rockwell called "The Way, Way Back."
In it, you meet Duncan, a 14-year-old boy who travels with his mom (Collette) and her overbearing boyfriend (Carrell) to a coastal town during summer vacation and learns many life lessons along the way thanks to the manager of the local Water Wizz water park.
Mississippi moviegoers will get a chance to see the film when it opens Friday, July 25, at the Malco Grandview 17 in Madison. They can also catch it after its Aug. 2 opening at the Grand 18 in D'Iberville and in Hattiesburg.
Others who round out the cast include Allison Janney, AnnaSophia Robb, Maya Rudolph, Amanda Peet and Liam James as Duncan.
Business Insider reported in January that Fox Searchlight bought "The Way, Way Back," paying one of the highest prices for a Sundance movie in recent years -- $9.75 million.
The company had already distributed "The Decendants," a film starring George Clooney that earned an Oscar for Best Writing, Adapted Screenplay for writers Jim Rash and Nat Faxon, who also wrote "The Way, Way Back. "
"This is how I relate to Duncan. He is discovering who he is in life. He has a family who loves him, but there are certain elements of this particular vacation that make him a fish out of water, and he had to find his way," said Rice, 39, who grew up off Northside Drive on Heritage Hill in Jackson. As a child, he was influenced by movies like "E.T.," "Space Camp," "The Goonies" and "Raiders of the Lost Ark."
His first job was working as a paperboy for The Clarion-Ledger , and as a teen, he worked as video store clerk before graduating from Jackson Preparatory School in 1992. He later attended film school at the School of Visual Arts – a multidisciplinary college of art and design in New York City.
After graduation, he co-wrote and directed "The Rising Place," a film about the friendship of two young women, each of a different race, and their struggle to find purpose in their lives during this time of social injustice and world war. It was filmed in Jackson and the surrounding area.
Rice also worked as a writer on "American Idol" before creating a production company called Sycamore Pictures with his partner, Memphis resident Ben Nearn.
"We ended up raising, roughly, a $50 million equity fund," he said. "We have that at our discretion, and now we just find good projects."
"The Way, Way Back," was one of their first.
"We read it and stood behind it," said Rice. "There was about five years of other studios trying to make it. Basically, within a month of us coming onto the project, they (Rash and Faxon) won an Oscar for writing 'The Descendants,' and we were able to attract this cast. Mostly, it had to do with their script and how amazing it was."
Rice said he believes audiences will connect with Duncan.
"Steve Carrell plays an unconventional bully," he said. "He's not a great guy, but he's also not a villan. He's a flawed human. I hope this is a film that strikes an emotional chord with the audience and inspiries them in that direction."
Madison resident Mary Katherine Neely, 37, is Rice's sister.
"I always knew he would be involved in some aspect of the film industry," she said. "Some of my earliest memories involve Tom putting together a back yard production for the neighborhood. He would come up with an idea, write a script, cast the neighborhood kids and present it for the parents. Even then, he was interested in all aspects of production, including ticket sales and concessions."
Neely, who describes the film as "hilarious and poignant," said her brother was different from Duncan as an adolescent.
"It seems like Duncan is trying to figure out who he is and who he wants to be," she said. "Tom always had a vision and a direction for what he wanted to be and what he wanted to accomplish.
"I was thrilled that my brother was responsible for taking a good script and making it a summer classic. I'm so proud of the lasting message that the film conveys - that other people's opinions don't define us, and sometimes we find encouragement in places we don't expect."