'Transformers' rides robotic popularity of the 1980s to new big screen heights
LaReeca Rucker
The Clarion-Ledger
Devoted Transformers fans who grew up in the 1980s know the summer blockbuster that just hit the big screen will be more than meets the eye.
That was the slogan of the 1984 cartoon series about futuristic robots from the world Cybertron who could transform themselves into cars, planes and animals while fighting the battle of good versus evil, or Autobots versus Decepticons.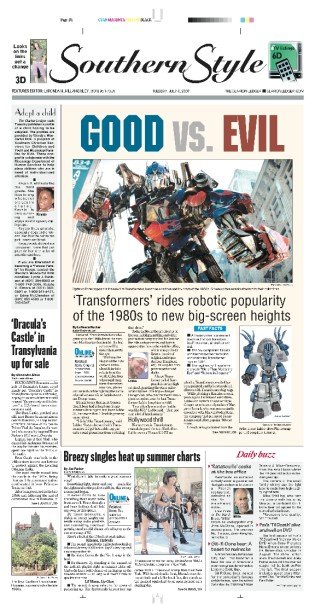 It's safe to say that most Generation X boys had at least one Transformer action figure, but Jesse Labbé, 32, had more than 100 while growing up in Biloxi.
"I didn't like Transformers," said Labbé, "I was obsessed with Transformers. If I got in trouble, my parents would ground me from watching that show."
Today Labbé is the art director at Eyevox, a Ridgeland film and video production company, but his love for the '80s cartoon series and toys is apparent to those who visit his office, where many robotic figures, (a mix of original and reproduction Transformers), sit atop his computer monitor and desks.
A large Transformer called Scorponok is on the highest shelf, guarding the other office action figures. The triple changer Decepticon, who can transform into a giant scorpion, was the last Transformer Labbé bought as a child.
"I specifically remember that he was like $50," Labbé said. "That one cost a lot of lunch money."
Hollywood Thrill
His interests in Transformers extends beyond the toy-filled office. Labbé owns a Nissan 300 ZX on which a Transformers symbol has been painted, and he's even rubbed elbows with Transformers big-wigs.
While pitching a film idea several years ago to Hollywood executives, Labbé and Eyevox co-worker Opie Cooper were in awe of producer Margaret Loesch, who was once a studio executive with Marvel Productions, the company that produced "Transformers" and other popular '80s cartoons.
Loesch, who graduated from the University of Southern Mississippi in 1968, is also founding president of the Fox Children's Network (Fox Kids), former CEO of the Odyssey Channel and CEO of Crown Media United States LLC.
"We were like two kids in a candy store talking to her," Labbé said. "She told us about some of the rules they had when making 'Transformers.' Every time there was an explosion, a guy had to jump out of it to show that he was OK."
Eyevox works to develop story ideas for Loesch, who is also listed as one of the producers of "Transformers: The Movie," a 1986 animated film featuring the voices of Judd Nelson, Leonard Nimoy and Orson Welles. The film, set in the futuristic year 2005, was Welles' last.
Truth and Justice
Jackson native Reggie Carr graduated from Brandon High School in 1996 and earned an industrial technology degree from Mississippi State University in 2003.
Growing up in the 1980s, the 29-year-old software test engineer for Verari Systems Software in Birmingham owned Ultra Magnus, Thundercracker and a Protectobot named Blades that transformed into a helicopter.
"I guess the biggest thing about the show itself was the clearly defined avenues of truth, justice and the American way, as was big in cartoons of that time," Carr said. "Optimus Prime was everything you expected a leader to be; he was bigger than most of the other Autobots, strong and courageous.
"The Decepticons were definitely the anti-thesis to the Autobots; extremely evil, cunning and very cowardly."
Carr said the toys influenced his career path.
"They inspired me to look into the engineering field and gave me a love for robotics," he said.
Meridian native Robbie Ward, 29, grew up watching "Transformers." He now works as a research writer at MSU's Office of University relations.
"After school each day, I would line up all of my Transformers next to my beanbag in the living room so they could watch the cartoon with me," he said. "I usually separated the Autobots from Decepticons.
"I would spend hours coming up with my own storylines. When I rode places as a kid, I would imagine which vehicles and other gadgets could secretly turn into Transformers."
Ward said the fascinating concept of sentient robots appealed to his generation, and the cartoon changed the way he viewed the world, reminding him to always look beyond the surface.
Moral Compass
Richie Caldwell earned a bachelor's degree from Millsaps, a master's degree from the University of Mississippi in Southern Studies and now works for his family real estate firm in Vicksburg.
He said the Decepticons and Autobots were one of his first introductions to the concept of good and evil.
"I didn't know much except some robots made others suffer," he said. "I didn't like that.
"I also remember my dad waking us up Saturday mornings with a Transformers voicebox changer saying, "Come robots, time for donut shop."
Caldwell said he is excited about the new movie.
"We talk about it at work," he said. "If the boss - my dad - catches me watching the trailers online, he pretends like he's still holding that voice changer and says, "Come on boys, time to sell something."
Carr is also looking forward to the movie.
"I'm hoping that it stacks up to the first "Transformers" movie, which I count as one of my Top 10 favorites," he said.
Labbé said he has mixed feelings about the new film.
"I hope the movie meets my high expectations," he said. "Being such a fan, you get attached to something, and you are concerned about whether or not they will change important elements. I hope the movie doesn't ruin my memories."
Childhood fans
Ward said he thinks the film will successfully lure childhood fans.
"I'm sure I'll have childhood memories when I see the movie," he said. "I remember playing with the robots and my life then. Like all childhoods, it seems like a simpler time now that I have a job and bills to pay."
Ward said another life lesson he learned from the cartoon is that it wasn't always easy to determine which robots were good or bad until they transformed.
"Now that I've grown up, I see it's still not always easy to tell the good guys from the bad."
To comment on this story, call LaReeca Rucker at (601) 853-7615.