Trashing the Dress: Brides leaving veil of tradition take the plunge into the latest photography trend
LaReeca Rucker
The Clarion-Ledger
Newlywed Kimberly Brook Hubler of Brandon stands on the edge of a fountain perched over the swimming pool at Jackson's Camp, a popular Ridgeland wedding site.
Wrapped in a satin bustier with ruffles of tulle, she gathers the layers, pulling them above her knees so she won't trip. Then she holds her breath and takes the plunge.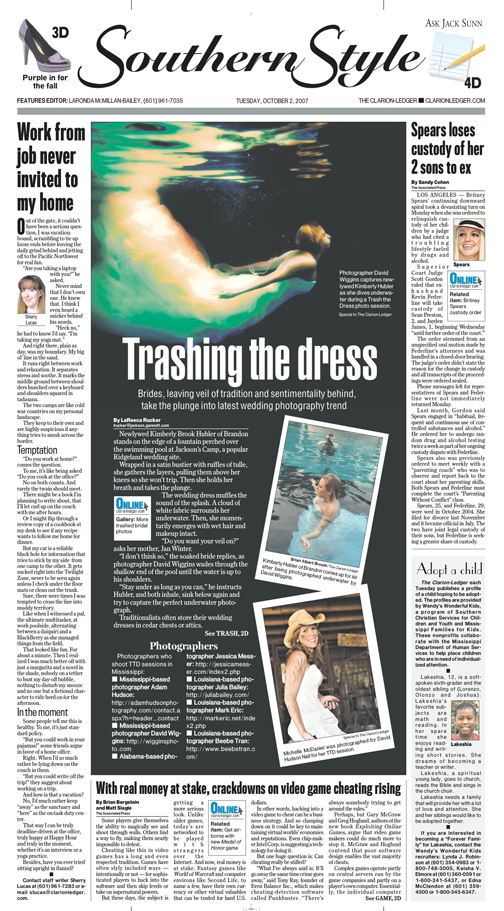 The wedding dress muffles the sound of the splash. A cloud of white fabric surrounds her underwater. Then, she momentarily emerges with wet hair and makeup intact.
"Do you want your veil on?" asks her mother, Jan Winter.
"I don't think so," the soaked bride replies, as photographer David Wiggins wades through the shallow end of the pool until the water is up to his shoulders.
"Stay under as long as you can," he instructs Hubler, and both inhale, sink below again and try to capture the perfect underwater photograph.
Traditionalists often store their wedding dresses in cedar chests or attics. Some hang them in closets so they can romantically gaze upon them every now and then. Some hope to pass their dresses down to their daughters.
But others are bucking tradition and opting to "trash the dress" in photo sessions that have become the latest craze in wedding photography.
Brides like Hubler are now being captured swimming underwater in pools, wading in ponds and rolling in mud during fine art photography sessions that take traditional bridal portraits to a more creative level.
"This is the first time I've been swimming this year," Hubler says, emerging poolside.
Winter warns her daughter to be careful with the expensive red wedges she's wearing, reminding her who purchased them.
"You bought the dress, too," Hubler sarcastically replies.
"I know, but we weren't going to use the dress again," Winter says. "We are going to use the shoes."
Wiggins, who shot Hubler's first bridal portraits in April at the same Ridgeland location, asked Hubler if she would be interested in putting her delicate $2,000 bridal gown through a challenging underwater photo shoot after the wedding.
Hubler and husband, John, wed July 21 at Jackson's Camp during an event designed for a horticulturist's daughter. Hubler's father is Norman Winter, a Mississippi State University horticulturist with the Central Mississippi Research and Extension Center.
Natchez Trace Gardens delivered an 18-wheeler of potted plants and ferns for the affair that featured hot pink bridesmaid dresses and a four-layer white wedding cake decorated in a Bible verse.
The ceremony ended with Kim and John, 22 and 25 respectively, riding in a horse-drawn carriage. Kim agreed to return to Jackson's Camp a third time to Trash the Dress.
"My wedding was so stressful," she says. "This was a time I could just have fun. It's just a release. It's letting go and knowing that it's over."
For Wiggins, Hubler's cooperation means striking photographs that juxtapose the traditional and classic with the modern surreal.
"I'm always looking to do something different," Wiggins says, adding that more brides are seeking originality when it comes to wedding portraits. High fashion magazines like Vogue also may be influencing the new trend, he says.
"If you see these type of images in magazines, naturally you start thinking, this is what I want," he says. "Then we have to give it our own touch."
Last September, Louisiana-based photographer Mark Eric established the Trash the Dress Web site, a blog featuring pictures of brides across the country getting down and dirty in their wedding gowns all in the name of fine art photography.
Now photographers in almost every state offer sessions, including five who shoot in Mississippi. Eric is one, and Ridgeland photographer Adam Hudson Nall, who helped develop Eric's site, is another.
"We just reached the one-year mark for the Web site," Nall said, "and it has had a million hits, so that's pretty big."
Eric plans to shoot Nall's wife, Allison, in a Trash the Dress photo session soon. They married a little more than a year ago.
"When my wife and I got married, photography was something I was interested in, but I really didn't know that there was a whole subgenre of photography like this," Nall says. "I think a lot of brides are really tired of the traditional stand-in-front-of-the-altar shots that photographers have been doing for 50 years. Now, you don't have to do that traditional stuff like your mom and your grandmother did."
Nall says brides sometimes surprise their husbands with Trash the Dress shots. "It's really just a nontraditional way to get a little more use out of your dress," he says.
Michelle and Jeff McDaniel, both 30, will celebrate their first anniversary Sunday. As the anniversary approached, Michelle thought it would be fun to have one more opportunity to wear her $700 wedding dress.
"I just decided to do it because I'm never going to wear it again, and I would rather have another special moment than box it up and put it away," she saod. "When you take your bridal portraits, you are very concerned about not getting your dress dirty before the ceremony, so trashing the dress is just a way to have fun."
Hubler, who managed to keep her head above water prior to the wedding, let go of her worries and wedding dress last Wednesday. As the session ended, she moved slowly through the pool with the heavy, wet fabric and climbed the steps in her red wedges holding the skirt of her dress as Jeni Wiggins, David's wife, handled the dripping train.
"People might think that I'm not a sentimental person," Hubler said, "but I don't think the dress holds any sentimental value. It's just going to sit somewhere, and 30 years from now, it will be out of style. I don't think my daughter is going to want to wear it, and I didn't marry the dress; I married my husband."