A 'Twist' of Fate: After 20 years, musical comes alive
LaReeca Rucker
The Clarion-Ledger
When she was 10, Waynesboro native Tena Clark made a bet with her sisters: "I bet you $10 that I'm going to be famous in the music business one day." Eventually, they had to pay up.

"When I had my first hit, I called them up and said, 'Is that $10 in the mail?'"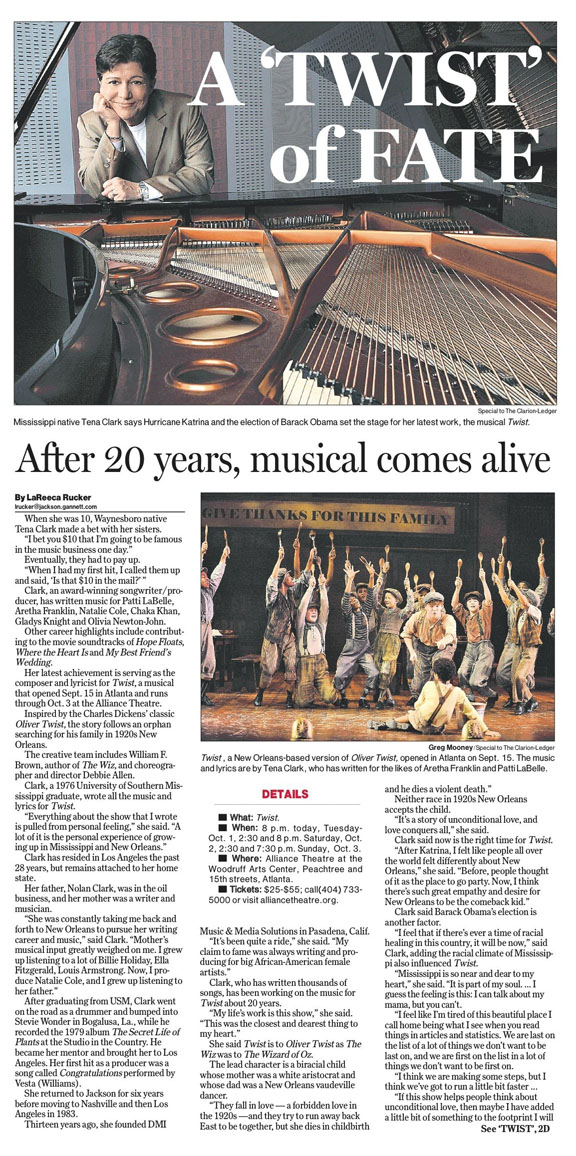 Clark, an award-winning songwriter/producer, has written music for Patti LaBelle, Aretha Franklin, Natalie Cole, Chaka Khan, Gladys Knight and Olivia Newton-John.
Other career highlights include contributing to the movie soundtracks of "Hope Floats," "Where the Heart Is" and "My Best Friend's Wedding."

Her latest achievement is serving as the composer and lyricist for "Twist," a musical that opened Sept. 15 in Atlanta and runs through Oct. 3 at the Alliance Theatre. Inspired by the Charles Dickens' classic Oliver Twist, the story follows an orphan searching for his family in 1920s New Orleans. The creative team includes William F. Brown, author of The Wiz, and choreographer and director Debbie Allen.

Clark, a 1976 University of Southern Mississippi graduate, wrote all the music and lyrics for "Twist."

"Everything about the show that I wrote is pulled from personal feeling," she said. "A lot of it is the personal experience of growing up in Mississippi and New Orleans."

Clark has resided in Los Angeles the past 28 years, but remains attached to her home state. Her father, Nolan Clark, was in the oil business, and her mother was a writer and musician.

"She was constantly taking me back and forth to New Orleans to pursue her writing career and music," said Clark. "Mother's musical input greatly weighed on me. I grew up listening to a lot of Billie Holiday, Ella Fitzgerald, Louis Armstrong. Now, I produce Natalie Cole, and I grew up listening to her father."

After graduating from USM, Clark went on the road as a drummer and bumped into Stevie Wonder in Bogalusa, La., while he recorded the 1979 album "The Secret Life of Plants" at the Studio in the Country. He became her mentor and brought her to Los Angeles. Her first hit as a producer was a song called "Congratulations" performed by Vesta (Williams).

She returned to Jackson for six years before moving to Nashville and then Los Angeles in 1983. Thirteen years ago, she founded DMI Music & Media Solutions in Pasadena, Calif.

"It's been quite a ride," she said. "My claim to fame was always writing and producing for big African-American female artists."

Clark, who has written thousands of songs, has been working on the music for "Twist" about 20 years.

"My life's work is this show," she said. "This was the closest and dearest thing to my heart."

She said "Twist" is to Oliver Twist as "The Wiz" was to "The Wizard of Oz." The lead character is a biracial child whose mother was a white aristocrat and whose dad was a New Orleans vaudeville dancer.

"They fall in love - a forbidden love in the 1920s - and they try to run away back East to be together, but she dies in childbirth and he dies a violent death."

Neither race in 1920s New Orleans accepts the child.

"It's a story of unconditional love, and love conquers all," she said.

Clark said now is the right time for "Twist."

"After Katrina, I felt like people all over the world felt differently about New Orleans," she said. "Before, people thought of it as the place to go party. Now, I think there's such great empathy and desire for New Orleans to be the comeback kid."

Clark said Barack Obama's election is another factor.

"I feel that if there's ever a time of racial healing in this country, it will be now," said Clark, adding the racial climate of Mississippi also influenced "Twist."

"Mississippi is so near and dear to my heart," she said. "It is part of my soul. ... I guess the feeling is this: I can talk about my mama, but you can't.

"I feel like I'm tired of this beautiful place I call home being what I see when you read things in articles and statistics. We are last on the list of a lot of things we don't want to be last on, and we are first on the list in a lot of things we don't want to be first on.

"I think we are making some steps, but I think we've got to run a little bit faster. If this show helps people think about unconditional love, then maybe I have added a little bit of something to the footprint I will leave."

Clark hopes "Twist" will eventually make it to New York.

Jay Dean, who serves as the Mississippi Opera's artistic director and the Mississippi Symphony Orchestra's choral director, has known Clark for seven years.
"I've always been impressed by her songwriting abilities, her business skills and her overall creativity."

In 2007, he helped organize a USM event called United in Song featuring Clark's music and internationally known performers.

"We had almost 6,000 people in our coliseum for that event that featured Patti LaBelle and Dionne Warwick, among others," he said.

Dean, who recently saw "Twist," describes it as a marvelous, high-energy show.

"It's Tena's music that holds it all together," he said. "Without the music, nothing else matters."

Martha Saunders, USM president, said university leaders are proud of Clark.

"She is a model of what hard work and vision can achieve."
They are also proud of Clark's daughter, Cody, 23, who graduated from USM with a degree in biology. She plans to attend veterinary school at the University of Georgia.

"She is a delightful young woman who has inherited her mother's good qualities," Saunders said.

And Clark describes her daughter as "my greatest accomplishment."