Ty Herndon: 'The Man I am Today': Mississippi native recounts pain, hope, prepares for local concert
LaReeca Rucker
The Clarion-Ledger
Byram resident Wanda Adams met country music star Ty Herndon in 1995 through his tour manager.
She forged a friendship with the artist that has spanned more than a decade, and because of that relationship, Herndon has granted Adams' request to perform at her Byram church.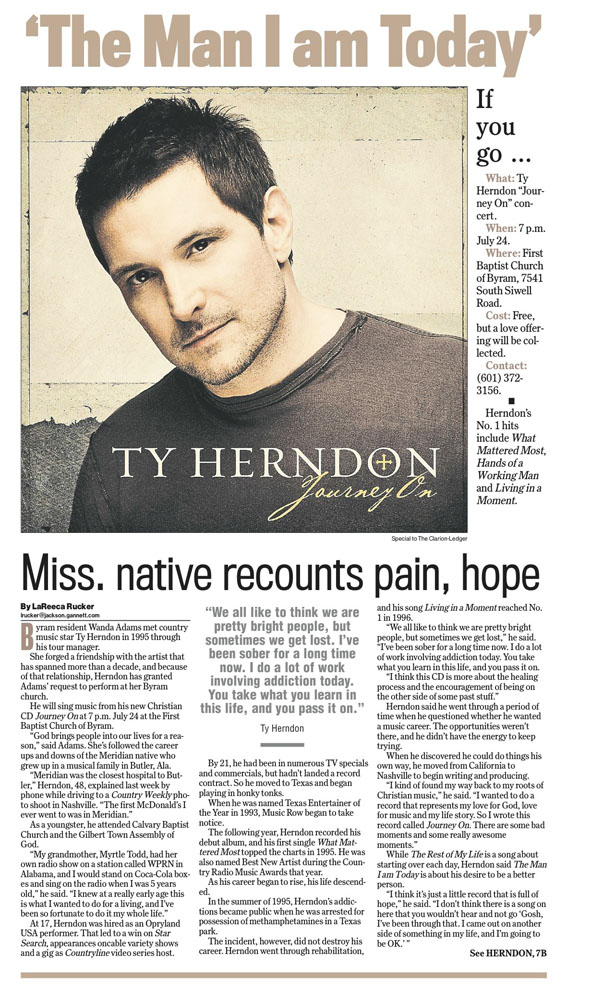 He will sing music from his new Christian CD Journey On at 7 p.m. July 24 at the First Baptist Church of Byram.

"God brings people into our lives for a reason," said Adams, who has followed the career ups and downs of the Meridian native who grew up in a musical family in Butler, Ala.

"Meridian was the closest hospital to Butler," Herndon, 48, explained last week by phone while driving to a Country Weekly photo shoot in Nashville. "The first McDonald's I ever went to was in Meridian."

As a youngster, he attended Calvary Baptist Church and the Gilbert Town Assembly of God.

"My grandmother, Myrtle Todd, had her own radio show on a station called WPRN in Alabama, and I would stand on Coca-Cola boxes and sing on the radio when I was 5 years old," he said. "I knew at a really early age this is what I wanted to do for a living, and I've been so fortunate to do it my whole life."

At 17, Herndon was hired as an Opryland USA performer. That led to a vocal win on "Star Search," appearances on several cable variety shows and a gig as host of the "Countryline" video series.

By 21, he had been in numerous TV specials and commercials, but hadn't landed a record contract. So he moved to Texas and began playing in honky tonks. When he was named Texas Entertainer of the Year in 1993, Music Row began to take notice.

The following year, Herndon recorded his debut album, and his first single "What Mattered Most" topped the charts in 1995. He was also named Best New Artist during the Country Radio Music Awards that year.

But as his career began to rise, his life descended. In the summer of 1995, Herndon's addictions became public when he was arrested for possession of methamphetamines in a Texas park. The incident, however, did not destroy his career. Herndon went through rehabilitation, and his song "Living in a Moment" reached No. 1 in 1996.

"We all like to think we are pretty bright people, but sometimes we get lost," he said. "I've been sober for a long time now. I do a lot of work involving addiction today. You take what you learn in this life, and you pass it on. I think this CD is more about the healing process and the encouragement of being on the other side of some past stuff."

Herndon said he went through a period of time when he questioned whether he wanted a music career. The opportunities weren't there, and he didn't have the energy to keep trying. When he discovered he could do things his own way, he moved from California to Nashville to began writing and producing.

"I kind of found my way back to my roots of Christian music," he said. "I wanted to do a record that represents my love for God, love for music and my life story. So I wrote this record called "Journey On." There are some bad moments and some really awesome moments."

While "The Rest of My Life" is a song about starting over each day, Herndon said "The Man I am Today" is about his desire to be a better person.

"I think it's just a little record that is full of hope," he said. "I don't think there is a song on here that you wouldn't hear and not go, 'Gosh, I've been through that. I came out on another side of something in my life, and I'm going to be OK.'"

Herndon said he feels blessed to share the record.

"I find myself in a very happy and satisfying place in my life," he said. "I've had an abundance of spiritual experiences making this record, and I am very, very proud of it."

Concertgoers will get a chance to hear the "Journey On" song "When We Fly" that won the 2010 Dove Award for Bluegrass Recorded Song of the Year. Carl Prewitt, pastor of FBCB's 350-member congregation, isn't sure how many attendees to expect.

"Music will get them into the church when nothing else will," he said. "It ministers to the community and people."

Adams said fans from Florida, Alabama, Georgia, Texas and Tennessee are expected.

"The CD, to me, is so heartfelt," she said. "I think it depicts the inner person that Ty Herndon really is."

She said the show is free but an optional love offering will be collected.

"The only stipulation for Ty performing was that I cook fried chicken for him," she said.