Games people play: Today's electronics astonish industry's pioneer players
LaReeca Rucker
The Clarion-Ledger
Like an ancient artifact recovered from a forgotten crypt revealing a story of past civilizations, Ridgeland siblings Keely and Keaton Kennedy, 13 and 10, could not identify the peculiar object in their grandparents' Louisville living room.
"They have this thing that my dad used to play with," Keely said, describing the relic. "I don't really know what it is. It's like really old. You move a thing around, and it hits a ball with a paddle on the screen. It's like a controller attached to the TV."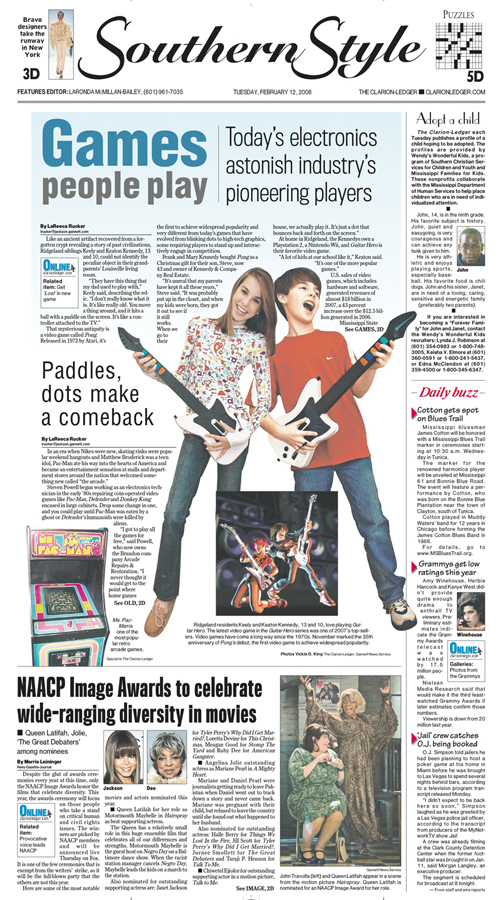 That mysterious antiquity is a video game called Pong. Released in 1972 by Atari, it's the first to achieve widespread popularity and very different from today's games that have evolved from blinking dots to high-tech graphics, some requiring players to stand up and interactively engage in competition.
Frank and Mary Kennedy bought Pong as a Christmas gift for their son, Steve, now 43 and owner of Kennedy & Company Real Estate.
"It's unreal that my parents have kept it all these years," Steve said. "It was probably put up in the closet, and when my kids were born, they got it out to see if it still works. When we go to their house, we actually play it. It's just a dot that bounces back and forth on the screen."
At home in Ridgeland, the Kennedys own a Playstation 2, a Nintendo Wii, and Guitar Hero is their favorite video game.
"A lot of kids at our school like it," Keaton said. "It's one of the more popular games."
U.S. sales of video games, which includes hardware and software, generated revenues of almost $18 billion in 2007, a 43 percent increase over the $12.5 billion generated in 2006.
Mississippi State University student Daktaryaie Fox, 20, is also a fan of Guitar Hero. The latest version of the game was among last year's Top 10 best-sellers with 2.72 million copies purchased, according to the research firm The NPD Group.
"They took songs that were made famous and ranked them by difficulty levels," said Fox, a computer engineering major, describing Guitar Hero. "You use the fret buttons on the neck of the guitar and press the strum bar like you're actually playing guitar."
A difficult song example is "Through the Fire and Flames" by DragonForce, Fox said, while "Barracuda," by Heart is easy. His player favorites include "Paint it Black" by the Rolling Stones and "Knights of Cydonia" by Muse.
"I think people like Guitar Hero because of the wide variety of music," he said, "and it's something that's never been done before." He recommends Rock Band as a Guitar Hero companion.
Barry Barnes, Tougaloo College's Web master, said the video game industry has come a long way since Pac-Man. "Video games have evolved from a cultlike hobby to a mainstream billion-dollar industry," he said, adding that they may soon rival movies. "In the past, you could make a video game with $10,000," he said. "In today's age, a video game's budget can exceed $30 million dollars."
While many of us fondly recall spending our summers riding bikes and playing sports, video games have moved play indoors, and some say that's detrimental.
Chris Washam, chairman of kinesiology at Mississippi College, has two sons, Michael and Morgan. While Michael, 13, enjoys playing video games, Morgan, 7, prefers outdoor play.
"We have to allot Michael periods of time that he can play video games and make sure he does other things," Washam said. "It's hard to make kids go outside and play when video games are so much fun," he said, "but you need to find ways to get kids outside and get them active.
"Childhood obesity is a concern, especially in this state, and we need to make sure recreational programs for our kids are fun. Sometimes that means we have to do things with them, like kick the soccer ball."
Susan Buttross, a developmental and behavioral pediatrician at the University of Mississippi Medical Center, once served on an American Academy of Pediatrics committee that explored the effects of video games. She said there are several video game-related issues doctors continue to study, including the effects of violent video games, the lack of social interaction and sedentary lifestyle that sometimes result from gaming.
"The general recommendation is that video games should be monitored," she said. "Parents should know what type of games their children are playing, the rating, and their (gaming) time should be limited."
Buttross said children and teens shouldn't spend more than two hours a day playing video games, and said more studies are needed to understand the impact of the new Wii games.
"We all think it's better for kids to be up and moving around," she said, "but if it's unmonitored, it's hard to know if it's good or not. I don't think those have been out long enough for us to know the pros and cons. It will be interesting to see how it plays out."
The Kennedys enjoy playing Wii sports games that require players to actively participate in baseball, tennis, boxing, golf and bowling using a remote. Their latest Wii addition was Rayman Raving Rabbids, a game in which the hero is invaded and captured by an army of vengeful, psychotic, diabolical bunnies.
"The rabbits take over the world, and you try to get them off the Earth and everything," Keely said.
Sometimes, Keely and Keaton convince daddy to play with them, but it's nothing like the good old days when a small dot bouncing back and forth across the screen could generate excitement and captivate a youthful audience of pioneer players who would become the first generation influenced by a burgeoning industry that would revolutionize the way we live, communicate and play.
"I've played the Wii and Guitar Hero a few times," said Steve, "but the games they have today make me kind of dizzy."