iGod: Web apps target the faithful
LaReeca Rucker
The Clarion-Ledger
With more than 100,000 phone applications to choose from, it makes sense that some created for Apple products would target the religious community.
New Albany native John Hugh Tate, a Harvard Divinity School graduate who helped found Jackson's Bellwether United Methodist Church congregation in 2007, has owned an iPhone about a year and a half.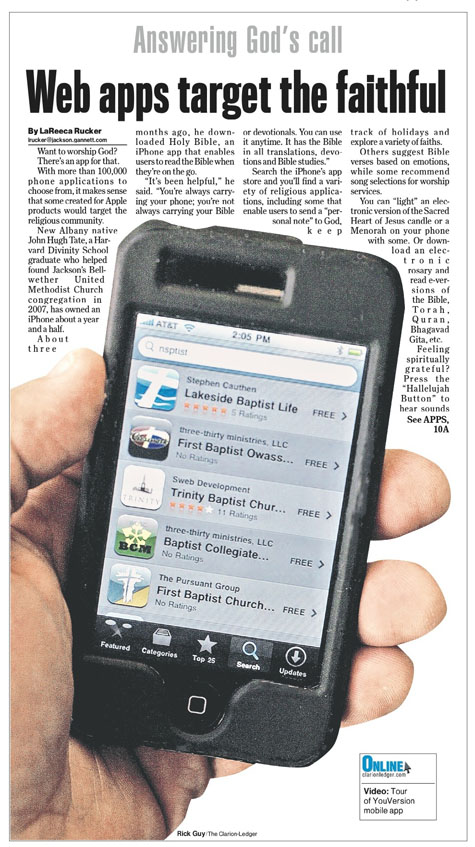 About three months ago, he downloaded Holy Bible, an iPhone app that enables users to read the Bible when they're on the go.

"It's been helpful," he said. "You're always carrying your phone; you're not always carrying your Bible or devotionals. You can use it anytime. It has the Bible in all translations, devotions and Bible studies."

Search the iPhone's app store and you'll find a variety of religious applications, including some that enable users to send a "personal note" to God, keep track of holidays and explore a variety of faiths.

Others suggest Bible verses based on emotions, while some recommend song selections for worship services.

You can "light" an electronic version of the Sacred Heart of Jesus candle or a Menorah on your phone with some. Or download an electronic rosary and read e-versions of the Bible, Torah, Quran, Bhagavad Gita, etc.

Feeling spiritually grateful? Press the "Hallelujah Button" to hear sounds of praise.

College Drive Seventh-day Adventist Pastor Javier Diaz said he's a "techy" at heart.

"As an avid iPhone user, I use several of these apps such as 'YouVersion,' 'ESV-Bible' and 'Logos.' I am reading the entire Bible through my phone.)

All three apps Diaz mentioned are for reading the Bible. "Logos" can access 30 versions. The company launched an iPad version of the app last week. And "YouVersion" has more than 20 reading plans for daily selections. You can
search the entire Bible for a word, phrase or verse and get results in seconds.

Bill Hawks, associate pastor and education minister at Ridgeland's Highland Colony Baptist Church, uses both.

"It's great for devotional use or for just having a Bible with you at all times," he said. "I recently started using the Logos app, which allows me to sync with the digital library I use on my PC."

Pastor Tom Singleton, of Ridgeland Family Church, is also a fan of YouVersion.
"It has numerous translations and reading plans," he said.