Mississippi writer's memory honored: Eudora Welty recalled as fascinating person
LaReeca Rucker
The Clarion-Ledger
She had a unique inside view of Eudora Welty's world.
Daryl Howard was the personal caretaker of the Pulitzer Prize-winning author for the last 10 years of her life, and she held the 92-year-old writer's hand the day she passed away in July 2001 at Baptist Medical Center in Jackson. The two had met there a decade earlier.
On Monday, almost eight years after Welty's death, Howard returned to the home where she was Welty's friend and aide. But this time, her perspective was that of an outsider. Like others who came to tour the 1119 Pinehurst St. home during the week of Welty's 100th birthday celebration, Howard walked through as an observer.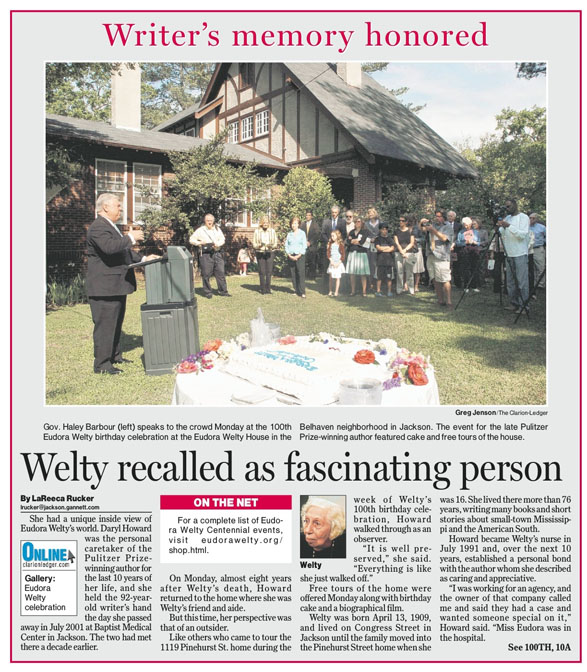 "It is well preserved," she said. "Everything is like she just walked off."
Free tours of the home were offered Monday along with birthday cake and a biographical film.
Welty was born April 13, 1909, and lived on Congress Street in Jackson until the family moved into the Pinehurst Street home when she was 16. She lived there more than 76 years, writing many books and short stories about small-town Mississippi and the American South.
Howard became Welty's nurse in July 1991 and, over the next 10 years, established a personal bond with the author whom she described as caring and appreciative.
"I was working for an agency, and the owner of that company called me and said they had a case and wanted someone special on it," Howard said. "Miss Eudora was in the hospital. One of the things that has stuck with me about her is that she always acknowledged me to other people."
Sometimes people who wanted to meet a legend visited. Sometimes Welty was visited by other legends.
"I met lots of her friends - (journalists) Jim Lehrer, Roger Mudd, (writers) Richard Ford, Willie Morris," Howard said. "She loved reading. One of the things she looked forward to most was getting The New Yorker. She loved The New Yorker and The New York Times."
Jackson resident Melinda Davis also toured the Welty home Monday.
"She kind of reminds me a lot of my older relatives," Davis said. "She was a true character. The film says she always liked listening to people talk, and she understood people. She was able to put that understanding on paper. I think we all have eccentricities, and I think she understood our Southern ways."
Jackson resident Tammie Haynes came to learn more about Welty.
"The home is a real treasure right here in Jackson that I don't think many local people take advantage of," she said.
Mary Alice White, director of the Eudora Welty House and the author's niece, said she believes her aunt's legacy lives because of her observant descriptions of people and treatment of them.
"In Jackson, she was a legend," White said. "She had lots of friends. She shopped at the Jitney 14. She was very approachable and open to people, and I think that's endearing to so many."
Howard agrees.
"Miss Eudora, being the great lady that she was, felt like she was just an ordinary person," Howard said. "When people came up to see her, she would say, 'I don't know them. I wonder how they know me?' "
Regarding the 100th birthday festivities, Howard said she believes Welty would modestly question the fuss.
"I think Miss Eudora would say, 'They are doing all this for me? They shouldn't have.'"