A guide to wine
LaReeca Rucker
The Clarion-Ledger
Leslie McHardy worked as a bartender at Bayona, a well-known New Orleans restaurant in the heart of the French Quarter, before moving to Jackson.
When Bravo! Italian Restaurant & Bar opened in Highland Village in 1994, she became the bartender and, three years later, she took over the restaurant's wine program as the sommelier.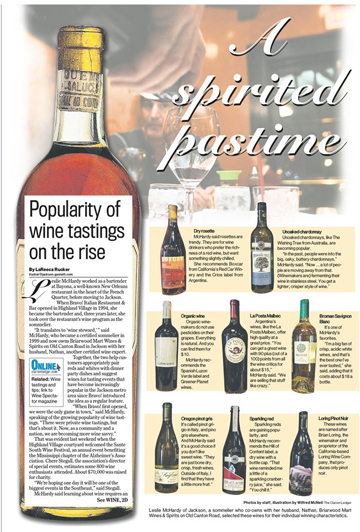 "It translates to 'wine steward,'" said McHardy, who became a certified sommelier in 1999 and now owns Briarwood Mart Wines & Spirits on Old Canton Road in Jackson with her husband, Nathan, another certified wine expert.
Together, the two help customers appropriately pair reds and whites with dinner party dishes and suggest wines for tasting events that have become increasingly popular in the Jackson metro area since Bravo introduced the idea as a regular feature.
"When Bravo first opened, we were the only game in town," said McHardy, speaking of the growing popularity of wine tastings. "There were private wine tastings, but that's about it. Now, as a community and a nation, we are becoming more wine savvy."
That was evident last weekend when the Highland Village courtyard welcomed the Sante South Wine Festival, an annual event benefiting the Mississippi chapter of the Alzheimer's Association. Chere Stegall, the association's director of special events, estimates some 800 wine enthusiasts attended. About $70,000 was raised for charity.
"We're hoping one day it will be one of the biggest events in the Southeast," said Stegall.
McHardy said learning about wine requires an adventurous spirit.
"I could tell you that some chardonnays are oaky, creamy and buttery, but until you taste them, you won't really understand," she said. "Just like in the world of relationships, you have to kiss a lot of frogs. That's why Baskin-Robbins makes 31 flavors, because everyone likes something different."
McHardy said some people are intimidated by wine, but you shouldn't let fear hold you back. And you don't have to spend a lot of money to buy a good wine.
"We sell more wine in the $10 to $15 range than we do the big boys," she said. "A lot of times, I've found that people having a party are really concerned about what their guests will think. Sometimes, I'll choose a wine that is a low price and a really high quality, and they'll ask if their guests are going to think it's cheap wine.
"I don't know what your guests will think, but I know wine. It's all about having confidence. And to me, if it's cheap and good, that's a win-win. Cheap's not bad as long as the wine is high quality."
Kathy McDade, owner of McDade's Wine & Spirits in Jackson's Maywood Mart Shopping Center, said she's seen a shift from beer and bourbon to wine.
"I think everyone is being exposed to wine more," she said. "The people right out of college, we call them the millenials, are beer and wine drinkers. People are drinking more wines, and it's not necessarily for a special occasion; it may be with spaghetti or hamburgers."
Another trend is the rise in organic wines. As Mississippians "go green," McDade said storeowners are receiving more organic wine requests. There are only a few organics on the market to choose from, however, like the red and white wines the store carries from California's Bonterra Vineyards.
"At a winery, everything has to be a certain way before they can say it is organic," she said. "I think it's something that's just starting to trend that way, because wineries can't react as fast as food product companies. I think you'll see it evolve over the next few years."
Seven years ago, David Rushing came to help a friend construct Joe T's Wines & Spirits in Ridgeland and never left. Today, he works as the general manager.
"In the beginning, I didn't have any interest in wine, and I didn't think I liked it," he said. "I am living proof that you can acquire a taste for it. There is a process."