Women took different paths to police force
LaReeca Rucker
The Oxford Eagle
Ten years before women won the right the vote, the first female police officer with full police powers was hired by the Los Angeles Police Department.
Almost a century later, the number of female law enforcement officers continues to rise.
The ranks include Spring Crenshaw, 28, one of seven female police officers in the 52-officer Madison Police Department.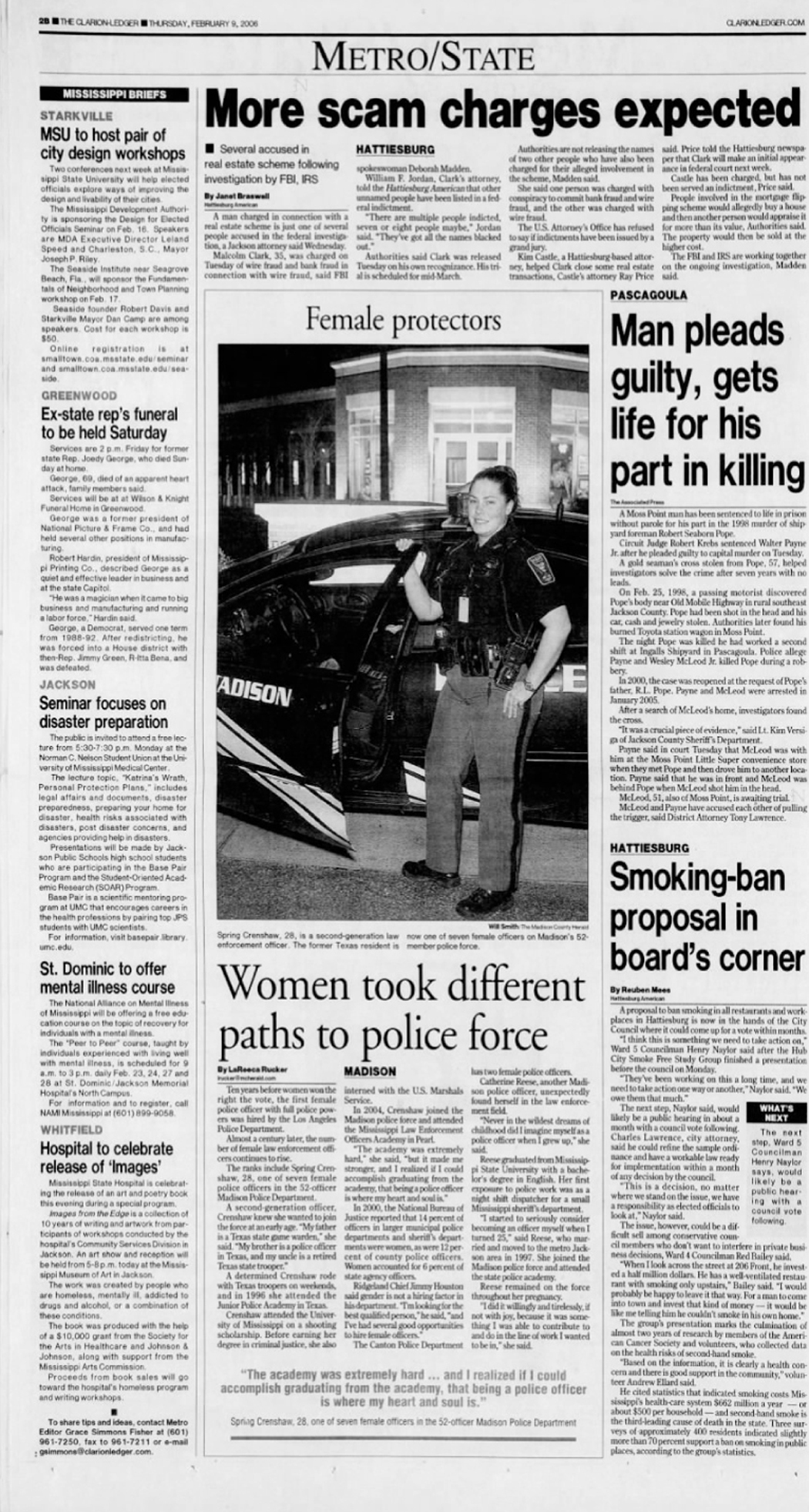 A second-generation officer, Crenshaw knew she wanted to join the force at an early age. "My father is a Texas state game warden," she said. "My brother is a police officer in Texas, and my uncle is a retired Texas state trooper."
A determined Crenshaw rode with Texas troopers on weekends, and in 1996 she attended the Junior Police Academy in Texas. Crenshaw attended the University of Mississippi on a shooting scholarship. Before earning her degree in criminal justice, she also interned with the U.S. Marshals Service.
In 2004, Crenshaw joined the Madison police force and attended the Mississippi Law Enforcement Officers Academy in Pearl.
"The academy was extremely hard," she said, "but it made me stronger, and I realized if I could accomplish graduating from the academy, that being a police officer is where my heart and soul is."
In 2000, the National Bureau of Justice reported that 14 percent of officers in larger municipal police departments and sheriff's departments were women, as were 12 percent of county police officers. Women accounted for 6 percent of state agency officers.
Ridgeland Chief Jimmy Houston said gender is not a hiring factor in his department. "I'm looking for the best qualified person," he said, "and I've had several good opportunities to hire female officers."
The Canton Police Department has two female police officers. Catherine Reese, another Madison police officer, unexpectedly found herself in the law enforcement field.
"Never in the wildest dreams of childhood did I imagine myself as a police officer when I grew up," she said.
Reese graduated from Mississippi State University with a bachelor's degree in English. Her first exposure to police work was as a night shift dispatcher for a small Mississippi sheriff's department.
"I started to seriously consider becoming an officer myself when I turned 25," said Reese, who married and moved to the metro Jackson area in 1997. She joined the Madison police force and attended the state police academy.
Reese remained on the force throughout her pregnancy. "I did it willingly and tirelessly, if not with joy, because it was something I was able to contribute to and do in the line of work I wanted to be in," she said.